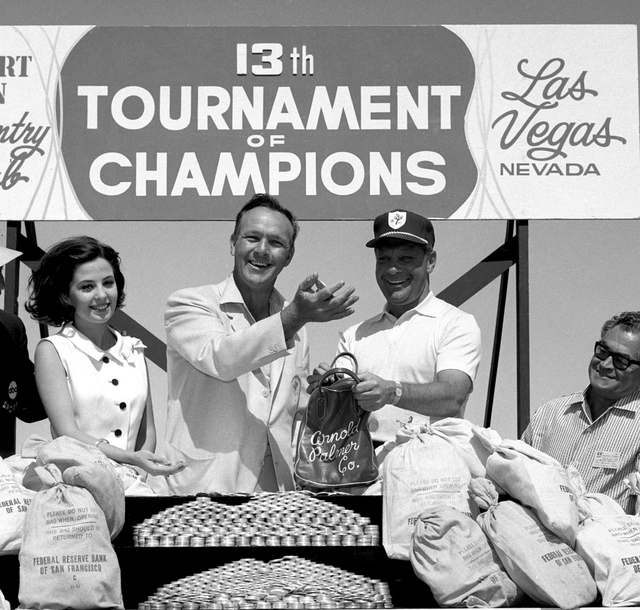 My dad and I spent the better part of an April afternoon in 1958 trying to find golf clubs for me at the Salvation Army, Goodwill and other thrift stores in Flint, Michigan.
I was 11 years old and, a couple of weeks earlier, I had been glued to the TV watching Arnold Palmer win the Masters.
Golf was a sport I hadn't thought about before. What I read about it in Flint indicated the sport was played by GM executives who made others work while they hit golf balls. But hearing announcers talk about Arnie, whose dad worked in a steel mill and as a greenskeeper, made me think you didn't have to be rich to play.
And watching Arnie flick away a cigarette dangling from his lips and then smash the ball with a vicious corkscrew-type swing — the ball seemed to fly forever — was the coolest thing I had ever seen.
Back then I never thought about what analysts say today: that Palmer, who died Sunday at age 87, made golf popular for the masses.
I just wanted to be cool like Arnie, waving at fans as I took another drag on a smoke. I dreamed one day people would follow me down the fairway shouting my name the way they did for him, then roar as I made a putt that copied his pigeon-toed style.
What became known as Arnie's Army was born at that Masters.
That I hadn't yet picked up a club or even been to a golf course made no difference. I knew I'd be great if I got clubs. So I pestered my father to take me to get some. He worked at the post office, Brinks and Kroger, so he didn't have much time.
I think he finally made time because he could tell I was serious — I told him I'd use money I made as a paperboy for the Flint Journal. Dad said we couldn't buy new clubs because some cost more than $200.
Finally, at a Goodwill store, I found clubs. I had to choke up on them a little bit. They cost half of the $20 I made each week on my paper route, but it was worth it. I knew you had to make sacrifices to gain fame. It was a good deal — the bag even came with the clubs. My dad saw how excited I was, so he bought the clubs for me as an early birthday present.
I pedaled my Schwinn Corvette 10 miles to Mott Golf Course on weekends. I kept my bag of clubs in one of the baskets on the back where I normally kept the newspapers I'd throw. I generally wore an Alpaca cardigan just like Arnie often did.
Though the Alpaca sweater later got me sweaty during the summer — people laughed as they drove their cars past me — it didn't matter to me. I looked like Arnie.
What wasn't cool: how I played. The first time I hit a slice the ball hit my friend in the leg. The bruise on his thigh turned an ugly deep purple. Another friend took me to another course and I broke a window in a car. I also got in trouble for borrowing my father's cigarettes. Arnie later gave up the habit because he didn't want to be a bad influence on children.
When Arnie played at the Buick Open in Flint, I was part of his Army. Sometimes he'd fly home to his Pennsylvania home during a tournament. As he departed, he'd tip a wing over the golf course.
Talk about cool.
I played better as the years went on. I even quit smoking when Arnie did. But the golfing fame I dreamed of has to yet materialize. Still, I've enjoyed the game. I've only broken two more windows in almost 60 years of play.
In the late 1970s, I told Palmer what I've shared with you. Back then I wrote columns for the Fort Lauderdale Sun Sentinel. He was doing a Cadillac commercial in south Florida when I met him.
The more I talked, the more he laughed.
"You made my day," he said.
If only I could make a putt.
Paul Harasim's column runs Sunday, Tuesday and Friday in the Nevada section and Monday in the Health section. Contact him at pharasim@reviewjournal.com or 702-387-5273. Follow @paulharasim on Twitter.
RELATED
Las Vegas golf community has fond memories of Arnold Palmer
Presidents, friends and other golfers react to Arnold Palmer's death
Arnold Palmer dies at 87, made golf popular for masses