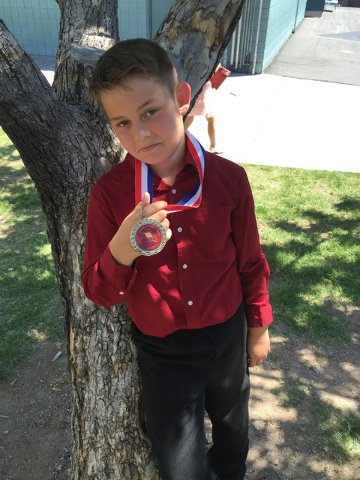 Dale and Maria "Jini" Whitman of Henderson are understandably proud of their 11-year-old son, Ty.
He's a good student, and he has won leadership and public speaking awards in school.
Yet as wonderful as that is, what happened to him in October — he suffered a puncture wound to his neck in a bicycle accident that could have caused his carotid artery to burst— remains the cause of nightmares.
Instead of being taken to University Medical Center, which has the only Level I trauma center in Las Vegas as well as the only pediatric trauma unit in Nevada, their son was transported by paramedics to an adult Level III trauma center, St. Rose Dominican Hospital, Siena campus.
"I'm not upset with doctors at St. Rose," said Jini Whitman, like her husband a speech therapist. "As soon as we got there, they wanted to know why we were there. They did a CAT scan and saw the carotid artery might burst. They knew they couldn't handle that. I appreciated their honesty, so Ty was transferred to UMC. I thank God Ty is fine now."
When Southern Nevada Health District board members vote Thursday on whether three more Level III trauma centers should be opened — Centennial Hills, MountainView and Southern Hills hospitals have applied to do so — the Whitmans hope they'll keep in mind that low-level centers provide a false sense of security.
"How many more Giulians are going to have to be suffered in our town before we realize that Level III trauma centers are just glorified emergency rooms?" said Dr. Meenha Vohra, chief of pediatrics at UMC.
On Friday I told the story of 19-year-old Giulian Grasso, who suffered a head injury in 2012 in Boulder City after a fall from a skateboard. Doctors said that had he been taken first to UMC instead of enduring a long delay at St. Rose he likely would have escaped his wheelchair, a speech deficit and problems with his left arm.
Vohra says each year many children are mistakenly taken to St. Rose, either by paramedics or parents.
Health district statistics show that from 2010 to 2015, St. Rose transferred more than 160 pediatric and adult trauma cases to either UMC or Sunrise Hospital and Medical Center, which has a Level II trauma center. Only six of 2,866 patients underwent operations at St. Rose.
Dale Whitman wants emergency personnel to follow protocol, established by the health district, that says a pediatric trauma patient "MUST" be taken to a pediatric trauma center.
I learned recently from a source that the Henderson Fire Department admitted mistakes regarding the Whitman case. Those mistakes include paramedics not taking Ty Whitman to a pediatric trauma center and believing that a puncture wound was a laceration.
A 2006 study published in the New England Journal of Medicine found basically no difference in the outcomes of patients treated at a traditional emergency room or a Level III trauma center. However, because St. Rose has a Level III trauma designation, it can charge a trauma activation fee, or nearly $10,000 extra, for trauma expertise.
Ty Whitman's accident occurred as he and his mother were walking their bikes across the street. His bike fell, and as he went to recover it, his handbrake stuck him in the neck.
"I saw the blood in his mouth and the hole in his neck and I was scared," Jini Whitman said Sunday.
A passerby called 911 and within minutes an ambulance was on scene.
"I told them I wanted to go to UMC," Jini Whitman said. "But they wouldn't let me."
Rather than waste time arguing, she agreed to go to St. Rose, where doctors said they weren't equipped to treat Ty.
After tests showed the sheath of his carotid artery was compromised by the puncture and could still erupt — if doctors don't have the proper equipment, a child can bleed to death in a few minutes — Ty Whitman was kept for two days at UMC.
Miraculously, the wound sealed on its own and life-saving surgery wasn't necessary.
"Miracles are great," Dale Whitman said. "But with proper medical protocol, you don't have to depend on them."
Paul Harasim's column runs Sunday, Tuesday and Friday in the Nevada section and Thursday in the Life section. Contact him at pharasim@reviewjournal.com or 702-387-5273. Follow @paulharasim on Twitter.