Retired Las Vegas cop rehabs homes and lives
August 6, 2016 - 11:21 am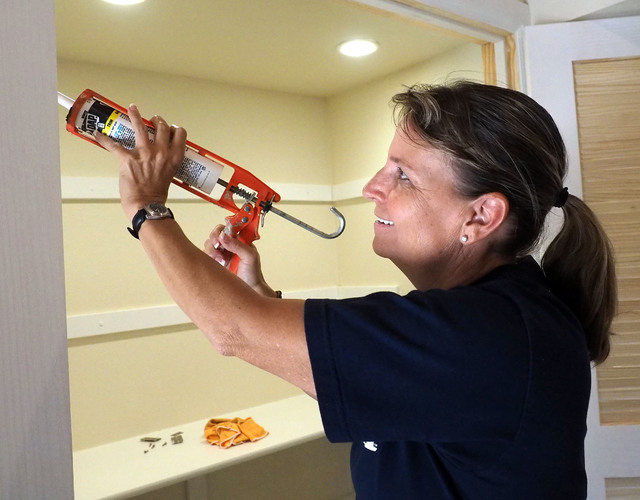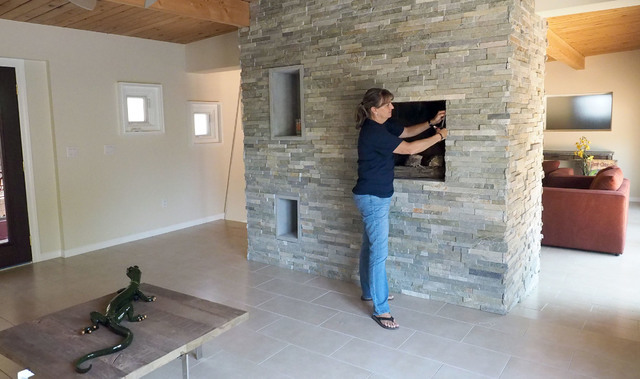 Two broken arms, a broken leg, a fractured leg, a torn rotator cuff, a herniated disc, black eyes, a permanently bent pinkie finger — the woman who suffered these injuries during a career as a police officer doesn't look any worse for wear as she walks through the house she's rehabbing with her daughter.
"The house looks good, doesn't it?" a grinning Laurie Bisch says.
Architectural Digest good.
After more than 20 years chasing criminals for the Las Vegas Metropolitan Police Department — she retired a year ago — the 51-year-old Bisch's basic tools now include saws and drills instead of a handgun and baton.
She's proud that she and artist-daughter Lindsey essentially gutted a house in historical McNeil Estates near Rancho Drive and Charleston Boulevard and then did virtually all the rehab work that didn't require licenses.
Now they hope to make a tidy profit off it and perhaps buy another house in the same neighborhood to flip.
As she shows off stonework around a fireplace, she recalls growing up in Reno with a mother in real estate.
"I was always at construction sites," she says. "The guys were nice to me. I was helping doing roofing at the age of 10. When I told them I wanted to build a fort, they showed me which tools to use and how to use them."
Bisch, who has a son in college, is obviously aware most Las Vegans know her as the woman who lost bids to become sheriff in 2006 and 2010. She also lost a Las Vegas city council race in 2007.
She doesn't see any of those experiences as mistakes, though some criticized her attempts at office as unrealistic.
"What I learned about politics, and what my children learned was priceless," she says.
Bisch says Teddy Roosevelt"s "The Man In The Arena" oration expresses her view on life. She quotes part of it aloud:
It is not the critic who counts … the credit belongs to the man who is actually in the arena … his place shall never be with those cold and timid souls who neither know victory or defeat.
As Bisch goes down memory lane, she remembers she decided police work was for her when she took a ride-a-long with an officer as a teenager.
She wanted the badge bad. Twice she broke her leg during the police academy and had to start the process of becoming a cop all over again.
She admits she misses putting bad guys away. But she doesn't miss the fights sometimes needed to get them behind bars — battles occasionally sending her to doctors.
Though she says she came "very close" to shooting suspects, she never had to fire because they ultimately gave up. "I was fortunate they listened to me," she says.
What she's proudest of as a patrol officer was her work in community policing.
In 1999 her efforts led to the reclaiming of 78-year-old Bill Taylor's dilapidated house from street criminals.
She learned that after Taylor rented out the garage of his home near downtown, he was mugged. While he was in the hospital, the tenant began leasing space in the house to prostitutes, drug dealers, robbers and burglars.
Not only did Metro arrest the unwanted roommates, Bisch got help from public and private agencies to restore Taylor's home to a livable state. The Veterans of Foreign Wars named her Nevada police officer of the year that year.
Victor Antonaccio, a Clark County firefighter, also knows about Bisch's work in community policing. More than 15 years ago, she came to his neighborhood near Cashman Center and worked to rid it of criminals. She also started helping young people help themselves.
From a poor family, Antonaccio was an honor student. Bisch wanted to make sure he succeeded in life. She gave him a part-time job with a small cleaning business she ran when not policing. She gave him money to buy books for college.
And she gave him his first car, an Isuzu Trooper.
"Laurie has a big heart," the firefighter says. "Her positive attitude kept me strong so I could get a better way of life. I'll pass it on."
Paul Harasim's column runs Sunday, Tuesday and Friday in the Nevada section and Thursday in the Life section. Contact him at pharasim@reviewjournal.com or 702-387-5273. Follow @paulharasim on Twitter.