Officials acted quickly to close Strip after Las Vegas shooting
October 8, 2017 - 11:12 pm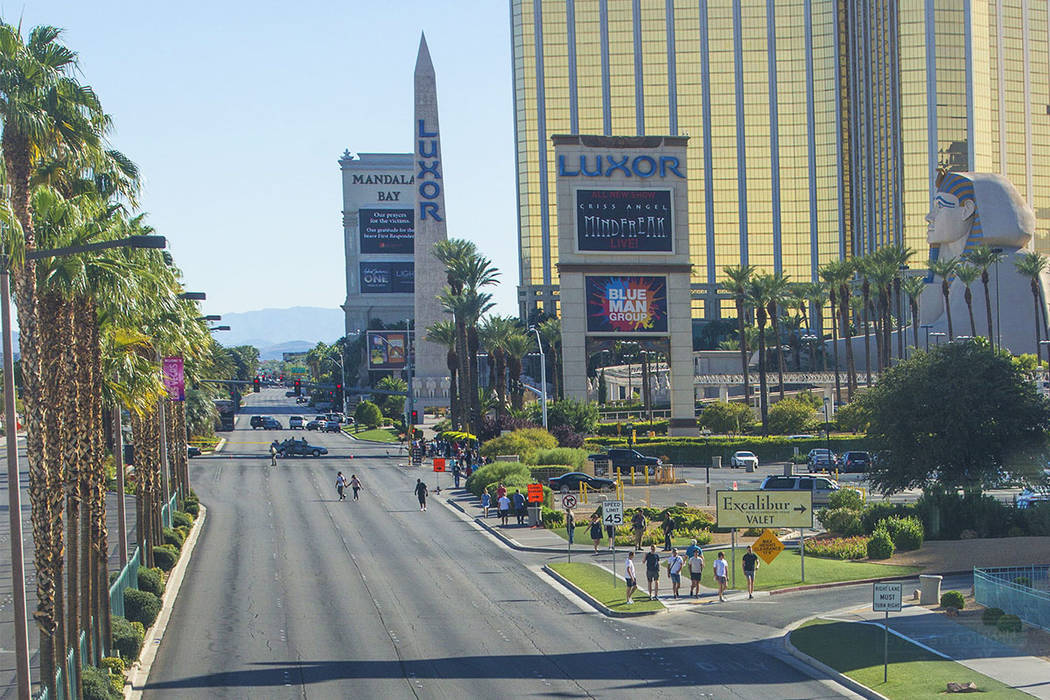 Transportation in Las Vegas came to a halt shortly after a gunman took aim at country music concertgoers along the Strip.
Long stretches of Interstate 15 and Las Vegas Boulevard — the region's main north-south roadways — were promptly closed Oct. 1 amid conflicting reports of multiple gunmen and where the bullets were coming from.
Flights were suspended briefly at nearby McCarran International Airport when roughly 300 people broke through a security fence surrounding the airport's perimeter and walked onto the tarmac.
"There was so much confusion when the first gunshots rang out," said Adrienne Packer, a spokeswoman for the Nevada Department of Transportation.
"Now we know there was only one gunman whose bullets ricocheted off of buildings," Packer said. "But at that time, the Nevada Highway Patrol decided that it was best to close off that entire corridor just to make sure everyone was safe and they could figure out what was going on."
Almost immediately after gunfire rang out, authorities closed Las Vegas Boulevard and several other streets surrounding Mandalay Bay and Las Vegas Village, where the Route 91 Harvest Festival was held.
Soon after, the barricades enveloped a wider swath of the Strip from Harmon Avenue down to Sunset Road as the Metropolitan Police Department searched the neighborhood. At the same time, I-15 was shut down between Blue Diamond Road and Charleston Boulevard.
Transit officials said the confluence of closures was likely a first in Las Vegas, but they were prepared.
The 44-hour closure on the Strip was later concentrated between Tropicana Avenue and Russell Road until the barricades were lifted around 6 p.m. Tuesday, said Brian Hoeft, director of the Regional Transportation Commission of Southern Nevada's traffic management center.
The Strip is typically closed for scheduled events such as road construction, New Year's Eve or the Rock-n-Roll Marathon.
But law enforcement officers can swing into action quickly to block traffic on Las Vegas Boulevard during emergency events, including a five-hour standoff with a gunman who was barricaded inside an RTC bus parked March 25 near The Cosmopolitan of Las Vegas.
The Strip also was closed for 12 hours after a driver plowed into a sidewalk crowded with pedestrians in front of Paris Las Vegas on Dec. 21, 2015, Hoeft said. Another 12-hour closure was reported Feb. 22, 2013 because of a police chase that started at CityCenter.
Additionally, I-15 has closed for longer periods when people threaten to jump from overpasses, Packer said.
As for the airport, air traffic controllers are "adept at pivoting and changing operations on a dime" to shut down runways, usually because of changing weather patterns, debris or disabled jetliners, said Ian Gregor, a spokesman for the Federal Aviation Administration.
Trashy road
Art from Las Vegas said he notices a buildup of trash nearly every day while driving east on the 215 Beltway from Green Valley Parkway onward.
"I used to see guys picking up trash, but not lately," Art wrote in an email to the Road Warrior. "Why isn't the road being cleaned up, and who's responsible for this?"
Maybe you didn't see the crews during your travels, Art. Clean-up duties along the Beltway are split between two agencies: the Nevada Department of Transportation and Clark County.
Twice a week, NDOT crews sweep the Beltway between Stephanie Street and U.S. Highway 95 in Henderson and farther west between Interstate 15 and Warm Springs Road, agency spokesman Tony Illia said.
The county maintains the other sections of the Beltway at least once every 30 days, county spokesman Dan Kulin said.
Show your cards
Patricia from Henderson wanted to know why the Nevada Department of Motor Vehicles doesn't follow the lead of other states that issue wallet-sized cards for handicapped people who have placards and specialized plates for their vehicles.
"Carrying around a letter-sized piece of paper to prove you are handicapped is not only ridiculous, but the papers tear and ink fades," Patricia said. "Is this the same 'not enough money' excuse?"
State law dictates that a letter needs to be issued to handicapped drivers, DMV spokesman Kevin Malone said.
"Legislation and an additional budget would be required to issue cards," Malone said. "The DMV would be hesitant to charge disabled individuals a fee for placards, which are currently free."
Questions and comments should be sent to roadwarrior@reviewjournal.com. Please include your phone number. Follow @RJroadwarrior on Twitter.
Road work ahead
Downtown
— Southbound U.S. Highway 95 will be restricted between Las Vegas Boulevard and Eastern Avenue from 8 p.m. Thursday to 6 a.m. Friday, and again from 8 p.m. Oct. 13 to 5 a.m. Oct. 16. Crews are resurfacing the road.
— Washington Avenue is restricted between Robin Street and Rancho Drive through Oct. 19. Crews are working on a channel project.
— Washington Avenue is restricted between Rainbow and Decatur boulevards from 7 a.m. to 4 p.m. weekdays through first week of December. Crews are laying new pavement and adding medians.
— Main Street is restricted between Fremont Street and Ogden Avenue through Dec. 20. Crews are demolishing a building.
— Ninth Street is closed between Carson and Main streets through Dec. 31. Crews are installing water and sewer lines.
— U.S. Highway 95 is restricted between Rancho Road and just east of Interstate 15 through January 2018. Crews are building a new flyover ramp for high-occupancy vehicles as part of Project Neon.
— The Martin Luther King Boulevard onramp to northbound Interstate 15 is closed through January 2018. Crews are building a carpool ramp.
— The ramp connecting southbound U.S. Highway 95 to northbound Interstate 15 is closed through January 2018. Crews are building a carpool ramp.
— Main Street is restricted between Bonneville Avenue and Las Vegas Boulevard through May 2018. Crews are working on a storm drain.
— Sections of Bonneville Avenue, Charleston Boulevard, Grand Central Parkway and Martin Luther King Boulevard will have closed or disrupted lanes surrounding the Spaghetti Bowl as crews work on Project Neon through July 2018.
Southwest
— Fort Apache Road is restricted between Sunset and Post roads through Oct. 31. Crews are doing sewer work.
— Sunset Road is restricted between Fort Apache Road and Ivesdale Street through Oct. 31. Crews are doing sewer work.
— Jones Boulevard will be intermittently restricted between Warm Springs and Robindale roads through Oct. 31. Crews are doing field survey work.
Henderson
— Appaloosa Road is restricted between Wagonwheel Drive and Rawhide Drive through late October. Crews are installing a storm drain.
— Wigwam Parkway will be intermittently closed in both directions at Gibson Road through the end of December. Crews are installing a new traffic signal and making sidewalk improvements.
— Center Street is restricted between Burkholder Boulevard and Lake Mead Parkway through June 2018. Crews are making various road improvements.
North Las Vegas
— Nellis Boulevard is restricted between Cheyenne Avenue and Las Vegas Boulevard from 6 a.m. to 3:30 p.m. weekdays through July 2018. Crews are installing sewer pipes.
Gasoline prices
The average gasoline price Friday in the Las Vegas Valley was $2.67 per gallon. It was $2.74 in Nevada. The national average of $2.49 is down 6 cents from a week ago, down 18 cents from a month ago and up 23 cents from a year ago.