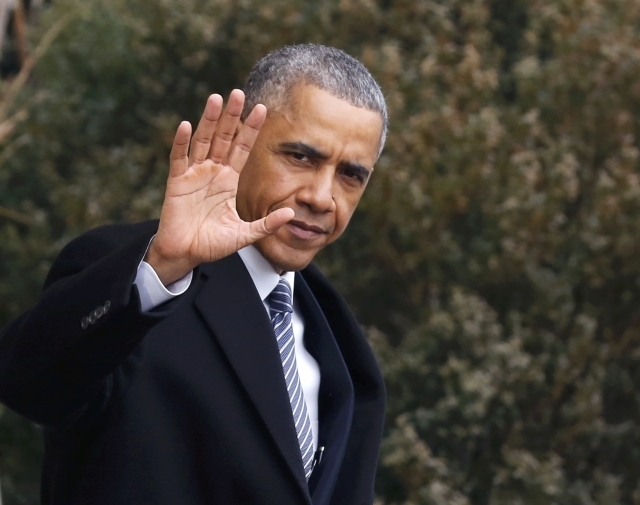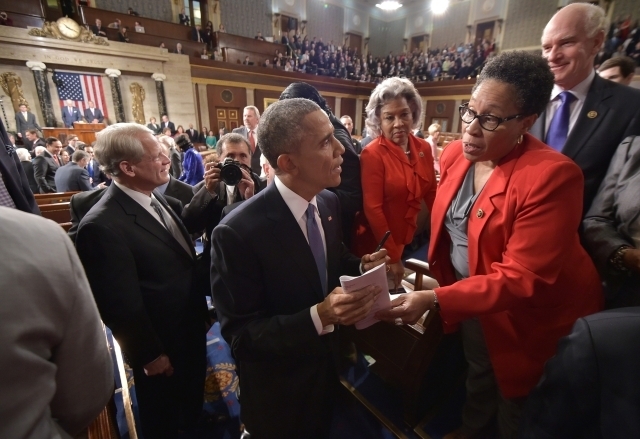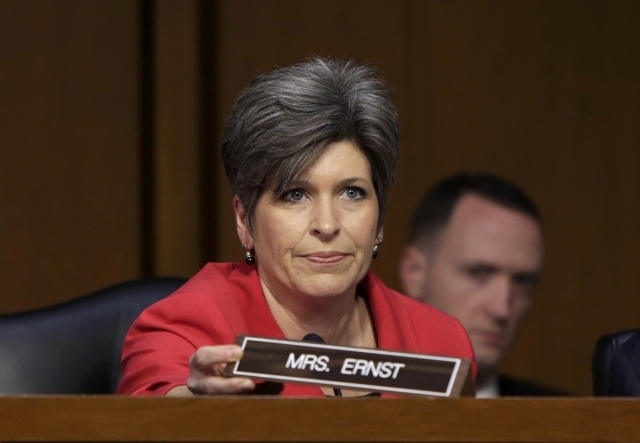 WASHINGTON — A day after delivering a defiant State of the Union speech to the Republican-led U.S. Congress, President Barack Obama hit the road on Wednesday to promote his plans for lifting up the middle class.
Obama headed out for a two-day trip to Idaho and Kansas to push his message that the economy has effectively recovered from years in the doldrums.
No longer restrained by having to face voters again, Obama struck a highly confident tone in his State of the Union address on Tuesday night, saying, "the shadow of crisis has passed."
It is now time for policies like raising taxes on the rich and offering community college for free for two years, he said.
The Democrat threatened to veto Republican efforts to roll back key decisions such as the Obamacare healthcare law and the loosening of immigration policy, and the administration's refusal to approve the planned Keystone XL oil pipeline.
Republicans called for Obama to be more humble, given that they took control of both chambers of Congress this month after winning November's midterm elections handsomely.
"We've only been here 2-1/2 weeks, and he's put seven veto threats. I think that's probably not the best start. Let us work the legislation before you decide something's going to be vetoed," House of Representatives Majority Leader Kevin McCarthy said on the CBS "This Morning" program.
McCarthy said Republicans are willing to work with Obama on issues like tax reform and trade.
In his State of the Union address, Obama told lawmakers and millions watching on television that it was time to "turn the page" from recession and war, and work together to boost the middle-class Americans who have been left behind.
His vision of a stronger and more expensive safety net for middle-class and poor Americans stands little chance of becoming law this year, but it could shape the debate for the 2016 presidential election.
REPUBLICAN RESPONSES
Dueling official Republican responses to Tuesday's State of the Union address meant to highlight the party's alternate vision for the nation instead underscored the GOP's deep divide on immigration reform.
One, given in Spanish by Florida Rep. Carlos Curbelo, asked President Barack Obama to "cooperate" with congressional Republicans to make immigration reform happen.
"We should also work through the appropriate channels to create permanent solutions for our immigration system, to secure our borders, modernize legal immigration, and strengthen our economy," Curbelo said in Spanish. "In the past, the president has expressed support for ideas like these. Now we ask him to cooperate with us to get it done."
The other, delivered in English by Iowa Sen. Joni Ernst, made no mention of reform. She gave a folksy pitch for Republican proposals to improve the economy, overhaul the tax code and open up new trade markets abroad.
WHAT WAS MISSED
President Obama used Tuesday night's State of the Union address to demand action on progressive priorities, but his silence on a number of key issues spoke just as loudly as his words.
In the 70-minute-long address, the President gave only lip service to immigration reform. He made no remarks on protecting Social Security and Medicare — just as Republicans have hinted at a coming battle over welfare reform — and only passing reference to the crowning achievement of his first term, Obamacare, just as it's beginning to bear fruit for many Americans. And he didn't mention the controversial Keystone XL oil pipeline by name, which Republicans favor as a job-creation opportunity but the White House has said Obama would veto.
The speech was overall a rallying cry to progressives, a promise that he'll put up a fight for their priorities now that he's freed from the bounds of another re-election fight. It drew widespread praise from congressional Democrats, and near-uniform dismissal from Republicans.
LOOKING TO 2016
Obama's vision of a stronger and more expensive safety net for middle-class and poor Americans stands little chance of becoming law this year, but it could shape the debate for the 2016 election.
With his clout fast diminishing in Washington, and Republican and Democratic candidates gearing up for the White House race, Obama did his best in Tuesday's State of the Union address to set the agenda for potential successors wooing voters.
Even as he offered proposals such as higher taxes on the wealthy, which are likely to be rejected by the Republican-controlled Congress, Obama drew attention to income inequality that has persisted despite an improving economy.
Wage growth remains sluggish and the wealth gap between the most affluent and everybody else is the widest on record, according to the Pew Research Center. Most Americans still believe the economy is headed in the wrong direction, according to Reuters/IPSOS polling data.
Already, potential Republican candidates like Rand Paul and Mitt Romney have signaled that they will devote more attention to helping the less affluent.
Hillary Clinton, the likely frontrunner for the Democratic nomination, is already facing heat from Massachusetts Sen. Elizabeth Warren and others on the left who worry Clinton may bow to pressure from Wall Street and chip away at financial reforms enacted during Obama's tenure.
Reuters and CNN contributed to this report.
Related
State of the Union divides Nevada delegates along party lines
Obama shuts down rivals with off-the-cuff remark