Judge delays ruling on challenge of Red Rock Canyon development
August 17, 2017 - 2:29 pm
Updated August 17, 2017 - 3:29 pm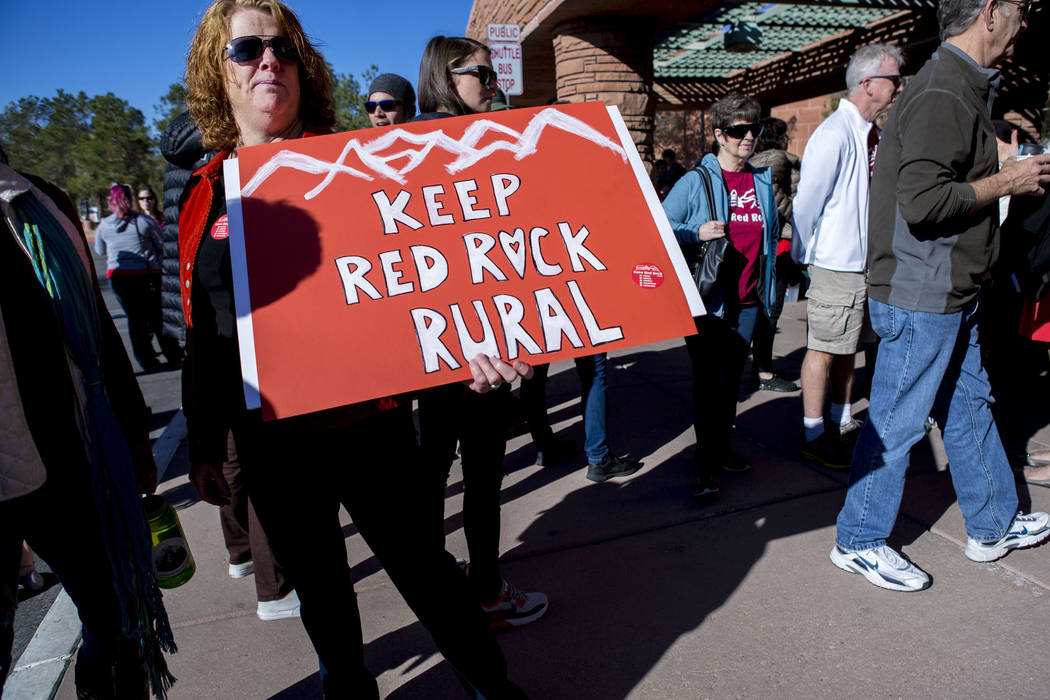 Clark County District Court Judge Jerry Wiese declined to rule from the bench Thursday on motions to dismiss a lawsuit challenging plans to build more than 5,000 homes atop a hill bordering the Red Rock National Conservation Area.
Wiese told attorneys representing Clark County, mining company Gypsum Resources and environmental nonprofit Save Red Rock that he will make a ruling within one month.
"I'm just wondering if there's a need for either side to be paying lawyers to fight a battle that may be a little premature," Wiese said before concluding the hearing.
The judge appeared hesitant whether to let the case continue because Gypsum Resources is several steps from being able to break ground.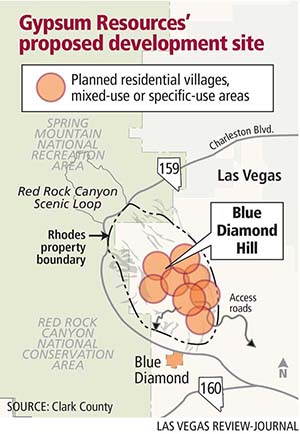 The company first needs permission from the U.S. Bureau of Land Management to build a road that would connect the development to state Route 160 on federal land. The development plan would then need the county commission's approval to move forward.
"They can't build a house at all," county attorney Robert Warhola said. "They're at the very earliest stage of the major projects process."
Lawsuit evolves
Thursday's hearing illustrated how the lawsuit between a mining company, environmental nonprofit and county government has evolved since its initial filing in December.
"I think we're defendants now, but I'm not sure," Warhola quipped as the hearing started.
The county brought the suit after Save Red Rock challenged whether a development plan proposed by Gypsum Resources last year was legal. County staff said they wanted a judge to determine whether the approval of a Gypsum Resources plan approved in 2011 had expired.
The proposed community could be home to more than 14,000 people and would overlook the Red Rock Canyon from the site of a retiring gypsum mine. The idea has drawn the ire of locals who believe it will harm the ecosystem, overburden rural roadways and defile the area's scenic view.
By February the county's attorneys made the call — without a judge's opinion — that the 2011 approval had not expired and the lawsuit was no longer necessary. Gypsum Resources, who was listed as a defendant as well as Save Red Rock, sided with the county.
Save Red Rock attorney Justin Jones has flipped the case to fight the development by filing a counterclaim that the 2011 plan has expired.
"This is essentially mirror image claim that Clark County brought against Save Red Rock initially," he told Wiese. "What's good for the goose is good for the gander, your honor."
Jones has also filed two other counterclaims.
One is that the county violated open meeting laws in a February zoning meeting when commissioners accepted that the 2011 plan had not expired. The other is that Gypsum Resources' mining operations are in a direct violation of a notice given by the county in 2011 that forbade mining trucks from traveling on nearby Highway 159.
Greenberg Traurig attorney Lisa Zastrow, who is representing Gypsum Resources, disparaged the claim against her client in court Thursday.
"There is nothing, nothing that prevents my client from using (Highway) 159 for the work that's going on out there right now," she said.
Contact Michael Scott Davidson at sdavidson@reviewjournal.com or 702-477- 3861. Follow @davidsonlvrj on Twitter.
RELATED
Save Red Rock scores win in Clark County court
Save Red Rock claims Clark County Commission violated open meeting laws
Clark County sues environmental group challenging development on Blue Diamond Hill
Grass-roots group opposes plan to bring 14,500 new residents to Red Rock Canyon
Hope grows for opponents of Blue Diamond Hill development proposal
Opponents challenge legality of Blue Diamond Hill village proposal