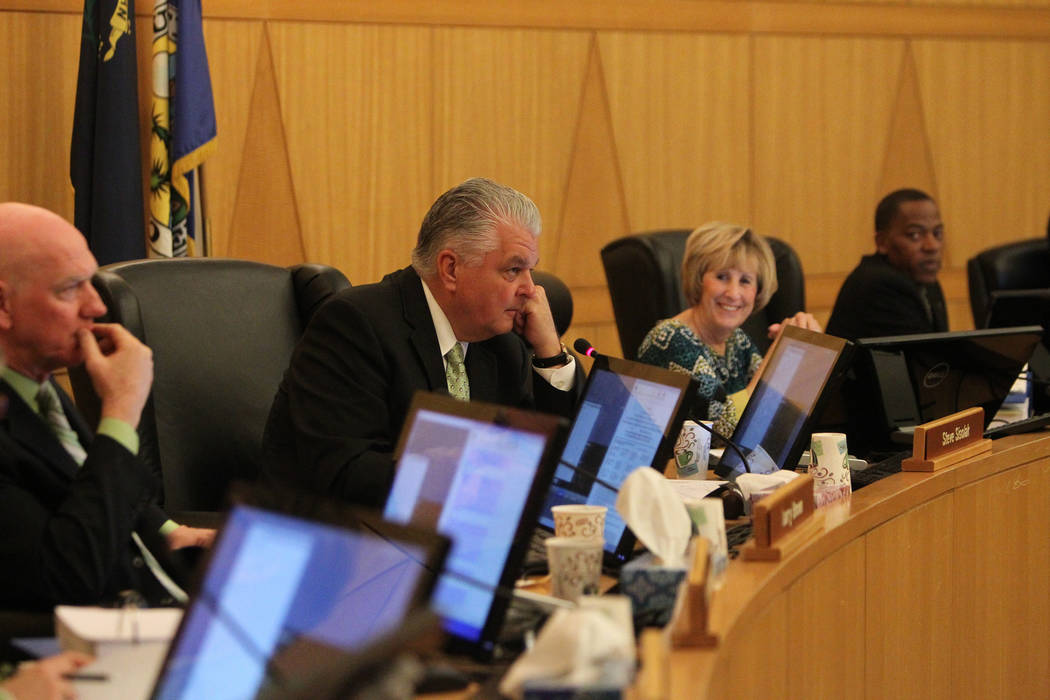 Anti-harassment policies, recreational marijuana stores and the fate of two constable offices in the Las Vegas Valley are set to be discussed at Tuesday's Clark County Commission meeting.
The commission is scheduled to vote whether to update the county's policies against sexual harassment, bullying and discrimination. The proposed update in rules has been amended since it was presented to the commission last month.
The version up for vote Tuesday includes a new section on employee recruitment to "determine effective ways to reach a diverse applicant pool" and "avoid unlawful discrimination."
"We want to make sure our employees reflect the community we're serving," said Sandy Jeantete, the county's human resources director.
Constable quandary
Commissioners also will consider abolishing constable offices serving North Las Vegas and Henderson. It is a discussion item and is not up for a vote.
The discussion follows scrutiny of North Las Vegas Constable Robert Eliason and Henderson Constable Earl Mitchell. Both are elected officials paid six-figure salaries by the county.
Last month a Review-Journal investigation found that Mitchell wrote himself more than $70,000 in checks over the past two years from a county account. Eliason sued the county last year after commissioners considered removing him from office for not becoming a state-certified law enforcement officer.
Commissioner Chris Giunchigliani is interested in having the two constable offices absorbed by the Metropolitan Police Department. Metro began managing and operating the Las Vegas constable office in January 2015 after multiple controversies surrounded the agency.
Giunchigliani said now is the "perfect" time to discuss the North Las Vegas and Henderson positions because both are up for election this year.
"They're both vacant positions at this point. Until someone is elected, they're not entitled to the office," she said.
Pot law proposed
Commissioner Susan Brager will try to convince her fellow commissioners to move forward with a proposed law that would ban stand-alone recreational marijuana stores in the county.
Brager's ordinance would require all recreational stores to be owned by the holder of a medical marijuana license and operated at the same location as a medical dispensary. The ordinance will be introduced Tuesday and is not yet up for a vote.
Brager is pushing to create the law in anticipation that the Nevada Department of Taxation will begin issuing licenses for stand-alone recreational marijuana stores in November.
Although some of her fellow commissioners have expressed skepticism at her idea, Brager said it's important to identify the county's policy well before the state makes its changes.
"I believe (companies) should know where we stand because it costs to apply for a license," she said.
Contact Michael Scott Davidson at sdavidson@reviewjournal.com or 702-477-3861. Follow @davidsonlvrj on Twitter.