Defiant Trump again blames both sides for Charlottesville violence
August 15, 2017 - 6:08 pm
Updated August 16, 2017 - 3:58 pm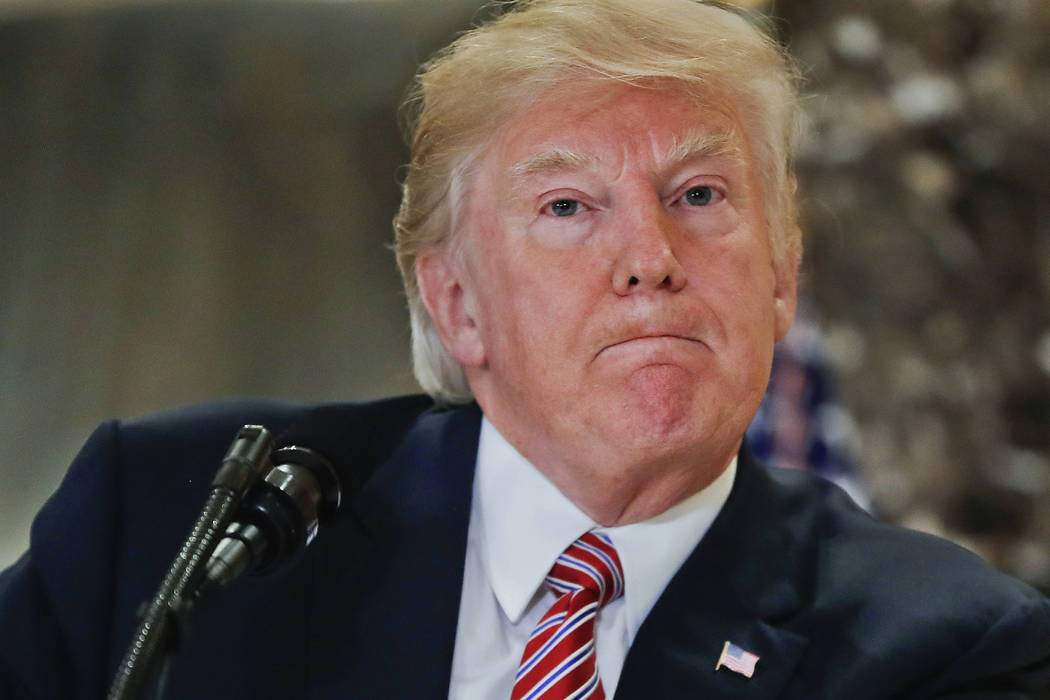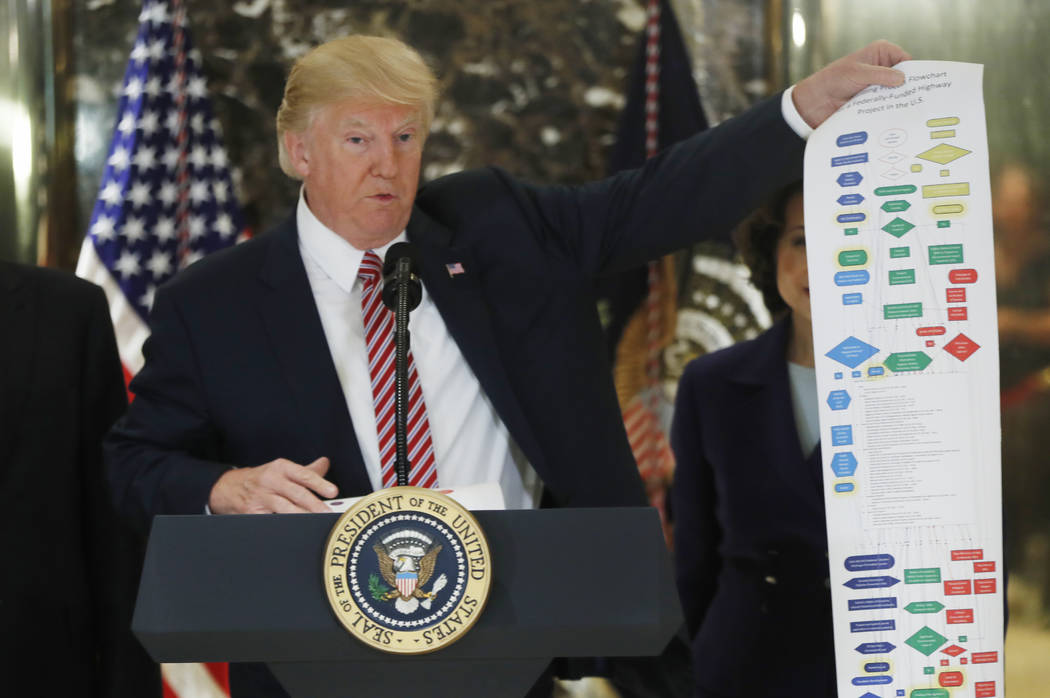 WASHINGTON — President Donald Trump lashed out at the news media Tuesday at an impromptu press conference that was supposed to highlight the president's plans to rebuild America's infrastructure. Instead, the event displayed a brutal verbal clash between an angry president and a contentious press that left stunned staffers averting their eyes.
Trump defiantly defended a Saturday statement in which he blamed "many sides" for the violence in Charlottesville, Virginia, that left a 32-year-old counterprotester dead. Trump amended that statement Monday when, in a nod to political necessity, he specifically called out "the KKK, neo-Nazis, white supremacists and other hate groups" as repugnant.
At Trump Tower on Tuesday, the president returned to square one, telling reporters, "I think there's blame on both sides."
"What about the alt-left that came charging at the, as you say, the alt-right?" Trump challenged reporters shouting questions at him.
At one point, Trump turned to favorite foil Jim Acosta of CNN and said, "Wait a minute. I'm not finished. I'm not finished, fake news."
Trump laid out a version of events that matched his first statements on the violence that erupted in the campus town and took the life of paralegal Heather Heyer. White nationalists got a legal permit to protest attempts to remove a statue of Confederate Gen. Robert E. Lee, Trump said.
"Not all of those people were neo-Nazis," he said, adding, "You had a group on the other side that came charging in without a permit and they were very, very violent."
According to news reports, some counterprotesters were violent, and members of groups like "antifa" – short for anti-fascist – have been known to arrive at demonstrations armed and intent on doing damage. But authorities charged a 20-year-old self-proclaimed Nazi with second-degree murder after he allegedly plowed his Dodge Challenger into a crowd of counterprotesters, killing Heyer.
Two state police officers— H. Jay Cullen and Berke M.M. Bates, 40 — also died when their helicopter crashed.
Trump claimed that he waited to fault white nationalists specifically because he didn't have all the facts and "I didn't want to rush into a statement."
"Frankly, people still do not know all of the facts," he asserted.
CEOs resign from panel
Trump's handling of the weekend violence has drawn criticism from members of his own Republican Party and has prompted five corporate and labor leaders to resign from a White House jobs panel.
Merck CEO Kenneth Frazier resigned from the president's advisory American Manufacturing Council on Monday before Trump's remarks "to take a stand against intolerance and extremism." He was followed later that day by Kevin Plank, CEO of athletic clothing maker Under Armour, and Brian Krzanich, CEO of computer chip maker Intel Corp.
Tuesday morning, Alliance for American Manufacturing president Scott Paul tweeted that he was resigning "because it's the right thing for me to do." And late Tuesday, AFL-CIO president Richard Trumka also resigned, saying in a statement, "We cannot sit on a council for a president who tolerates bigotry and domestic terrorism."
Reporter questions about the CEO defections sparked Trump's outrage Tuesday.
"They're leaving out of embarrassment," Trump said, because they manufacture their products abroad and he's been prodding them to bring back jobs to the United States.
Meanwhile, The New York Times reported that core supporters like Fox News founder Rupert Murdoch were pushing Trump to fire chief strategist Steve Bannon and thus purge the White House of a major nationalistic figure. Former communications director Anthony Scaramucci had hinted to ABC News' George Stephanopoulos on Sunday that Bannon's days in the White House were numbered.
When asked about Bannon, Trump straddled the fence. "He's a good man. He's not a racist, I can tell you that," Trump said. But he added words likely to send a chill up his aide's spine: "We'll see what happens with Mr. Bannon."
A stacked deck?
The Trump faithful see the furor around Trump's Charlottesville rhetoric as proof the deck is stacked against the president. Author David Horowitz, a friend of Bannon, scoffed at "all the ludicrous attacks on the president for not condemning enough a bogeyman the entire nation condemns, and no one but the risible fringe supports."
Horowitz believes critics would have reacted the same if Trump had called out white supremacist groups on Saturday as he did on Monday. "They would have found a way to attack him," Horowitz said. "Look at what he just did. He backed down (North Korean strongman) Kim Jong Un. And all of this is off the radar because Trump can't do anything right."
Trump rode his success in the business world into the Oval Office as he sold himself as a dealmaker who could work with American industry to create jobs and jump-start the economy, but CEOs have been among the first to abandon ship.
Democratic strategist Maria Cardona predicted CEOs would continue to bail as Trump's poll numbers droop. "At the end of the day," she said, these CEOs "have to answer to the people who buy their products."
"He had an incredible opportunity right after this happened on Saturday" to show moral leadership by denouncing white nationalism, Cardona said. "I don't think I would have believed it," but she would have appreciated that Trump understands what he should do to bring the country together. The two-day delay had real-world consequences, she said.
For his part, the president sees the last few days as the ultimate culture clash — between traditionalists and radicals who want to blur over American history. This week, he said, counterprotesters want to take down a statue of Lee. "I wonder, is it George Washington next week? And is it Thomas Jefferson the week after? You know, you really do have to ask yourself, where does it stop?"
Contact Debra J. Saunders at dsaunders@reviewjournal.com or 202-662-7391. Follow @DebraJSaunders on Twitter.
Protesters gather at Trump Tower
NEW YORK — Protesters have returned to Trump Tower for a second night of vitriol directed at President Donald Trump.
Many of the hundreds of demonstrators Tuesday night came to throw their support behind immigrant rights. They also called Trump a Putin puppet and chanted "hey, hey, ho, ho, Donald Trump has got to go."
On Monday, thousands of protesters and dozens of supporters waited for hours for Trump to return to Trump Tower for the first time since his January inauguration.
The Associated Press