Trump denounces 'repugnant' white supremacists, hate groups
August 14, 2017 - 1:06 pm
Updated August 14, 2017 - 8:52 pm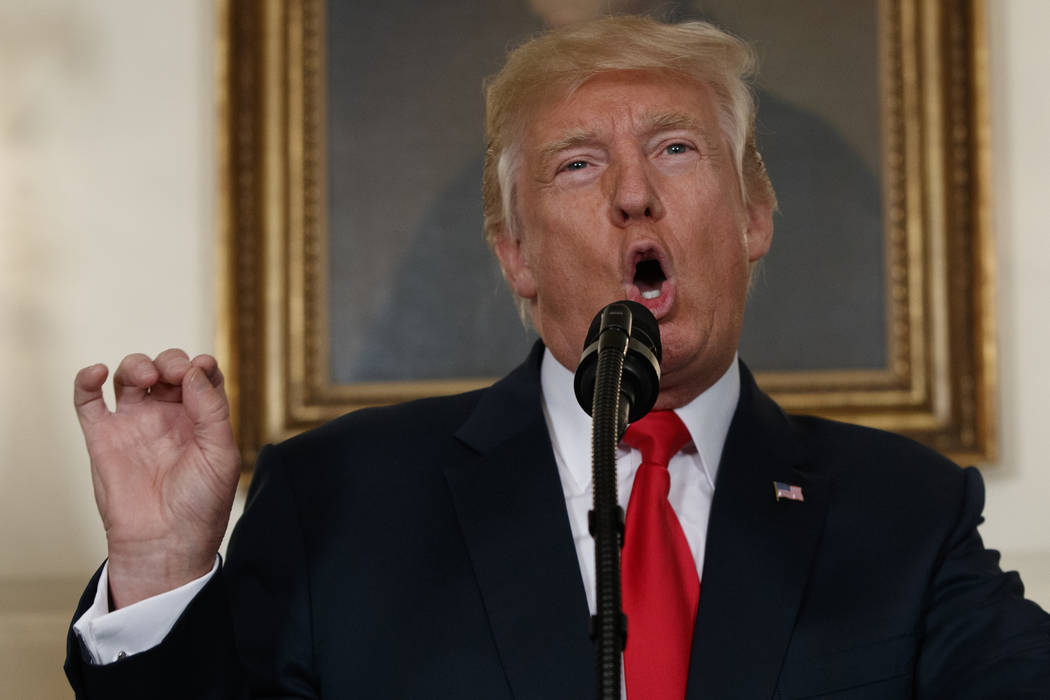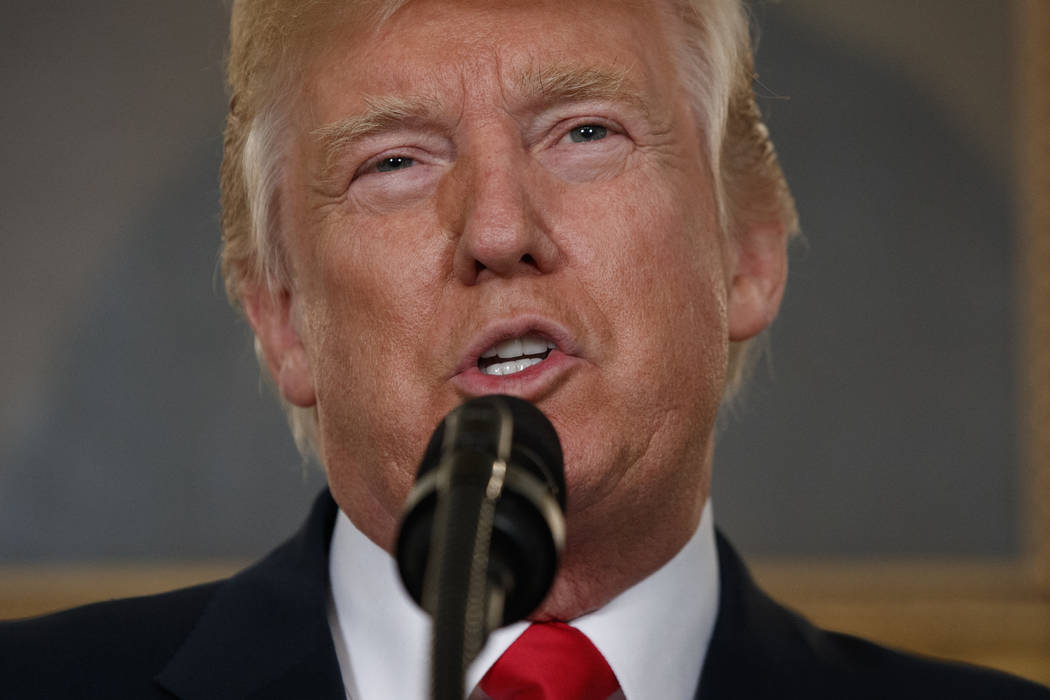 WASHINGTON — President Donald Trump returned to the White House on Monday to renounce racism as "evil" and recognized a civil rights investigation into the "horrific attack" in Charlottesville, Virginia, that "killed one innocent American and wounded 20 others."
Trump's comments came after three days of Democrats and Republicans alike calling on him to renounce white supremacist groups by name for their role in the violent confrontation in Charlottesville that left a counterprotester dead Saturday.
Trump on Monday did just that. He first referred to remarks he made Saturday that condemned violence and racism, then specifically denounced "the KKK, neo-Nazis, white supremacists and other hate groups that are repugnant to everything we hold dear as Americans."
Originally, the White House had scheduled Trump's return from his Bedminster, New Jersey, residence for a presidential signing of an order to study China's trade practices. But even before Marine One touched down on the South Lawn, staff announced that Trump would meet first with Attorney General Jeff Sessions and FBI Chief Christopher Wray to discuss the federal probe.
Trump did not respond to shouted questions as he entered the White House, but already the controversy had further isolated the president. Monday morning, Merck CEO Kenneth Frazier announced on Twitter his decision to resign from the president's American Manufacturing Council in protest.
"As CEO of Merck and as a matter of personal conscience, I feel a responsibility to take a stand against intolerance and extremism," wrote Frazier, who is African-American.
Trump's response was to tweet back, "Ken Frazier of Merck Pharma has resigned from President's Manufacturing Council, he will have more time to LOWER RIPOFF DRUG PRICES!"
Later Monday, Kevin Plank, CEO of athletic clothing maker Under Armour, and Brian Krzanich, CEO of computer chip maker Intel Corp., said they, too, would resign from the council.
Car plows into crowd
The story erupted Saturday after a Dodge Challenger plowed into a crowd of counterprotesters and killed Heather Heyer, a 32-year-old local paralegal who came to demonstrate against a white nationalists' rally against efforts to remove a statue of Confederate Gen. Robert E. Lee from Charlottesville, home to the University of Virginia.
Police have charged the alleged driver, James Alex Fields Jr., 20, of Ohio, with second-degree murder, malicious wounding and failing to stop at the scene of the crash. Photos on social media showed Fields standing with Vanguard America, one of the rally's white nationalist sponsors.
Two state police officers — H. Jay Cullen and Berke M.M. Bates, 40 — also died when their helicopter crashed.
The controversy involving Trump began Saturday at the signing ceremony for a bill providing funding for veterans seeking medical care outside the Veterans Administration. Trump clearly wanted to keep the focus on the bill, but he also had to address the violence in Charlottesville.
Trump called on Americans to come together "with love for our nation and true affection." He also said, "We condemn in the strongest possible terms this egregious display of hatred, bigotry and violence on many sides — on many sides. It's been going on for a long time in our country. Not Donald Trump, not Barack Obama, it's been going on for a long, long time."
Cable TV pundits promptly pounced on the phrase "on many sides" to fault Trump for lumping counterprotesters in with white nationalists. The Wall Street Journal editorialized, "As is often with Mr. Trump, his original statement missed an opportunity to speak like a unifying political leader."
Some critics – including GOP senators — assailed Trump for not calling out white nationalist groups like Vanguard America or naming leaders like former Ku Klux Klan grand wizard David Duke who attended the rally.
"Mr. President — we must call evil by its name. These were white supremacists and this was domestic terrorism," tweeted Sen. Cory Gardner, R-Colo.
2016 criticism of Obama
On social media, others pointed to Trump's 2016 criticism of President Barack Obama's failure to name "radical Islamic terrorism" and called on Trump to identify the culprit of domestic terrorism. Sessions used the term when he announced the federal investigation.
The weekend offered up a drama that was bound to end one way — with a nod to political necessity when valiant attempts at spin had failed.
In Columbia over the weekend, Vice President Mike Pence enunciated the names suggested by Trump critics when he said, "We have no tolerance for hate and violence, from white supremacists, neo-Nazis, or the KKK," Pence said. "These dangerous fringe groups have no place in American public life and in the American debate, and we condemn them in the strongest possible terms."
On Sunday, the White House released a statement from an unnamed spokesperson: "The president said very strongly in his statement yesterday that he condemns all forms of violence, bigotry, and hatred. Of course, that includes white supremacists, KKK neo-Nazi and all extremist groups. He called for national unity and bringing all Americans together."
Rather than mollify critics, the anonymous statement served to highlight the president's reluctance to correct what his administration clearly saw as a glaring omission.
In his Monday remarks, Trump emphasized his personal repugnance at the violence, but his words came too late for Kristen Clarke of the Lawyers' Committee for Civil Rights Under Law.
"The president's statement is two days late and a dollar short," she said in a statement. "It should not take two days and a national tragedy for the president to take action and disavow white supremacists."
Contact Debra J. Saunders at dsaunders@reviewjournal.com. Follow @DebraJSaunders on Twitter.
RELATED
Virginia tragedy sparks North Las Vegas rally against injustice