Interior secretary helps pick up trash during Las Vegas visit
January 26, 2018 - 7:04 pm
Updated January 26, 2018 - 7:19 pm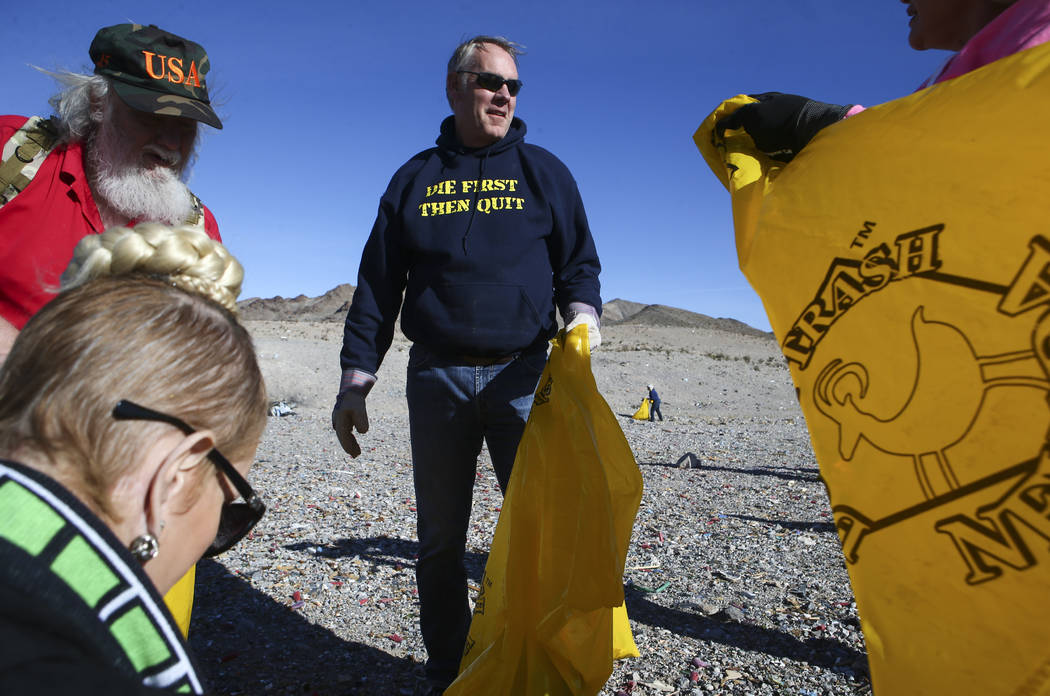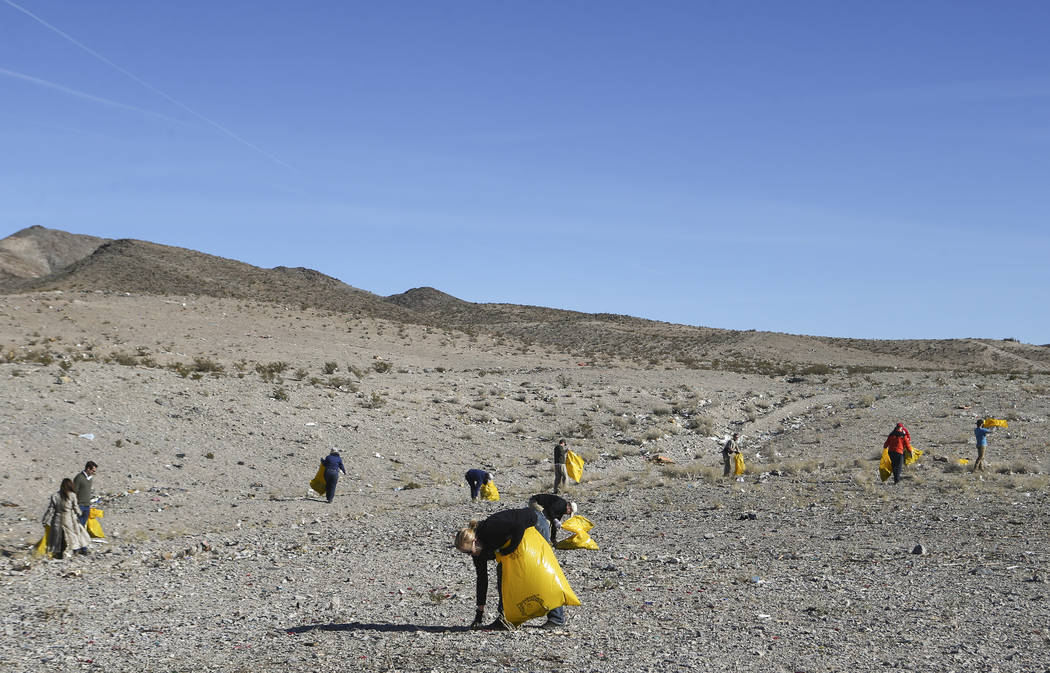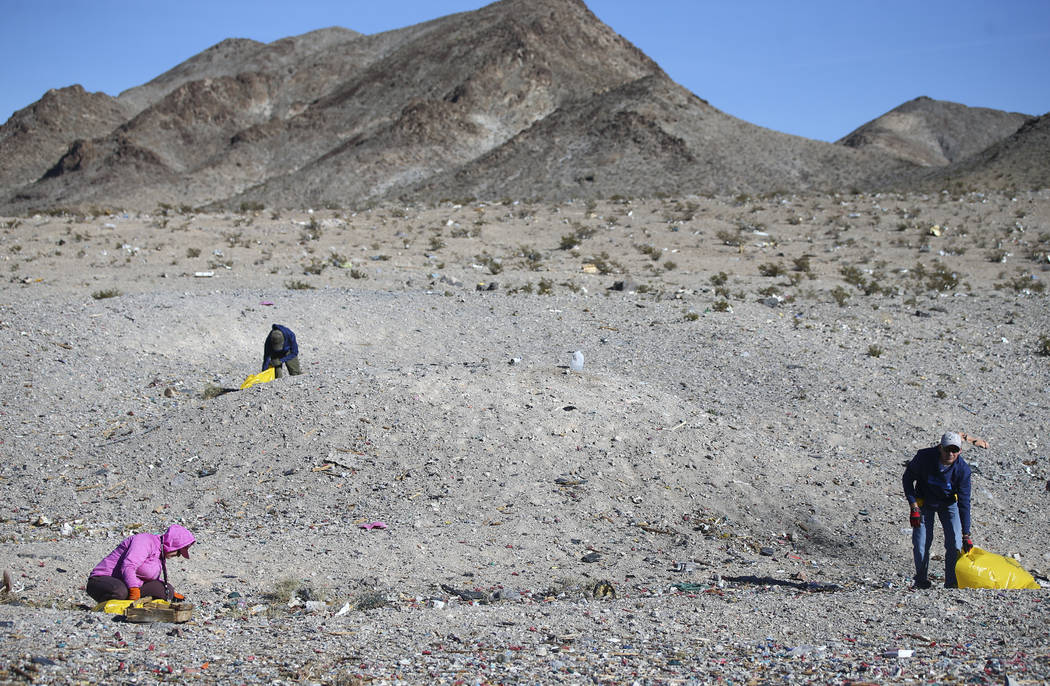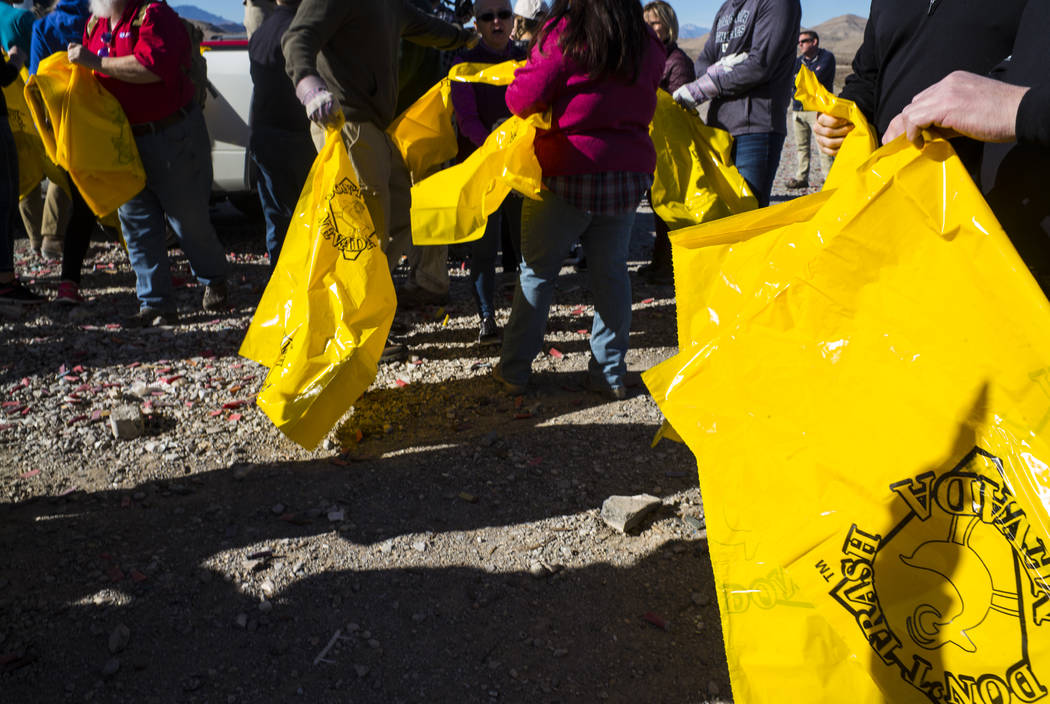 Interior Secretary Ryan Zinke took time out from a two-day visit to the world's largest firearms industry expo in Las Vegas on Friday to help clean up public land trashed by target shooters just south of the valley.
Zinke spent a little over an hour with about 50 volunteers and Bureau of Land Management staff members as they picked up debris in a popular shooting area off Las Vegas Boulevard south of Sloan.
The prominent member of President Donald Trump's Cabinet filled a large bag with discarded targets, drove a front-loader, posed for pictures and skirted controversy in a short meeting with reporters.
Zinke sidestepped questions about the Oct. 1 mass shooting in Las Vegas and embattled Nevada rancher Cliven Bundy.
He said he walked the floor at the Shooting, Hunting and Outdoor Trade Show at the Sands Expo and Convention Center on Thursday and Friday to show the administration's commitment to shooting sports and to preserving and expanding access to public land for hunting and fishing.
Along the way, Zinke said, he met with some of his old friends in the gun industry.
When asked about Bundy and cattle grazing in places like Gold Butte National Monument in northeastern Clark County, he said only that there are ranchers with claims going back to the mid-1800s and "the federal government should not be adversarial."
As for the cleanup effort at the massive shooting area south of town, Zinke applauded recent cooperative work by federal, state and local officials and the contributions by volunteers, who on Friday included employees from Bass Pro Shops and local members of the National Rifle Association and the Back Country Horsemen of America.
The former Navy SEAL and congressman from Montana showed up in a hooded sweatshirt that read "Die first, then quit." He shed the sweatshirt before taking questions from reporters, revealing a black T-shirt underneath printed with the words: "I stand for the flag. I kneel for the cross."
His wife, Lolita, also helped pick up trash.
Zinke said he'd seen a lot of gun ranges during his time in the military, but nothing as messy and chaotic as this.
"It looks like landfill," he said. "This is on our land. The land belongs to us, not the government. … We have to make sure this doesn't repeat itself."
Local conservationists and left-leaning political advocates blasted Zinke for, in their words, spending more time at a gun show just a few miles from the scene of the Strip shooting than he did meeting with stakeholders during last year's controversial review of Gold Butte and Basin and Range national monuments.
"This unexpected visit by Secretary Zinke is troubling and an insult to our community on so many levels," Annette Magnus, executive director of Battle Born Progress, said in a statement.
But the people at Friday's cleanup seemed thrilled to see him.
Several of those in attendance wore pro-Trump hats and posed for selfies with the secretary.
One man, dressed in a sweatshirt celebrating his support for Cliven Bundy, told Zinke he liked the job he has done so far.
Contact Henry Brean at hbrean@reviewjournal.com or 702-383-0350. Follow @RefriedBrean on Twitter.