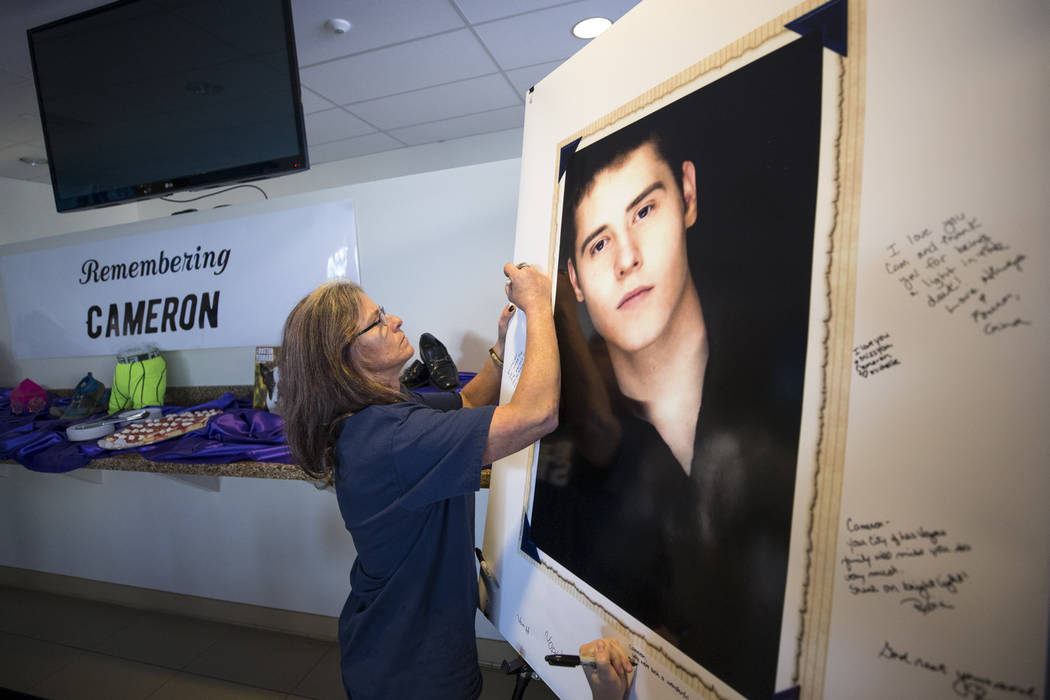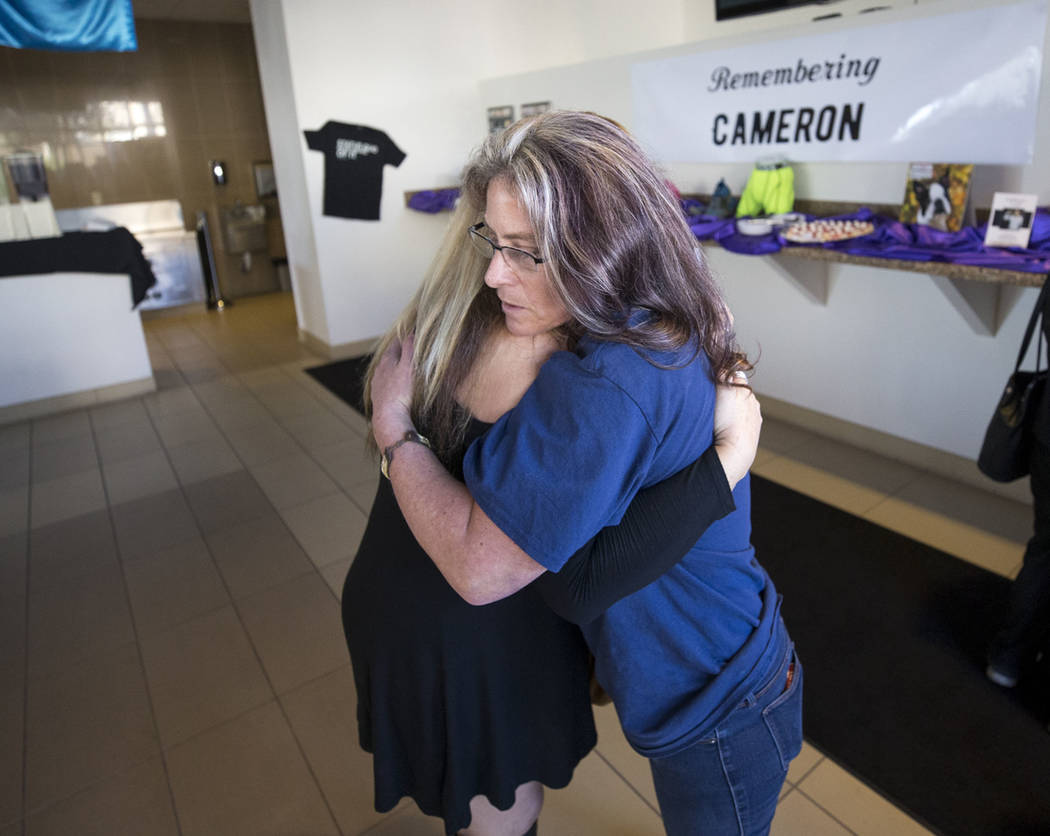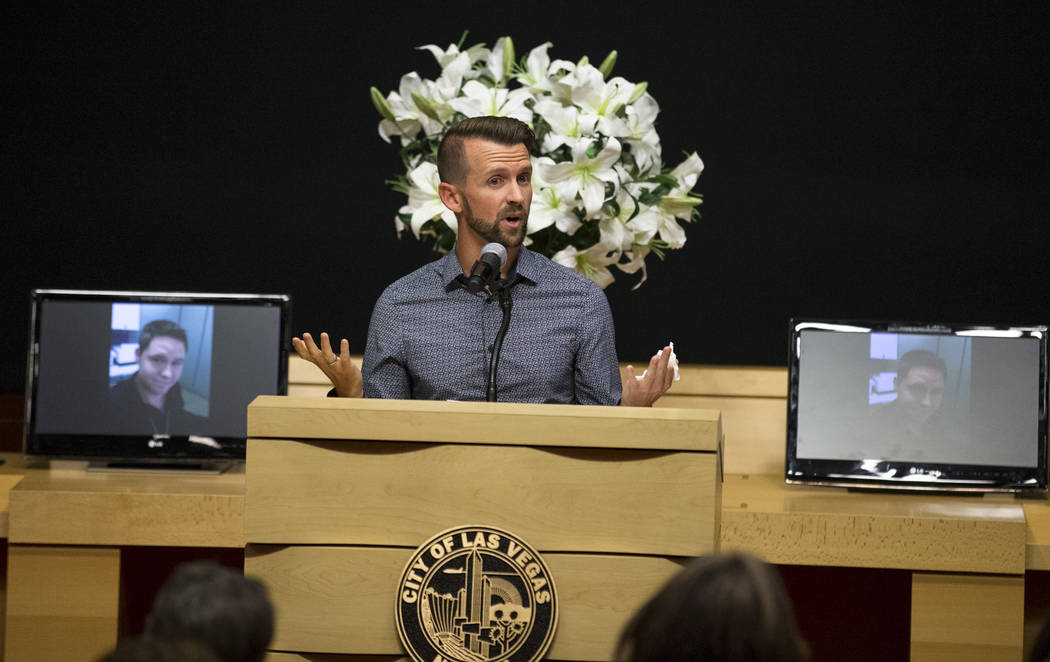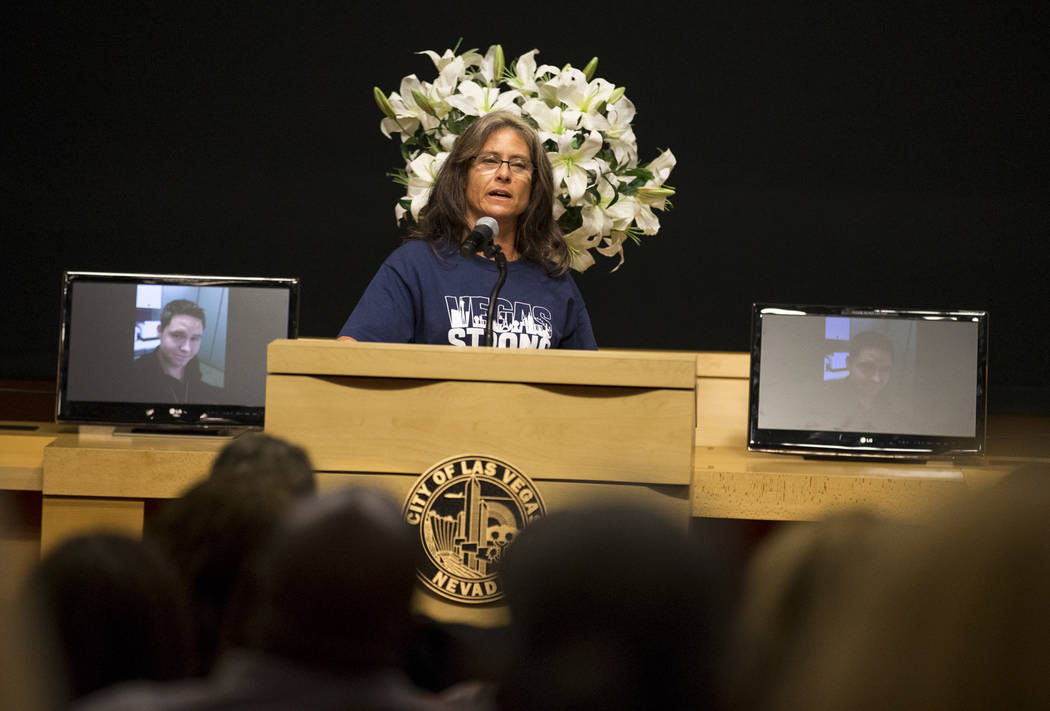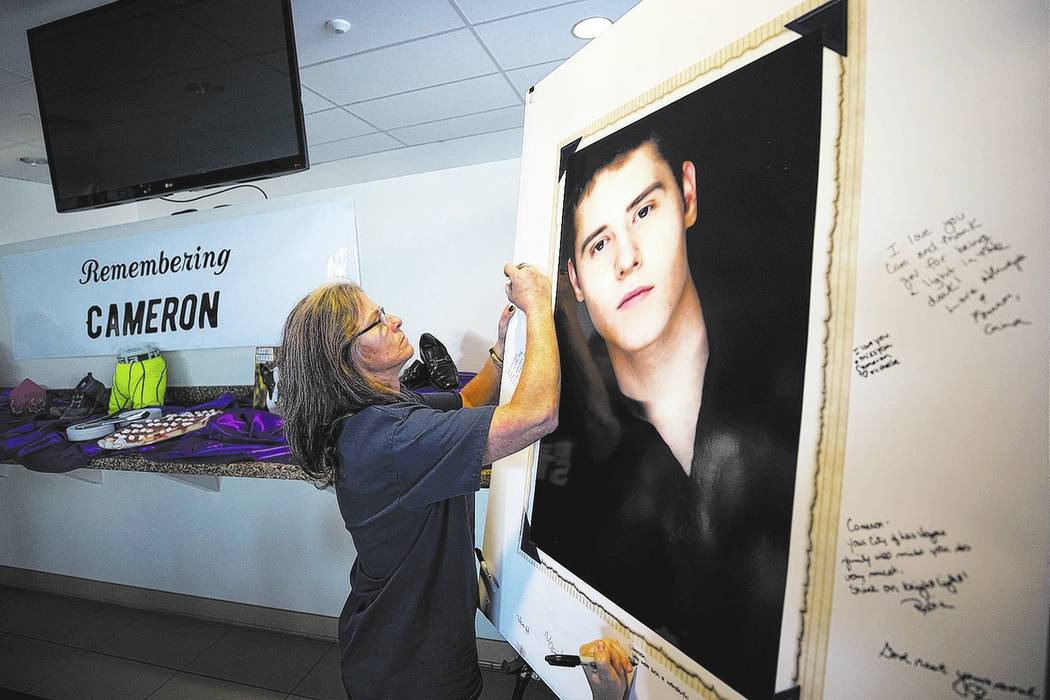 When Cameron Robinson started spending time with his boyfriend's children, he was intimidated. Even a little awkward.
Robinson was in his mid-20s and had no experience with children before he began dating Bobby Eardley in February 2014.
But he was persistent — making inroads with the kids by taking trips to get frozen yogurt, and finding some special way to bond with each of Eardley's children.
Before long, Robinson had moved into the family's St. George, Utah, home, where he was a full-fledged dad — making sure homework was done, observing bedtimes and creating a "kids" tab on the Netflix account they used.
"When he got his first Father's Day card, I think it was probably one of the greatest days of his life," Eardley said Thursday at a celebration of life for his late partner. "It meant so much to him. And I'm so, so grateful he was able to have that."
Robinson, 28, was among the 58 people killed in a shooting at the Route 91 Harvest music festival Oct. 1.
A crowd of more than 100 friends, family and coworkers remembered Robinson as determined, fun-loving and an occasional pest at Las Vegas City Hall on Thursday. Robinson worked as a records specialist in the Las Vegas city attorney's office for nearly four years.
He had a drive from a young age, but he channeled it differently when he was younger. His mother, Diane Bradley, asked him to walk the family pig, and he would get the pig riled up and take her back to the house. Bradley had an ornery, obese pig on her hands.
Robinson's rambunctious boyhood energy led him to stuff a pillow in the crack under Bradley's door while she slept, blocking the light from seeping into her room while he was in the kitchen. Bradley often woke up to a mess of food.
And one lesson Bradley taught him would stick with Robinson.
A neighbor clad in a gorilla suit came to the front door, which Robinson wasn't allowed to open. He did.
"You never heard a kid scream so loud and run so fast. And from that point on, his little escapades at night — I took the mask head and put it on a basketball and set it right outside his bedroom door," Bradley said. "That ended it. He never did it again."
Robinson loved to sneak up on people and scare them, but he never warmed to gorillas, Bradley said. Despite her son's antics, she "couldn't be prouder of a kid."
It was late 2013 when Robinson started working at the city, and a couple months later he met Eardley. The puzzle was coming together — Robinson was more content than he'd ever been, said his boss, City Attorney Brad Jerbic.
"When you talk about the arc of someone's life, Cameron's was going nowhere but up," Jerbic said.
Assistant City Attorney Morgan Davis recalled his confusion when Jerbic hired Robinson.
"Brad, he didn't go to law school. He worked for a flower shop," Davis recalled saying. "We don't do flowers here."
In retrospect, Robinson was "probably your best hire," Davis said.
A number of friends and family members streamed up to the microphone, emotional but eager to tell the crowd what Robinson meant to them.
Robinson's role as a budding florist came from Debbie Montoya, who became like another mother to him. Robinson and Montoya's son, Dicky, had dated. They broke up, but Robinson still had a piece of Montoya's heart, she said.
Robinson was staying with the Montoyas when he hit a rough patch.
"I told him, 'You're going to get up, take a shower and help me at the flower shop,'" Montoya said.
He started working at the family's Henderson shop, Antique Rose Florist. He started as a novice but began to "bloom," giving orders and even getting a license to marry couples, Montoya said.
Despite leaving for another job, Robinson would still help off and on at the flower shop. He built "shadow boxes" to preserve bouquets long after a wedding.
The final wedding Robinson had a hand in was Sept. 30, while he and Eardley were at the country music festival.
Montoya and Robinson last spoke the Wednesday before.
Montoya still has Robinson's old, broken-down blue Volkswagen Beetle. She bought it from him for $1,500, but because of its issues she's tried to give it away multiple times.
Now, she'll restore it. Its front lights were rimmed with eyelashes before, but Montoya bought new ones with rhinestones. She wants a license plate that says "Hell-errr," the message Robinson would leave on her voicemail when she didn't pick up.
"I'm so happy I didn't get rid of it," she said.
Contact Jamie Munks at jmunks@reviewjournal.com or 702-383-0340. Follow @JamieMunksRJ on Twitter.
Related
Las Vegas shooting victim Cameron Robinson lived a life of love
Aftermath of shooting dominates Las Vegas City Council meeting
City of Las Vegas employee killed in shooting 'didn't do anything halfway'