Las Vegas City Council OKs Republic Services contract extension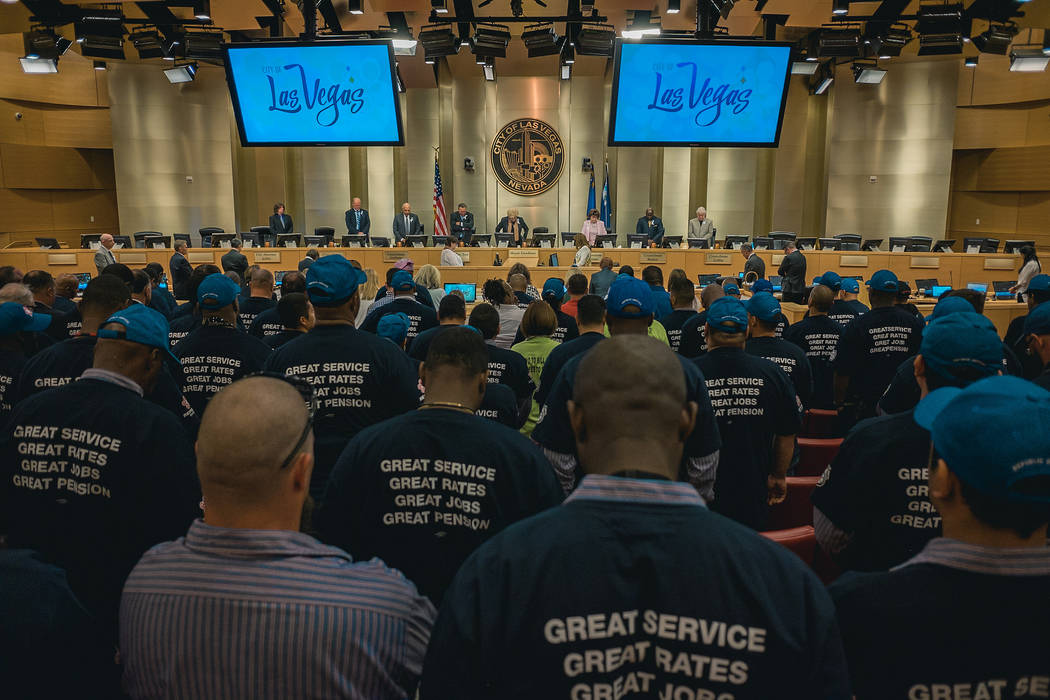 Despite a chorus of calls to put the contract through a competitive bidding process, the Las Vegas City Council approved a long-term exclusive franchise agreement with waste hauler Republic Services Wednesday than runs until 2031.
The council voted 5-2 in favor of the new agreement, which calls for the company to implement a single-stream, or non-sort, recycling program in the city, and comes years before the expiration of the city's existing deal with Republic. Lois Tarkanian and Ricki Barlow cast the no votes.
The current agreement between the city and Republic is due to expire in February 2021. The new agreement approved Wednesday runs a decade beyond that expiration date, through June 30, 2031.
Republic has said it needs a long-term commitment to justify the cost of the move to single-stream recycling.
Tarkanian said she could not vote for the new agreement without the city soliciting bids.
"This is a clear choice for me, I don't expect to win this," she said. "It's not just competition, it's monopoly."
Republic employees turned out en force to Wednesday's City Council meeting, wearing blue hats and T-shirts that read "Don't Trash Us."
Dozens of speakers addressed the council, voicing support for Republic and good experiences with single-stream recycling. Others, including owners of smaller waste and recycling firms, urged the council to solicit competitive bids.
Teamsters 631 President Tommy Blitsch contended if the city issued a request for proposals and Republic lost, the company would cut 300 local jobs. The union represents hundreds of Republic workers.
"Please don't put our livelihoods out to RFP," Blitsch said.
Contract details
The contract length changed during Wednesday's council meeting when Mayor Carolyn Goodman asked Republic's Market Vice President Tim Oudman if the company would agree to decrease from 12 to 10 years without changing any other terms, and he agreed.
Republic will continue to pay the city a franchise fee of 5 percent of gross receipts, and will implement single-stream recycling collection citywide by Dec. 31, 2018.
Residential trash and recycling pickups will be once a week for a $14.32 monthly rate, but residents can opt for a second weekly trash pickup for an additional $13.15 monthly charge. The agreement also adds a bulky item pickup once every two weeks. Rates for residents will be adjusted are based on the consumer price index.
The city can raise franchise fees and levy environmental surcharges that the company can pass on to its customers.
The city excluded from the agreement 30 percent of its sewage waste that could be contracted to other companies. The excluded amount grows to 40 percent in 2021 and 50 percent in 2026.
North Las Vegas, Henderson and Clark County already have long-term contracts with Republic that provide for single-stream recycling. North Las Vegas' contract runs through 2031, while Henderson and Clark County's go to 2035.
Vote delay urged
State Sens. Patricia Farley and Mo Denis wrote Goodman last week, asking the council to delay approving an extension with Republic until the state Legislature can have a more comprehensive policy discussion around the waste-hauling industry. Farley and Denis introduced a bill last month that aims to increase competition in the waste-hauling industry in Nevada.
City officials negotiated a long-term franchise agreement with Republic for months despite calls for a competitive bidding process. Local advocacy group Citizen Outreach delivered a petition with 850 signatures Monday, urging the council to put the contract up for bid.
Western Elite Vice President Scott Seastrand said his calls for the city to put the contract out for bid does not reflect opposition to single-stream recycling or organized labor, Seastrand said, giving a nod to the hundreds of Republic employees that packed council chambers Wednesday.
"What it's about is good government," Seastrand said.
Contact Jamie Munks at jmunks@reviewjournal.com or 702-383-0340. Follow @JamieMunksRJ on Twitter.