Las Vegas continues work to become a 'smart city'
Updated July 29, 2017 - 10:03 pm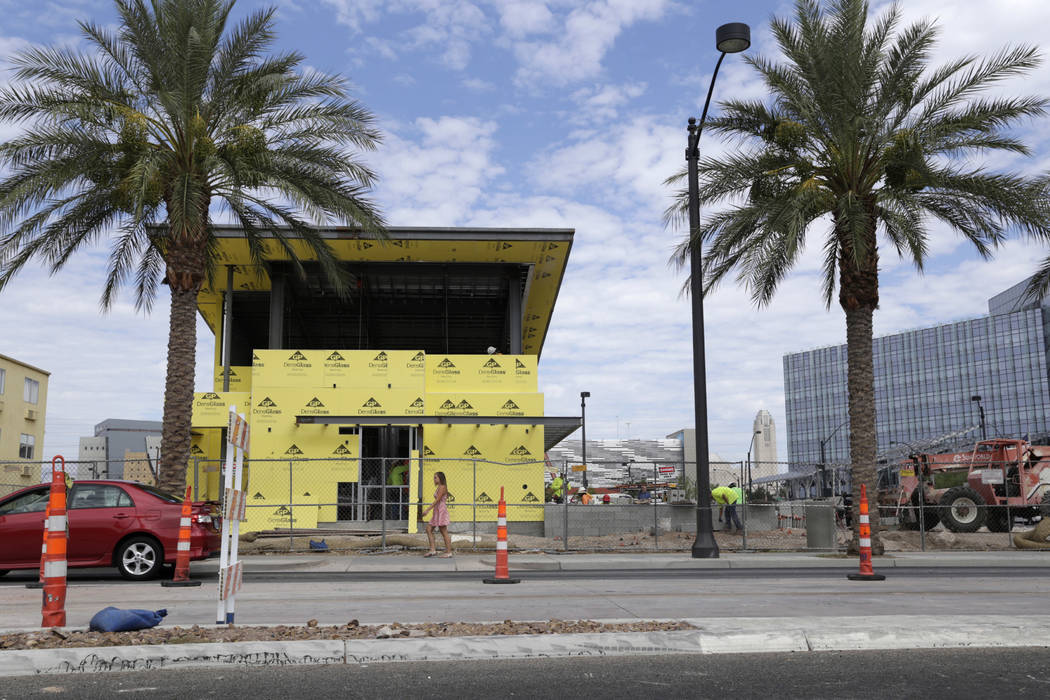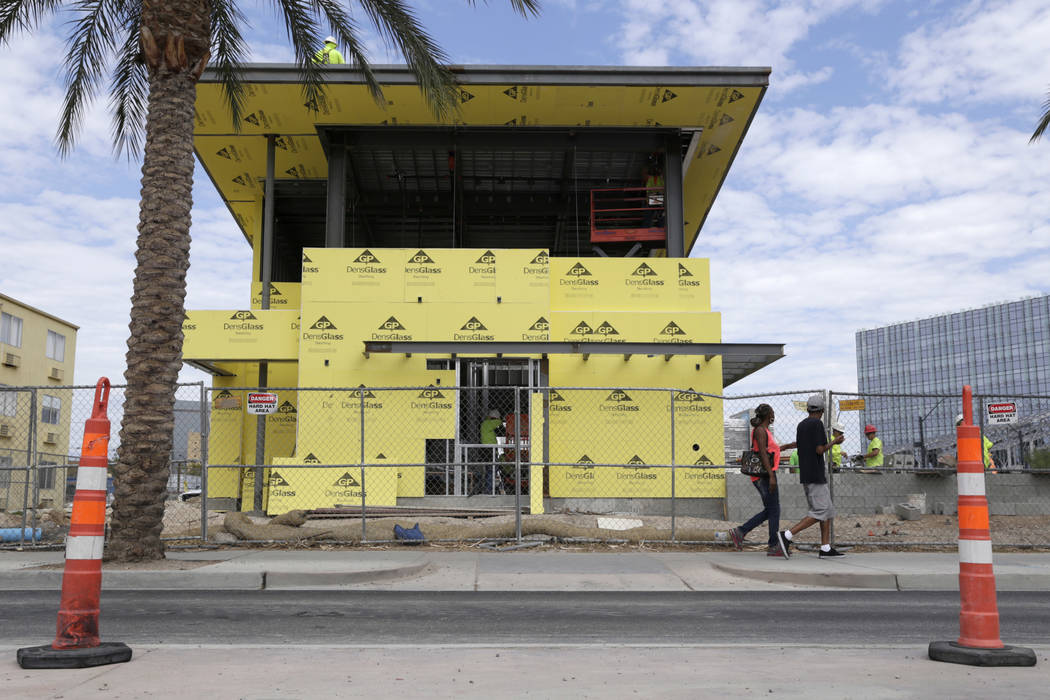 Michael Sherwood wants to make sure the need for new technology in the Las Vegas Innovation District is data-driven before the city doubles down.
"We're using these technologies and testing them before going out and making a large investment," said Sherwood, the city's chief innovation officer.
The city is testing technology such as sensors that send alerts when garbage cans are filling up and show where people are jaywalking, and cameras that can pick up things like graffiti or an abandoned backpack on the sidewalk.
Sherwood emphasizes that the city won't keep individual information on file from data funneled back to the city.
"We won't know who jaywalked or ran the red light, just that someone did," he said.
The Innovation District, launched last year, is a technological testing ground spanning a large swath of downtown Las Vegas. The city is working with companies like Cisco, Hitachi, Motionloft and Numina to test traffic and environmental sensors, cameras and autonomous vehicles.
Sherwood and his staff are busy these days. His department is readying a mobile application for a soft launch next month. They're testing technologies that will funnel wide-ranging data to the city that ties into traffic management and parking, public safety, the environment and autonomous vehicles.
French tech company Navya took its electric autonomous shuttle out for a 10-day test run in January along Fremont Street, and another autonomous vehicle test is expected to take off downtown in the fall. During the first test, the street was closed. Next time, the vehicle will be tested on a closed course, then likely coexist on the road downtown with other cars, communicating with the traffic signals.
"This time the idea would be it would move through normal traffic," city Communications Director David Riggleman said.
Since launching a platform for the Amazon Echo, the city has added several "skills," enabling residents to seek answers from Alexa about parks and community centers, elections and buses, using the phrase "Go Vegas." It will continue to add functions so residents and visitors can interact with the city using their phone, computer or Amazon Echo, Sherwood said.
Making the most of the data
The data is being fed back to a database, but because this technology has been in place for less than 90 days in most cases, there is not enough to analyze. When analysis can be done, the findings will be presented to the departments affected by the technology. If there's a desire to invest and make permanent installations, the City Council will decide whether to proceed.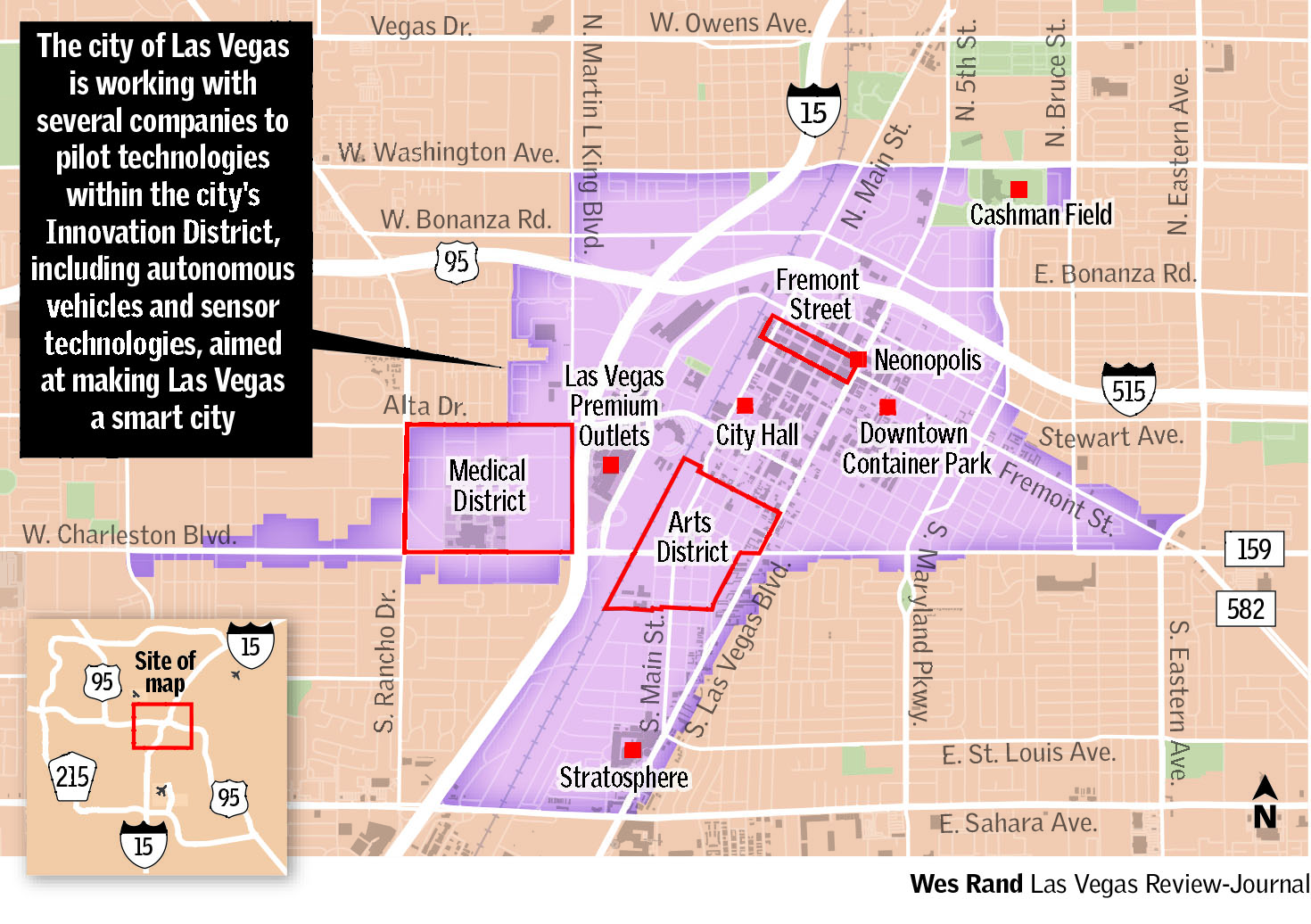 Other smart city capabilities in the works include a smartphone app that lets people check how many parking spaces are available in a given city lot or garage. Or with a goal of reducing the city's carbon footprint, officials may consider environmental sensors that can tell when five cars are idling at a red light, and turn the light green faster, Sherwood said.
People have grown used to online banking and other tasks being a few smartphone screen taps away from completion, but government doesn't usually fall in that category, Sherwood said.
"We're not used to government being that easy to work with," Sherwood said.
Contact Jamie Munks at jmunks@reviewjournal.com or 702-383-0340. Follow @JamieMunksRJ on Twitter.
Smart City
The city of Las Vegas is testing new technologies in a half-dozen different areas:
— General public safety
— Traffic management
— Parking
— Intelligent lighting and trash
— Autonomous vehicles
— Environmental