Nevada abortion debate rages after resolution introduced
Updated March 24, 2023 - 11:12 am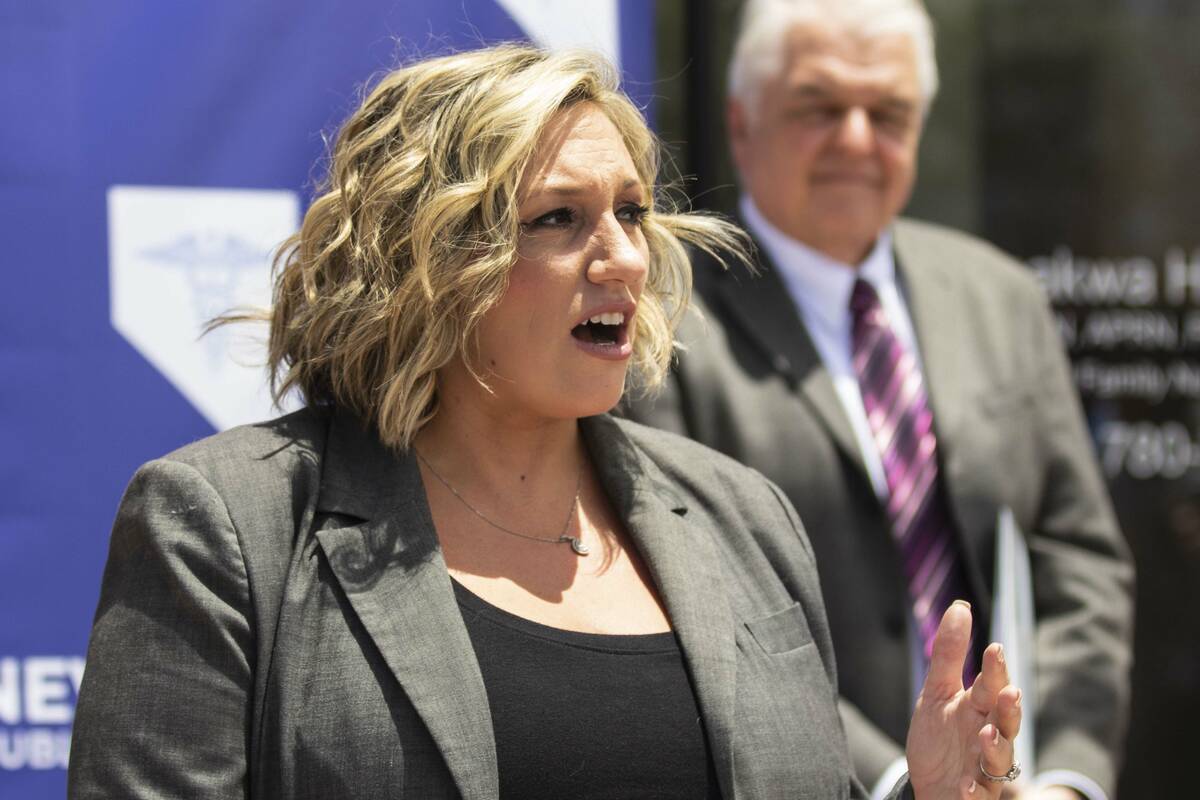 CARSON CITY — The debate over abortion raged in the capital on Thursday, after a legislative leader kicked off an effort to amend the state constitution to guarantee abortion rights in the state.
A lengthy hearing before a joint meeting of Senate and Assembly Legislative Operations and Elections committees followed an earlier news conference outside the Legislative Building called to announce Senate Joint Resolution 7, which would guarantee an individual's right to reproductive freedom, authorize the state to regulate abortion care "after fetal viability" with some exceptions and prevent the state from "penalizing, prosecuting or taking any other adverse action" against an individual for providing or receiving reproductive care.
The resolution, introduced by Senate Majority Leader Nicole Cannizzaro, D-Las Vegas, is co-sponsored by most of the Democrats in the Legislature, including Speaker Steve Yeager and Assembly Majority Leader Sandra Jauregui, both D-Las Vegas. With abortion, it would protect prenatal care, child birth, postpartum care, birth control, vasectomies, tubal ligations, infertility care and miscarriages.
"This session we are going to guarantee that there is no ambiguity on where Nevada stands," Cannizzaro said at the afternoon news conference. "When it comes to reproductive health care, we are going to start the process that will make reproductive freedom a constitutional right."
The resolution would need to be passed during this session and again in the 2025 legislative session before being placed on the ballot for voters' approval.
In Nevada, abortion rights are already protected by a state law that was subjected to a referendum in 1990 and cannot be changed except by another vote of the people. Including them in the constitution would make repealing abortion rights more difficult, requiring either two successive legislative sessions to approve a resolution before a repeal vote or a voter initiative and two successive votes in a general election.
Cannizzaro was joined by advocates from Planned Parenthood, the Progressive Leadership Alliance of Nevada and NARAL Pro-Choice America, at the afternoon news conference, all of which stressed the importance of protecting abortion rights.
"Seventeen states are enforcing bans on abortion, including many of the states surrounding yours like Idaho, Utah, Arizona, and these extremists," said NARAL Pro-Choice America President Mini Timmaraju. "They're not stopping at abortion. They're increasingly seeing threats to every aspect of reproductive care, including birth control, in vitro fertilization, and much, much more."
Last month, Cannizzaro introduced a bill to protect women seeking abortions in Nevada from prosecution in their home states. If passed, it would codify an executive order issued by former Gov. Steve Sisolak days after the U.S. Supreme Court overturned Roe v. Wade in June and gave individual states power to regulate abortion.
Necessity?
At a legislative hearing Thursday, Cannizzaro said that referendums only provide statutory protection and that the statute was "backstopped by decades of legal precedent."
Nevadans' access to abortion are at risk, proponents argue. A Planned Parenthood affiliate was denied a conditional use permit in West Wendover because it provides abortion as part of its primary care practice, said Lindsey Harmon, executive director of Planned Parenthood Votes Nevada.
A pharmaceutical wholesaler is reportedly refusing to distribute abortion pills in pharmacies in the state, and Nevada's Democratic U.S. senators have voiced their opposition.
Assemblywoman Daniele Monroe-Moreno, D-North Las Vegas, said in the hearing she is in support of the resolution but brought up concerns from people who emailed her, such as that the resolution would limit families' options to adopt and would force people to have or provide an abortion. In response, Cannizzaro denied that adoptions would be impacted, and nobody would be forced to have or perform an abortion.
Assemblywoman Jill Dickman, R-Sparks, raised concerns about the resolution allowing abortion for all nine months of a pregnancy. Current state law allows for abortions through the 24th week of pregnancy and thereafter if a woman's health is in jeopardy. SJR 7 allows for the state to regulate abortion after the point of fetal viability. The proposed amendment would not change existing state law.
A flurry of public opinion
The Legislature received more than 230 written opinions on the resolution ahead of its meeting Thursday, with 201 opinions in opposition and 36 in support, according to the legislative website. Public testimony took up more than three hours on Thursday afternoon.
Dozens spoke in favor of the resolution at the hearing Thursday, some of whom recounted their own experience with getting a lifesaving abortion or reproductive care they needed.
"This amendment is about protecting the right to privacy when it comes to somebody's reproductive future whether or not they want children," said Nevada resident Beverly Schreiber, who does not want children. After Roe v. Wade was overturned, she was worried that procedures like tubal ligation would be "next on the chopping block."
"Last September I had my tubes tied to ensure that I am never forced to bear a child I do not want or can't physically carry," Schreiber said. "Women's rights are under attack in this country right now, and I wanted to make sure I could get my surgery done before I did not have that choice."
But many also spoke against the resolution spoke about the value of human life, pain that unborn babies feel as well as psychological tolls of abortion.
"I am against abortion being a fundamental right because it is killing another human being," said Dr. Tracy Muscari, a physician in Nevada. "A fundamental right should be about our own rights, not affecting another person."
When Carson City resident Susan Hoffecker was pregnant at age 17 and unmarried, her family pressured her to abort, but she decided to give the baby up for adoption. "It's not about reproductive rights in Nevada," Hoffecker said. "It's about taking innocent life. … I thank God I chose life for my son. I grieve for women who have lost their babies."
Contact Taylor R. Avery at TAvery@reviewjournal.com. Follow @travery98 on Twitter. Contact Jessica Hill at jehill@reviewjournal.com. Follow @jess_hillyeah on Twitter.