Nevada lawmakers look to close loophole on real estate transfer taxes
Updated March 29, 2023 - 6:54 pm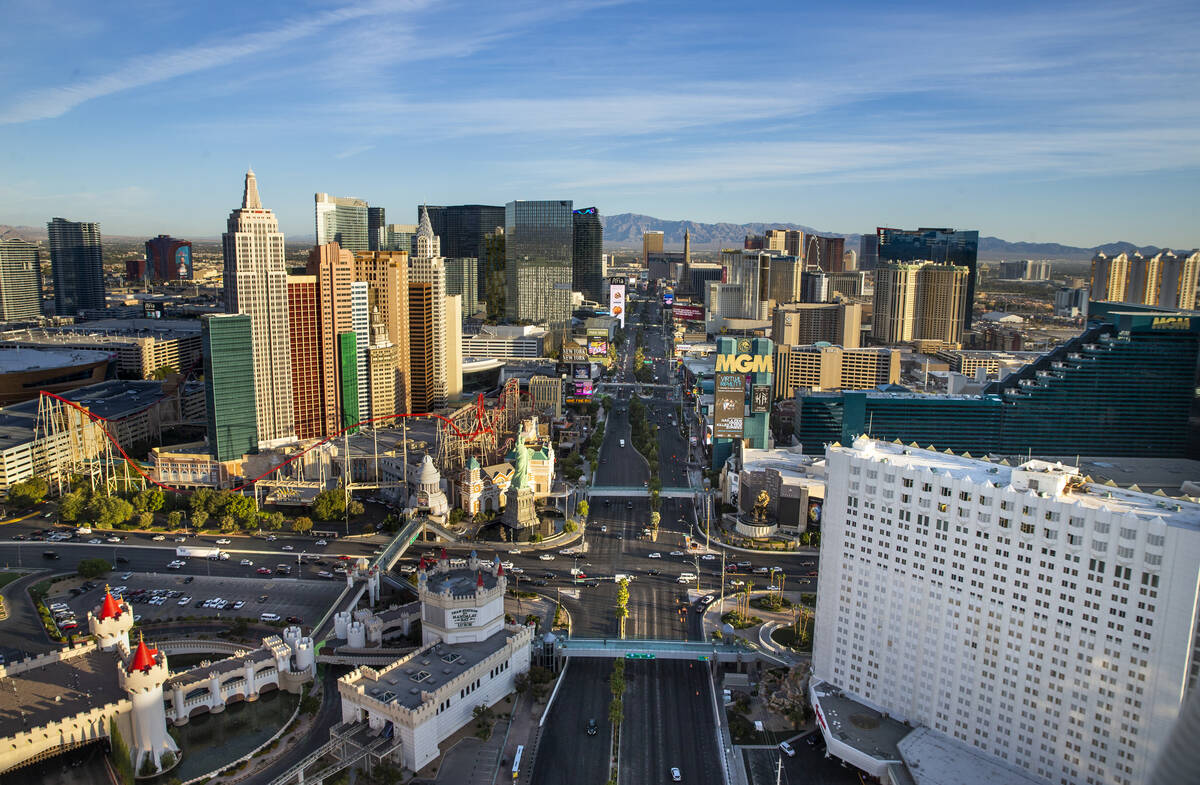 Nevada lawmakers aim to close a loophole in the state's real estate transfer tax law, after the Review-Journal reported numerous high-priced deals in Las Vegas were structured in ways that allowed buyers and sellers to avoid paying the tax.
Assembly Speaker Steve Yeager, D-Las Vegas, and Assembly Majority Leader Sandra Jauregui, D-Las Vegas, teamed on a bill introduced Monday that would change an exemption to the tax when property owners shift real estate to an affiliate or subsidiary.
Under the measure, Assembly Bill 448, the tax still applies if the property is transferred to a business entity that was "formed for the purpose of avoiding those taxes."
Assemblywoman Venicia Considine, D-Las Vegas, introduced a separate measure Monday, AB450, with the same language.
Transfer taxes comprise a fraction of a property's sales price, and the revenue supports schools, low-income housing and other services in Nevada. The state generated more than $330 million in transfer tax revenue last fiscal year, according to the Nevada Department of Taxation.
However, the Las Vegas Valley has seen plenty of lucrative deals over the years that did not contribute a dime to this revenue stream, sparing large companies from paying a tax routinely slapped on sales of homes and other properties.
Asked why two separate bills with the same language were introduced in the Assembly, Yeager said, "Great minds think alike." Lawmakers generally try to coordinate, but that didn't happen this time, he added.
Considine could not be reached for comment Tuesday.
'Piqued my interest'
As the Review-Journal reported last spring, at least $27.5 billion worth of transactions in the Las Vegas area — comprising roughly two dozen sales involving hotel-casinos, malls and other properties mostly on or near the Strip — had closed since 2007 without any publicly reported real estate transfer taxes.
Yeager said Tuesday he wasn't aware of the issue until the Review-Journal reported on it, adding the coverage got him interested in the revenue at stake.
The schools and low-income housing aspect "definitely piqued my interest," he said.
None of the businesses or people involved in the deals tracked by the Review-Journal were accused of wrongdoing by any government entity, as far as the newspaper could determine, and Yeager said he doesn't think anyone was breaking the law or doing anything wrong with the sales.
But he said he views the deal structure as a "tax loophole" that "typically benefits the wealthiest and largest corporations."
In such deals, buyers often acquire a limited liability company or other entity that holds ownership of the real estate, instead of purchasing the property directly. The deals also frequently cite a transfer tax exemption allowed under state law when property owners shift real estate to a subsidiary, the Review-Journal found. It's the same exemption now targeted by the Nevada lawmakers.
'Follows the letter of the law'
In 2019, when casino giant MGM Resorts International sold Bellagio's real estate for $4.2 billion in cash to financial conglomerate Blackstone and leased it back, it was, by all appearances, the most expensive purchase ever of a Las Vegas casino.
Nonetheless, the deed recorded with Clark County listed the sales price, transfer tax value and transfer tax due all as "$N/A." Its stated reason for the tax exemption was "Transfer from an entity to its wholly-owned subsidiary."
It was a complex transaction. To conduct the sale, an MGM subsidiary formed a new entity and then transferred Bellagio's real estate into it, according to securities filings.
Ownership in that new entity was then transferred to a newly formed subsidiary of Blackstone.
In Clark County, the real estate transfer tax amounts to 0.51 percent of the sales price, meaning a $4.2 billion purchase could generate a transfer tax bill of more than $21 million.
MGM, which sold several other properties tracked for the Review-Journal's investigation, previously said in a statement that this deal structure "is typical among real estate transactions involving businesses of all sizes, across a wide variety of industries."
It added: "Every transaction we conduct follows the letter of the law and is in accordance with all regulatory requirements."
Follows tax code 'in every situation'
Blackstone, meanwhile, also bought and then sold The Cosmopolitan of Las Vegas in deals that did not produce any real estate transfer taxes.
It acquired the flashy hotel-casino in 2014 for $1.73 billion and sold it last year for $5.65 billion, later saying this marked the "most profitable single asset sale ever" for the company's real estate business.
When it sold the resort, a deed recorded with the county for the property showed no sales price, transfer tax value or transfer tax due, with those designated lines blank.
To claim a transfer-tax exemption, the filing cited the section of state law that lets property owners shift real estate to a subsidiary or affiliate without incurring the tax.
Blackstone, which unveiled $5,000 bonuses for each of The Cosmopolitan's roughly 5,000 employees the week before the sale closed, told the Review-Journal last year that it abides by all laws and follows the tax code "in every situation" and that it was "incredibly proud" of what it delivered for Nevada through its investment in the resort.
MGM and Blackstone both said Tuesday they did not have any comments on the proposed legislation.
Contact Eli Segall at esegall@reviewjournal.com or 702-383-0342. Follow @eli_segall on Twitter.