Campaign 2018: Schwartz under fire for belittling Laxalt's military career
Updated February 28, 2018 - 11:07 pm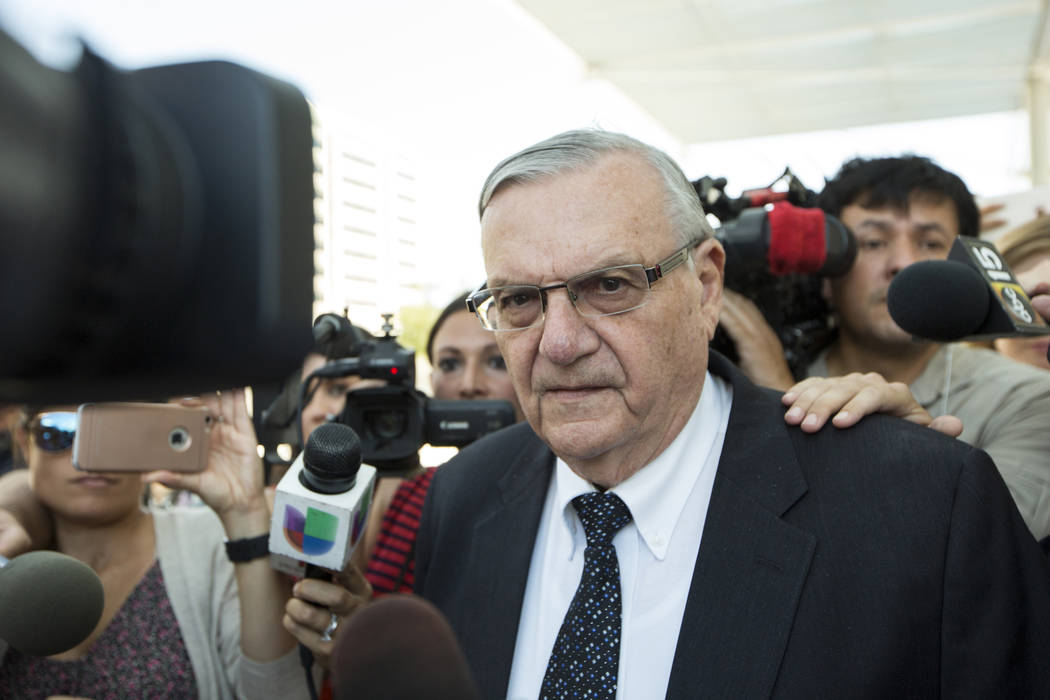 Nevada Treasurer and Republican gubernatorial candidate Dan Schwartz is under fire after he reportedly belittled an opponent's military experience.
According to an open letter from Lyon County Commissioner Ken Gray, Schwartz said on the campaign trail that both he and Republican Attorney General Adam Laxalt are veterans — but that he carried an M-16 in the Cold War while Laxalt "carried a briefcase" in Afghanistan.
Laxalt was a Navy lawyer who served in Iraq and Afghanistan. Schwartz was drafted into the U.S. Army and was deployed to Germany, but he did not serve in a combat zone.
Gray, a 26-year veteran of the U.S. Air Force and Nevada National Guard, said he was disgusted by the comment and will work "tirelessly" to ensure Schwartz loses his bid for governor.
"How dare you denigrate another veteran's service, especially one who served in a real combat zone, Iraq not Afghanistan?" Gray wrote.
Schwartz's campaign could not be reached Wednesday for comment.
Arpaio returning to Nevada
Joe Arpaio, the 85-year-old anti-immigration firebrand and former sheriff of Maricopa County, Arizona, is returning to Nevada for his third speaking event in the Silver State since September.
Arpaio is scheduled to speak at the Clark County Republican Party's May 5 convention, according to party chairman Carl Bunce.
The former lawman's previous two stops in Nevada — in Las Vegas in September and at a GOP fundraising dinner in Douglas County last month — drew backlash and protests from Democrats and pro-immigration advocates, who lambasted Nevada Republican groups for embracing a convicted criminal.
Arpaio received President Donald Trump's first pardon last year and avoided jail time after being convicted of criminal contempt for failing to comply with a court order in a racial profiling case.
Veteran seeks higher-ed spot
David Olson, a North Las Vegas resident, has announced his candidacy for the state Board of Regents serving district 1.
The seat is occupied by Regent Cedric Crear, who is term limited. Crear is seeking the open Ward 5 seat on the Las Vegas City Council.
Olson, an Army veteran, said he's running to help improve graduation rates at the state's colleges and universities, and to ensure students are armed with marketable skills for the careers of the future.
"So many of the jobs here in Las Vegas are dependent on entry-level skills," said Olson, 65. "And if they can be replaced by automation or robots, they probably will. We can change that if we keep these young people in school."
News and notes
— U.S. Sen. Dean Heller, R-Nev., was endorsed by the Clear Path Action Fund, a conservative super PAC aimed at electing "Republican clean energy champions."
— Democratic attorney general candidate Aaron Ford received a pair of notable endorsements this week. The Human Rights Campaign, the nation's largest LGBTQ civil rights group, threw their support behind the state Senate majority leader.
"Aaron Ford's lifelong commitment to equality and public service makes him the ideal candidate for Nevada Attorney General," HRC Nevada State Manager Briana Escamilla said in a statement. "As AG, he will stand up for the rights of all Nevadans, ensuring that the Silver State remains an inclusive and welcoming state for all."
Ford also received an endorsement from the Clark County Education Association.
— Republican Victoria Seaman is holding a campaign fundraiser Thursday at Pancho's in Downtown Summerlin from 5:30 to 7 p.m. Seaman is running in the crowded field for the GOP nomination in Nevada's 3rd Congressional District.