Chairman promises House vote on Yucca Mountain funding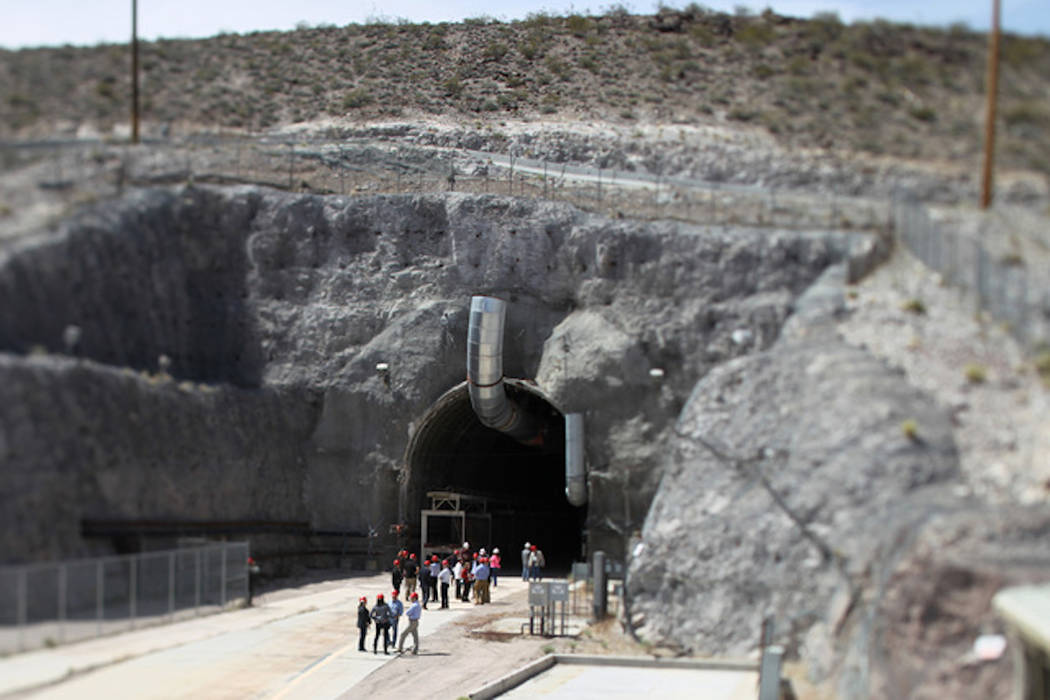 WASHINGTON — A House committee chairman on Thursday vowed to take a bill to fund licensing proceedings for the Yucca Mountain nuclear repository to the floor of the House for a vote.
"We will get Yucca legislation to the floor," predicted Rep. Greg Walden, R-Ore., chairman of the House Energy and Commerce Committee. "We want to get it to the president's desk."
He did not provide a timetable.
Walden's comments came during a hearing at which Energy Secretary Rick Perry defended his $30 billion budget proposal for fiscal 2019, which includes $110 million for restarting the licensing process for the Yucca Mountain project, about 90 miles northwest of Las Vegas, and $10 million to study interim storage sites until the Nevada repository is completed.
The House panel's enthusiasm for building the Yucca Mountain repository contrasted with the reception Perry received Wednesday from a Senate Appropriations subcommittee, which urged him to immediately step up the search for interim storage sites and work to identify another permanent site for nuclear waste in addition to Yucca Mountain.
A private contractor is seeking a license to temporarily store waste at sites in New Mexico and Texas.
Meanwhile, during a Senate Banking Committee hearing on Thursday, White House Budget Director Mick Mulvaney told Sen. Dean Heller, R-Nev., that he is open to interim storage.
"I'm not trying to beat up on Nevada," Mulvaney said. "I'm trying to figure out a way to put this stuff someplace safe."
Yucca Mountain was designated by Congress in 1987 as the permanent repository for nuclear waste generated by power plants.
A DOE application before the Nuclear Regulatory Commission for a license to construct and run the facility was withdrawn in 2011 by the Obama administration.
President Donald Trump placed Yucca Mountain licensing back into the DOE budget last year, and the House upped the amount of spending by $30 million, to $150 million. But authorization and spending were not included in a final spending bill for fiscal year 2018.
The Yucca Mountain project is a lightning rod in Nevada.
Gov. Brian Sandoval and most of the state's congressional delegation have vowed to fight locating a national nuclear repository in a state that does not have a nuclear plant or use energy produced by nuclear plants.
But some rural counties in Nevada, including Nye County where Yucca Mountain is located, want to see the licensing process continued to determine whether the geological repository would be safe for nuclear waste storage.
A DOE repository in rural Nevada would be a boon in federal spending and high-paying federal jobs for the region, Nye County officials contend.
Perry, in a previous hearing, acknowledged the stalemate between the House and Senate that has kept the Yucca Mountain project from moving forward and complying with existing law requiring the federal government to establish a nuclear waste repository.
The secretary told the House panel Thursday that taxpayers are spending roughly $9 million a day because the government is out of compliance with the law.
Contact Gary Martin at gmartin@reviewjournal.com or 202-662-7390. Follow @garymartindc on Twitter.