Health board votes to require vaccinations for all prison employees
Updated September 10, 2021 - 2:59 pm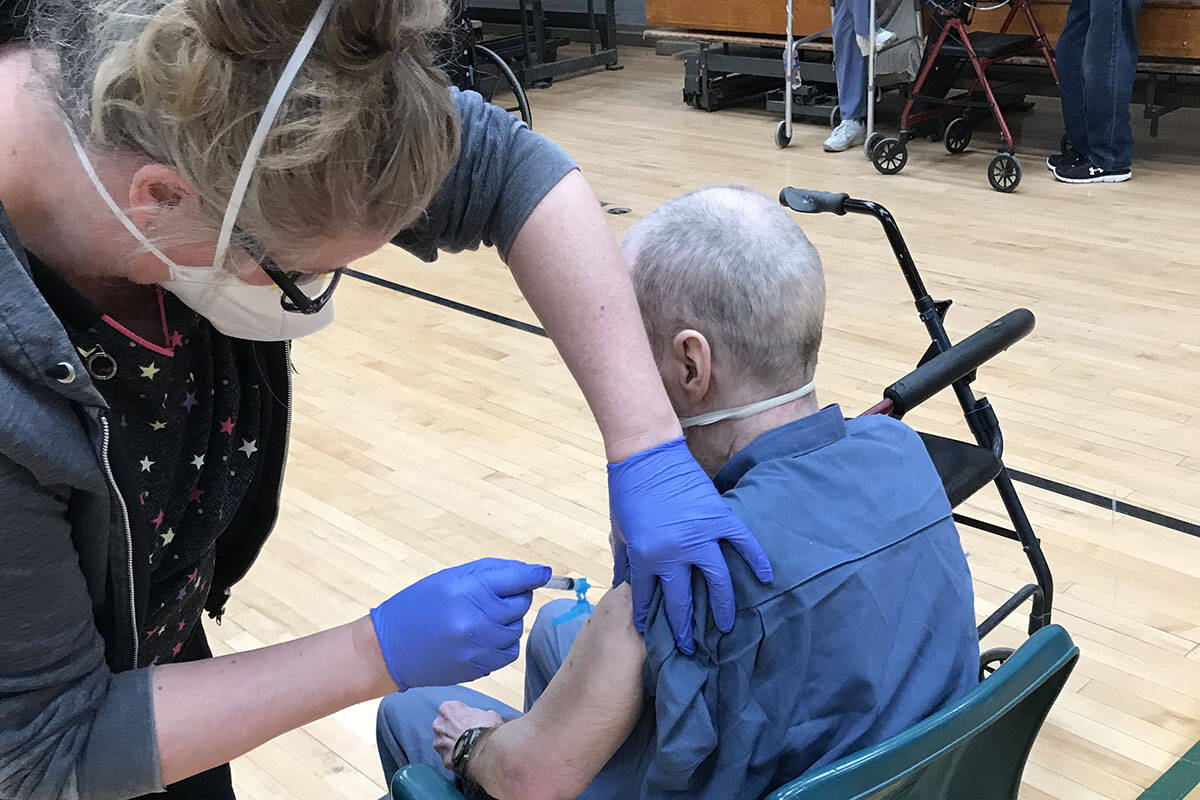 The Nevada Board of Health voted Friday to require vaccinations for all Department of Corrections employees and workers at state institutions with "vulnerable populations."
Employees have until Nov. 1 to be fully vaccinated, unless they have religious or medical exemptions. DuAne Young, Gov. Steve Sisolak's policy director, told the board that most Department of Health and Human Services facilities will already require employees to be vaccinated due to requirements President Joe Biden announced Thursday for facilities that receive federal Medicare or Medicaid.
The regulation will be in effect for 120 days, according to a statement from Nevada Health Response. It was recommended to the board by Sisolak's Medical Advisory Team.
Other than prison employees, the requirement covers workers at 12 state institutions that house "vulnerable populations," including adult and youth psychiatric facilities and juvenile detention facilities.
Officials and prison employees speaking during a public comment period were concerned the requirement will lead to mass resignations for the Department of Corrections, which is already facing low staffing levels.
In December, prison administrators told state officials that some corrections staff would rather quit than be forced to get a vaccine.
"The Department of Health and Human Services as well as the Department of Corrections have provided contingency plans for staffing with this, if there is mass resignations or people that are asked to leave due to their insubordination," Young told the board.
However, Young said other states have not seen mass resignations following similar requirements. He said he believes those employed to "serve the public" will eventually agree to the vaccinations.
"Their sense of duty to that I believe will allow them to rise to the occasion and do the right thing," he said.
Young said Friday that the Department of Corrections has a vaccination rate of 43 percent. During a July 27 Board of Prison Commissioners meeting, department officials said only 41.9 percent of prison staff had been fully vaccinated, which Sisolak called an "atrocious" figure.
The rate of vaccination among prison employees is about 10 percentage points lower than the state's overall rate. As of Friday, 53.05 percent of Nevadans 12 and older have been vaccinated, according to Department of Health and Human Services data.
According to state data, 1,104 prison employees have tested positive for COVID-19, and three have died. Young said the state has paid more than $9.2 million in overtime to cover shifts of infected employees.
State data shows that 4,533 prisoners have tested positive for the virus, and the state health department has recorded 49 prisoner deaths as of Friday.
However, data from late March provided by the Department of Corrections showed that 55 prisoners had died after testing positive for COVID-19, and the health department's website as of April 9 showed 53 prisoner deaths.
Shannon Litz, a spokeswoman for the state health department, has said some deaths were removed from the data after the Office of Public Health Investigations and Epidemiology determined they did not fit the Centers for Disease Control and Prevention's definition of a COVID-19 death.
The majority of public comment Friday came from corrections' employees who opposed the vaccine requirement.
Paul Lunkwitz, the president of Fraternal Order of Police Nevada C.O. Lodge 21, told board members that understaffing at prisons, which he said was a problem prior to the pandemic, will only get worse.
"When he said $9.2 million in overtime, what do you guys think that's going to look like when you lose 57 percent of your staff?" Lunkwitz said.
One corrections officer, Tanya Armendariz, agreed with the requirement and told board members that other employees have been making "excuses" to not get weekly COVID-19 tests.
"This isn't right," Armendariz said. "All of the protests and the division, it does not represent all of us."
Contact Katelyn Newberg at knewberg@reviewjournal.com or 702-383-0240. Follow @k_newberg on Twitter.