Heller, Rosen tangle over who can stop Yucca Mountain revival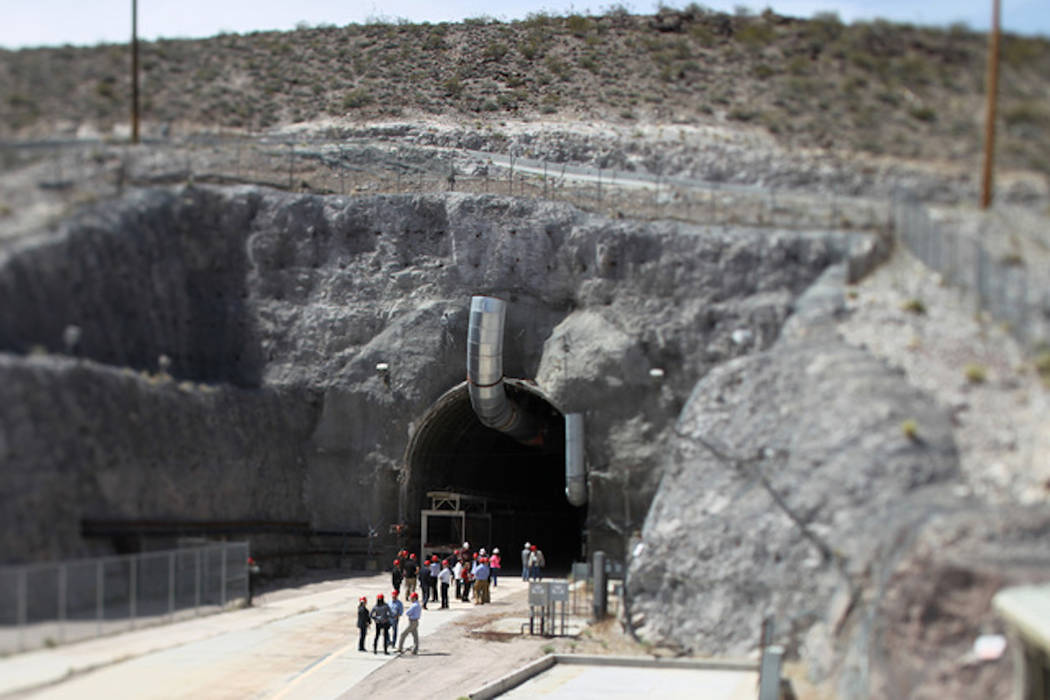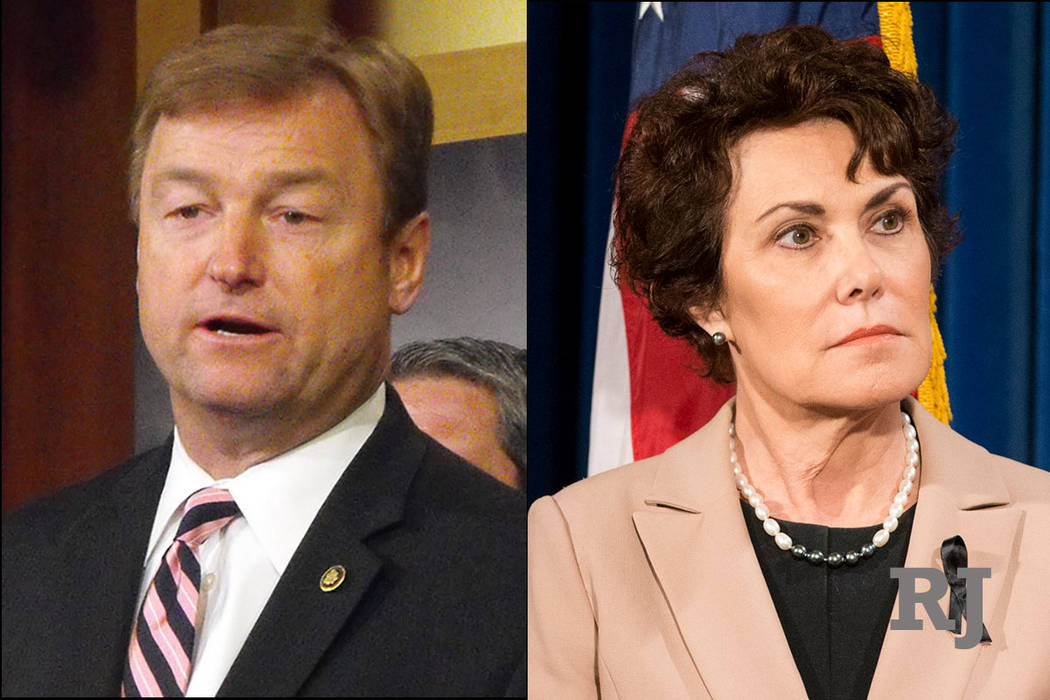 WASHINGTON — A pivotal Senate race in Nevada that Republicans and Democrats covet for control of the upper chamber of Congress has become ground zero in the Yucca Mountain debate.
Both Republican Sen. Dean Heller and Democratic challenger Rep. Jacky Rosen oppose a nuclear waste repository proposed for Yucca Mountain, and have fought to stop the project in Congress.
The issue was thrust into the testy Senate race last week when Heller and Rosen tangled over who best could stop the controversial nuclear repository from being built.
"The only way to keep Yucca Mountain from happening is to keep me in the United States Senate," Heller told the Review-Journal.
Rosen countered: "If you have a Democratic Senate, you won't have a problem with Yucca Mountain."
It's arguable whether Yucca Mountain is an election-year issue that will move voters to the ballot box, or whether it is even a partisan issue, rather than a geographical issue or, on the local level, one that largely divides rural and urban voters.
Historically, it has been Democrats who have opposed the project, according to Michael Green, a UNLV history professor and political analyst.
But Green concedes: "It's always been a political football."
No more so than now, in the Nevada Senate race.
Race considered a 'toss-up'
Republicans hold a 51-49 majority in the Senate, and Democrats have targeted Heller's seat in their attempt to wrest control of the chamber. The nonpartisan Cook Political Report rates the race as a "toss-up."
Heller used the Yucca Mountain issue to cast doubt on Rosen's effectiveness in the House, which has pushed through legislation to restart the once shelved licensing process to build a waste storage facility that has been blocked by the Senate. Both chambers are controlled by Republicans.
Rosen cited her efforts to insert language into bills that would strip funding and protect military readiness training conducted at nearby installations that could be crimped with nuclear waste storage.
Regardless of her efforts, turning the tide in the House could be futile.
"The House has never been the place where the action has or hasn't happened on this issue," Green said, adding that the Senate provides more political leverage for a lawmaker, regardless of party affiliation.
"The Senate was designed to protect the less populated states," he said.
Still, Yucca Mountain as a waste facility could be an inevitability.
Rep. Mark Amodei, R-Nev., was able to insert provisions in a House spending bill on energy and water that would give oversight of state transportation of waste to a Nevada company and funnel research funding for reprocessing nuclear waste to UNLV, efforts to mitigate the impact if Yucca Mountain opens.
Momentum is building to address the stockpiling of nuclear waste at power plants across the country. With "due respect" to Rosen and Heller, Amodei said any victory to halt the project could be fleeting.
"The politics in the Senate race dictate that Mitch McConnell will do anything and everything he can" right now to help Heller, Amodei said of the majority leader.
But 180 days from now, Amodei said, Republicans could abandon their zeal like Democrats did when Sen. Harry Reid, D-Nev., a staunch opponent of the Yucca Mountain project, retired.
"If there were the votes to kill Yucca Mountain in the Senate right now, they would be voting on it and Dean Heller would be the hero of Nevada," Amodei mused. "If you really want to build him up, bring it to the floor and kill it. Ah, probably a little risky."
Lawmakers hold 'Yucca party'
Yucca Mountain was designated by Congress in 1987 as the site for nuclear storage from power plants across the country.
The licensing process of the Department of Energy's application to construct Yucca Mountain was shelved in 2011 when the Obama administration pulled funding, at the behest of then-Senate Majority Leader Reid.
President Donald Trump and the House moved last year to restart the licensing process, which was blocked in the Senate when funds were not approved in the annual spending bill.
The House and Senate are again at an impasse. The House voted to spend $267 million to streamline the licensing process. The Senate has left it out of its spending bill.
Last month, the House passed its Nuclear Waste Policy Amendments Act, 340-72, with 80 percent of lawmakers voting for the bill and 63 percent of Democrats. All four Nevada lawmakers — Amodei, Rosen, Rep. Dina Titus and Rep. Ruben Kihuen, both Democrats — voted against it.
The bill would streamline the licensing of Yucca Mountain and increase nuclear waste storage there from 70,000 to 110,000 metric tons of spent fuel and contaminated materials.
Heller said that after the bill was passed, the sponsor of the House bill, Rep. John Shimkus, R-Ill., held a "Yucca party."
Heller said there would be no Yucca Mountain parties if he is re-elected.
There is no companion legislation to the House bill in the Senate, and Sen. Lamar Alexander, R-Tenn., said he plans to file legislation this year that would shift the focus to interim storage, although he favors opening Yucca Mountain as part of the solution of stockpiling waste nationwide.
Meanwhile, an attendee of the so-called "Yucca party" said the event was held to thank staff for work on the amendments bill after two years of work on the legislation.
A spokesman for Shimkus, Jordan Haverly, said: "A victory party would be premature at this point."
Contact Gary Martin at gmartin@reviewjournal.com or 202-662-7390. Follow @garymartindc on Twitter.