Nevada Assembly candidate Dennis Hof loses brothel license
Updated August 7, 2018 - 7:40 pm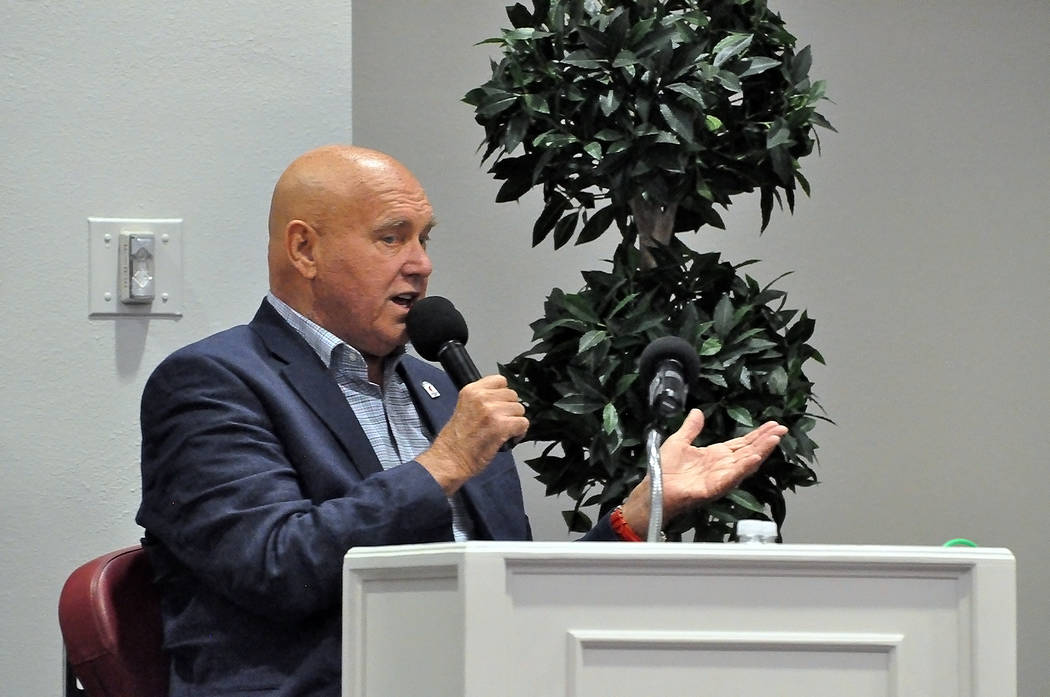 Nye County lawmakers on Tuesday revoked Assembly candidate Dennis Hof's license at the Love Ranch after the brothel kingpin failed to apply for renewal and pay fees on time.
It's the first time Nye County has permanently yanked a brothel license in the decade Commissioner Lorinda Wichman has served the county. Wichman, who chairs the county's Licensing and Liquor Board, said Hof continues to violate county rules and disregard authority.
"I get the distinct impression that Mr. Hof believes the laws don't apply to him," Wichman said. "If people aren't following the rules and the laws that everyone else is following, it causes problems. We cannot hold our other brothels at one standard and then allow him to slide on all these things."
Hof, a Republican running to represent Assembly District 36, declined to comment through his political consultant, Chuck Muth.
This isn't the first time Hof failed to complete his paperwork. Wichman said Hof missed the deadline last year to submit Love Ranch's renewal application and pay county-mandated fees. But the county let him slide that time; Wichman isn't sure why.
Three other Nye County brothel renewal licenses were approved Tuesday. The Love Ranch's revocation takes immediate effect, though closing the brothel might be tricky.
County sources said Nye County Sheriff Sharon Wehrly went to the Love Ranch on Tuesday, but the manager refused to comply with the order to close. Wehrly is turning to the Nye County District Attorney's Office for help.
Nye County is home to four brothels. Hof, who won the GOP primary in June for the Assembly District 36 seat, owns one brothel in Nye County and five others around the state. Nye was one of two Nevada counties considering citizen petitions to ban brothels, but the measure didn't move forward.
Wichman and fellow commissioners say Hof has operated Love Ranch in violation of county rules. This year, commissioners tangled with him over illegal signs and his failure to ensure trailers on his property were inspected after renovation. Hof's brothel license was suspended by Nye County in February.
In a previous interview, Hof denied making any changes to the trailers and blamed his troubles on his political foe, Assemblyman James Oscarson, who he said is retaliating because Hof challenged him — and the GOP establishment.
Nye County Commissioner Dan Schinhofen, who also sits on the licensing and liquor board, isn't buying it.
"I'm sad that Mr. Hof continues to violate county code and that our DA refuses to file charges for perjury," Schinhofen said, referring to Hof denying modifications to the trailers in February.
To overturn the decision, Hof must file a new brothel application to operate Love Ranch.
Contact Ramona Giwargis at rgiwargis@reviewjournal.com or 702-380-4538. Follow @RamonaGiwargis on Twitter.