Efforts underway to outlaw brothels in 2 Nevada counties
Updated April 19, 2018 - 8:40 pm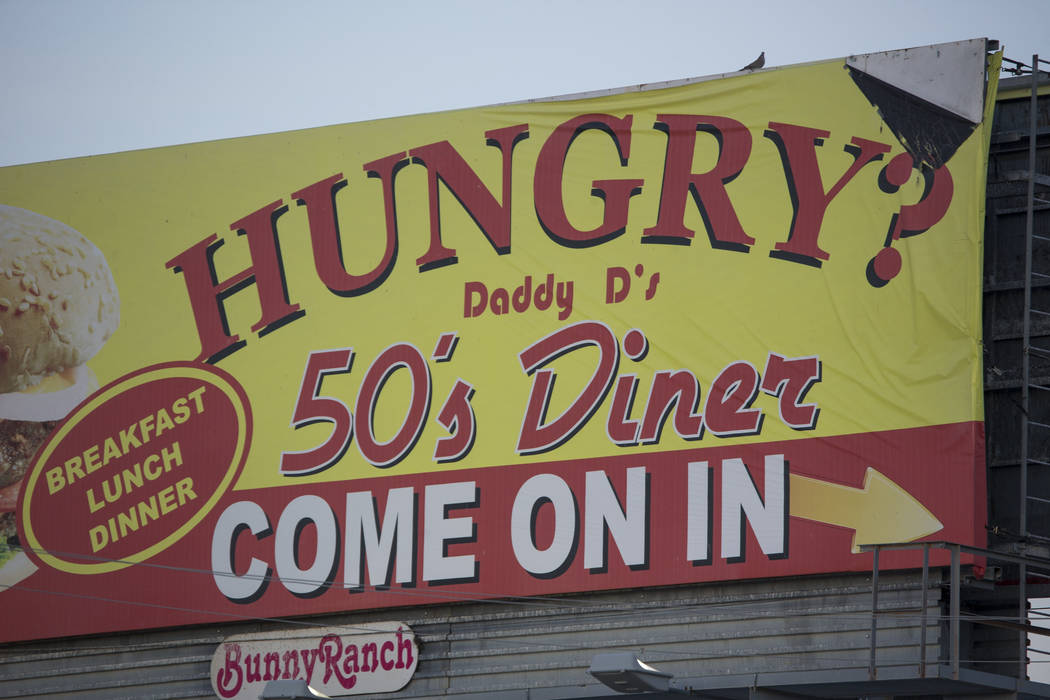 Brothels in two Nevada counties are facing an uncertain future as referendum petition drives get underway to repeal ordinances that allow their existence.
In Nye County, residents filed a referendum petition Tuesday that seeks to strike down the county ordinance that allows legal brothels to operate within its borders, weeks after Lyon County filed a similar measure.
"People think this is really the right time to turn the page on industries from Nevada's past and really enter the new Nevada and all the opportunity and new identity that our state's beginning to embrace," said Jason Guinasso, an attorney who drafted the referendums with No Little Girl, a campaign funded and administered by End Trafficking and Prostitution Political Action Committee.
Since the filing, residents from two other counties, Storey and Lander, have approached the group to inquire about ways to draft their own measures, Guinasso said.
The Nye County referendum needs 1,963 valid signatures to qualify for the ballot in Nye, compared with 3,355 needed in Lyon. If enough signatures are garnered, the issue will appear on the November ballot, unless county commissioners in each county vote to remove the ordinance beforehand.
The deadline to collect enough signatures is June 15. County commissioners in each county will decide in July whether to strike down the ordinance or leave it up to voters.
If brothels are banned in the two counties, eight of the state's 21 brothels would be forced to close.
Guinasso, the managing partner of Hutchison & Steffen's Northern Nevada offices in Reno, said a group called CABINC, or Citizens Against Brothels in Nye County, contacted him after the news of Lyon County's petition.
While many of its supporters believe that the majority of sex workers are "exploited and abused and trafficked through those brothels," referendum proponents also cite the potential of attracting new companies that might not have considered the two counties because of the brothels, he said.
Within the first few days of gathering signatures for the Lyon County referendum, volunteers had garnered "a few hundred signatures," said Kimberly Mull, who organized the referendum in Lyon County, on Wednesday.
About 200 volunteers will be trained in Nye County this weekend and will start gathering signatures next week, Guinasso said.
Motivations questioned
Dennis Hof, who owns the four brothels in Lyon County and two of the four brothels in Nye County, contends that the referendums are tied to his Republican primary race against James Oscarson for the Assembly seat in District 36.
"It's all politically motivated, there's no question about it," Hof said. "I'm running against the establishment; the establishment is dirty and will do anything to win."
Oscarson told the Las Vegas Review-Journal that he was not involved in either effort.
"The people of the state of Nevada certainly have the right to do those things. I'm not involved in it, but I support everybody's efforts to change something they don't feel is right," he said Thursday. "That's why we live in the country we do."
Hof also touted the economic benefits that brothels bring to the counties. He said he employs 540 sex workers and more than 125 other brothel employees.
Each sex worker pays $560 a year for licensing fees, money that goes back into the community, Hof said. His brothels have raised money for community organizations and other causes, he said.
But Guinasso said the money brothels bring to the counties is minimal and could be replaced by new businesses. He questioned the appropriateness of local governments generating revenue from women working as prostitutes.
"That would reduce our local government to the role of pimp," he said.
'It's not going to go away'
Hof said legal brothels are a safer alternative to illegal sex work; customers know that the women have had background checks, are fingerprinted, are of age, and live and work in the community by choice.
Making brothels illegal doesn't mean prostitution will disappear, he said.
"It's not gonna go away. It's just whether it's in the hands of professionals and the county benefits from it financially, or do you want it in the hands of the criminals?" Hof said.
"The brothels are a bit like Walmart and church: Nobody forces you to go, but when you need something, you know where they're at," he said. "Live and let live. Don't try to impose your views on other people."
Contact Briana Erickson at berickson@reviewjournal.com or 702-387-5244. Follow @brianarerick on Twitter.