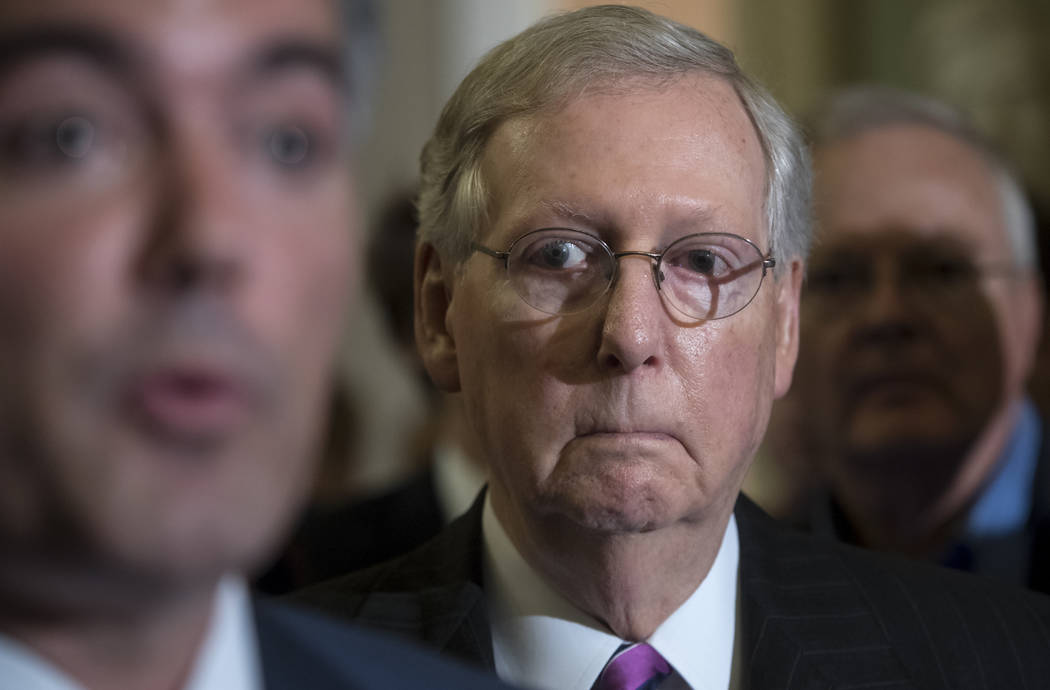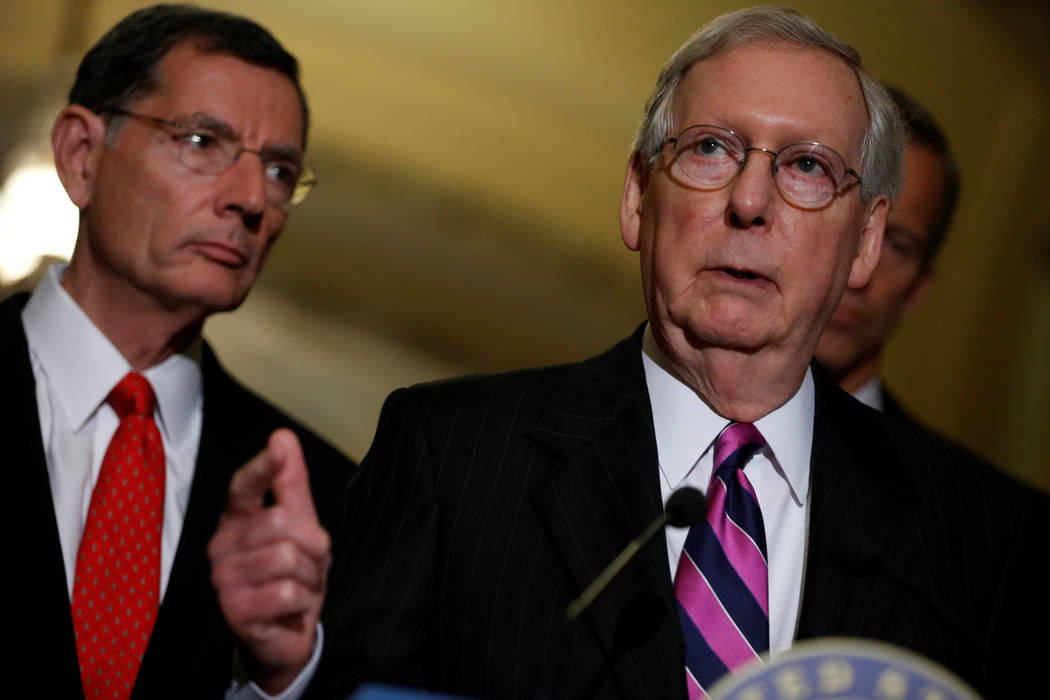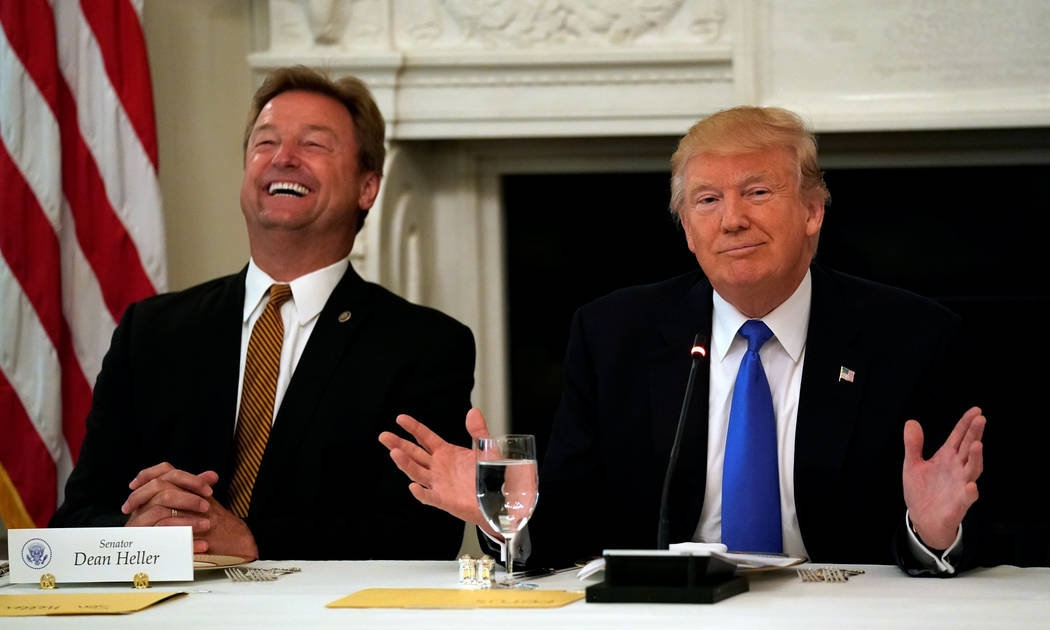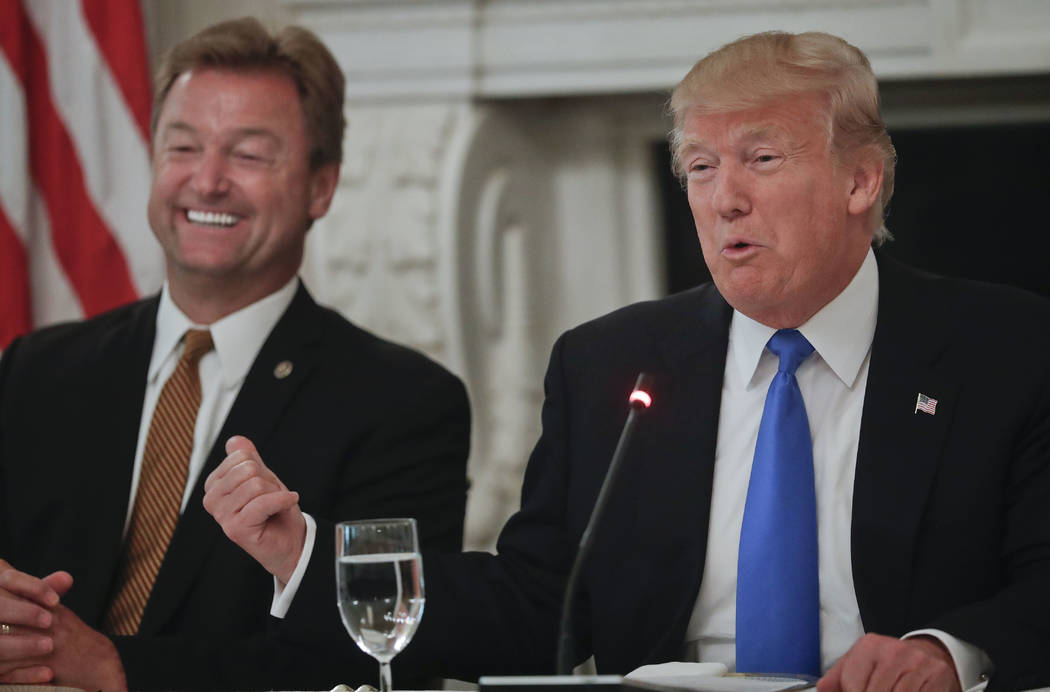 WASHINGTON — Despite ongoing efforts to write a health care bill by Republican lawmakers, including Sen. Dean Heller of Nevada, Senate GOP leaders said Tuesday they were moving on to other legislative priorities.
Senate Majority Leader Mitch McConnell, R-Ky., said he expects a package of presidential nominations to clear the Senate before lawmakers leave for recess in less than two weeks.
When lawmakers return in September, McConnell said the Senate would take up tax reform and legislation to raise the debt ceiling to avoid a government shutdown.
"We have important work to get done over the remainder of this work period," McConnell said. "I hope colleagues will cooperate across the aisle in our efforts to do so."
There are 84 presidential appointments ready for confirmation, including 30 federal judge nominations, said Sen. John Barrasso, R-Wyo.
As a first step Tuesday, the Senate confirmed former Justice Department lawyer Christopher Wray as the new FBI chief, replacing James Comey, who was fired by President Donald Trump. The vote was 92-5 with five Democrats voting no.
Republicans suffered embarrassing defeats last week when various bills to repeal or replace the Affordable Care Act, commonly known as Obamacare, failed in the Senate.
Senate Democrats, emboldened by that outcome, said they now will challenge Republicans on other legislative issues, such as tax reform.
Democrats issue warning
Democrats on Tuesday drew a line in the sand.
A letter signed by 45 Senate Democrats, including Catherine Cortez Masto of Nevada, warned that any tax reform plan should not burden the middle class, not include a tax cut for the top 1 percent of the wealthiest Americans and not include cuts to Medicare, Medicaid or Social Security.
"The best tax reform is bipartisan tax reform aimed at helping the middle class — not the top 1 percent," Senate Minority Leader Charles Schumer, D-N.Y. said.
McConnell said Republicans would go it alone on tax reform because the Democrats opposed measures to improve economic growth.
"Ultimately, we have to put incentives in place to get that growth rate up," McConnell said.
McConnell said the Senate would take up tax reform under budget reconciliation rules, allowing the GOP to pass a bill with a simple majority. Republicans were confident they could muster a simple majority, unlike a health care repeal bill last week that ended debate and doomed a seven-year GOP aspiration to kill Obamacare. The 49-51 vote included three GOP defections.
Even though Trump urged senators to continue efforts now on health care, McConnell said they lacked the votes to move ahead with a health care bill.
"Our problem with health care was not the Democrats. We didn't have 50 votes," McConnell said.
Still, efforts are underway to write a health care repeal bill in the Senate. Sen. Lamar Alexander, R-Tenn., said he would begin bipartisan hearings in his health committee to seek a way to move forward.
Heller works on new version
Heller is working with Sen. Lindsey Graham, R-S.C., and Sen. Bill Cassidy, R-La., on a bill that would provide states with block grants for health care and allow those states to use those funds as they wish.
"The Graham-Cassidy proposal is one idea that could work for Nevada because it gives us flexibility," Heller said, adding that Nevada would be able to spend the funds "how it sees fit and explore new options to address coverage and cost."
The proposal would leave intact taxes imposed under Obamacare, which could draw the ire of conservatives who complained that previous Senate proposals failed to fully repeal the ACA.
Heller opposed earlier versions of Senate replacement plans because of cuts to Medicaid, which was expanded under Obamacare to cover an additional 200,000 people in Nevada.
He voted for repeal last week.
"Obamacare isn't working in Nevada, and there's no better example of that than the fact that 14 of our 17 counties will have no coverage option on the exchange next year," Heller said.
"At the same time," Heller said, "…protecting Nevada's most vulnerable has been a priority of mine."
Heller is up for reelection in 2018 and already has drawn Democratic opposition, including Rep. Jacky Rosen, D-Nev.
The Rosen campaign launched a 60-second digital ad Tuesday highlighting Heller's vote last week for the Obamacare repeal bill.
"Instead of following through on his public promise to oppose the Republican health care plan, Senator Heller was dishonest, misleading and disingenuous," said Danny Kazin, the Rosen campaign manager.
Before the vote, Heller was pressured by Trump to vote for repeal at a White House meeting where he was seated next to the president.
Photographs of that meeting with Trump are featured prominently in the Rosen campaign ad.
Heller said he voted to repeal the Obamacare individual mandate because 90,000 people in Nevada are paying the tax penalty because they can't afford insurance.
"She won't tell you that," Heller said.
Contact Gary Martin at 2022-662-7390 or gmartin@reviewjournal.com. Follow @garymartindc on Twitter.
Next priorities
Following a defeat on their efforts to repeal Obamacare, Republicans said they will move forward on other legislative priorities.
—Presidential nominations for administration positions and judicial appointments
—Tax reform legislation
—Legislation to raise the debt limit to avoid a government shutdown
Source: Senate Majority Leader Mitch McConnell