Sisolak nixes Nevada gubernatorial debate with Laxalt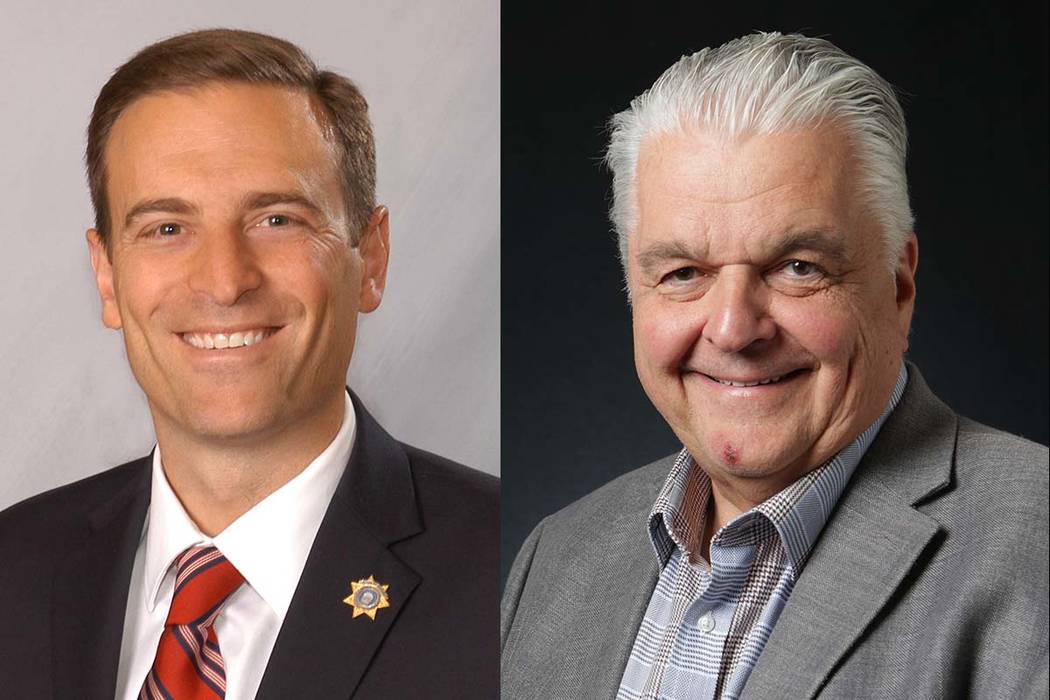 The debating over when and where the debate between candidates running for governor in Nevada will continue despite the election being just over one month away.
The campaign for the Democratic nominee, Clark County Commission Chairman Steve Sisolak, on Wednesday confirmed that it has rejected a debate proposal that would have included the Review-Journal, KSNV Channel 3 and Telemundo and would have been simulcast in Reno. It was scheduled for Oct. 15.
"While we appreciate the invitation from the Sinclair station (Channel 3) and the Las Vegas Review-Journal, the continued skewed coverage of our campaign from the Review-Journal's editorial page quickly proved that we would not be walking into a fair debate," Sisolak campaign spokesman Grigsby Crawford said.
In August, Republican Attorney General Adam Laxalt agreed to the debate. His campaign said that Sisolak "refused to come to the tableuntil today when he informed the outlets of his decision to refuse the debate."
"Apparently, he is afraid to discuss his record of pay-to-play politics and his proposal to raise property taxes," Laxalt campaign manager Kristin Davison said in a statement.
But there may be a chance of at least one debate happening in the closely contested race.
Sisolak's campaign announced Wednesday evening that he had accepted a separate debate proposal, which would be hosted by KLAS Channel 8 and Univision and simulcast on KTVN in Reno. The date for that debate has not been set.
"The differences between Steve Sisolak and Adam Laxalt are clear, and we look forward to Nevada's voters getting the chance to hear those differences directly from the candidates themselves," Sisolak campaign manager Chris Sloan said in a statement. "We look forward to a substantive conversation of the issues that matter most to Nevadans."
Laxalt campaign spokesman Parker Briden shot back at the news of Sisolak accepting the KLAS debate, saying they had been waiting on word of the LVRJ/KSNV debate before moving forward with talks with other outlets.
"We told every other invite that we could not move forward with another debate until the Sisolak campaign acted professionally and came forward to discuss the one we accepted months ago," Briden said. "They refused to even discuss it and rejected the debate at the last second today."
And Davison, Laxalt's campaign manager, seemed to cast doubt on the potential for a debate happening between the two candidates between now and Election Day.
"There are 34 days to go, and we're going to focus on talking straight to the voters without playing Steve Sisolak's games," Davison said.
Contact Capital Bureau Chief Colton Lochhead at clochhead@reviewjournal.com. Follow @ColtonLochhead on Twitter.