Perry tangles with Cortez Masto over Yucca Mountain plans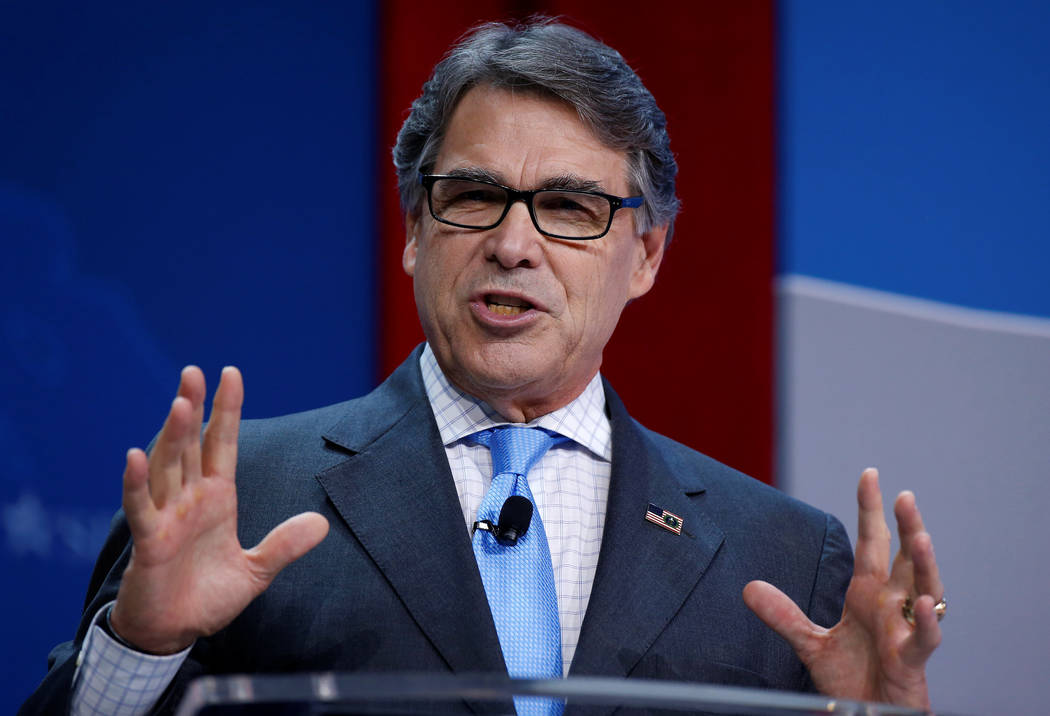 WASHINGTON — Energy Secretary Rick Perry trotted up to Capitol Hill on Thursday for a third congressional hearing over three days and tangled with Sen. Catherine Cortez Masto over Trump administration plans to restart licensing of the Yucca Mountain project.
Lawmakers on the Senate Energy and Natural Resources Committee attacked the $28 billion budget for the Department of Energy for cuts to scientific research, hazardous waste cleanup and not seeking viable options on nuclear waste storage.
Perry was met by aggressive questions from Cortez Masto, D-Nev., who peppered the secretary about the administration's "full-throated support" for permanently storing nuclear waste at Yucca Mountain without looking for other alternatives.
And Cortez Masto questioned Perry's "doubling down" on the Silver State when he suggested temporarily placing it at the Nevada National Security Site.
The senator asked why the administration would not seek a consent-based approach to finding areas to take nuclear waste, and why it dismissed Obama administration decisions that the Yucca Mountain site was unworkable.
"At least look at the science," Cortez Masto implored.
Perry said he was motivated to find storage for nuclear waste piling up at power plants, particularly those in California prone to earthquakes. He also referred to the 1980's law that designated Yucca Mountain as the site for permanent storage.
Perry, whose first trip on the job was to Yucca Mountain, told House and Senate appropriations subcommittees this week that there is a "moral obligation" to move nuclear waste stockpiling at nuclear power plants in 39 states.
The Trump administration budget for DOE includes $120 million for management of nuclear waste. That includes $110 million to be spent on restarting the licensing process of Yucca Mountain, a repository in Nevada located about 90 miles north of Las Vegas.
There is $10 million designated to implement a "robust" plan for interim storage.
Perry tripped up earlier this week, suggesting to a House panel that in addition to sites in New Mexico and Texas, the Nevada National Security Site near Yucca Mountain could temporarily store spent nuclear fuel.
The surprise statement blindsided Gov. Brian Sandoval, who received a call from the White House and who spoke to the DOE, which prompted Perry to clarify is position that no decisions have been made on any sites.
Perry told Cortez Masto again that no decision has been made on plans for any site.
Cortez Masto told the Review-Journal following the hearing that science shows that Yucca Mountain is not ready or primed to receive waste.
"I don't think he even knows what's out there — even though he has been out there," Cortez Masto said of Perry. "I'm going to challenge him every step of the way."
Sen. Dean Heller, R-Nev., in a letter to the committee, expressed his opposition to the department budget spending proposal on Yucca Mountain and urged Perry to explain the cost to taxpayers for trying to force nuclear waste on Nevada instead of finding alternative "areas where they are willing to take it."
Both Cortez Masto and Heller want a new cost study on the Yucca Mountain proposal.
Sen. Lisa Murkowski, R-Alaska, the committee chairwoman, said key senators were expected to file a bill later this year that would instruct the DOE to evaluate additional permanent and temporary storage sites for spent nuclear waste.
"That effort is still out there — that consent-based approach,'' Murkowski said.
Contact Gary Martin at 202-662-7390 or gmartin@reviewjournal.com. Follow @garymartindc on Twitter.
RELATED
Heller issues warning to Trump administration over Yucca Mountain