'This will not stop here,' Titus says after abortion ruling
Updated June 24, 2022 - 12:46 pm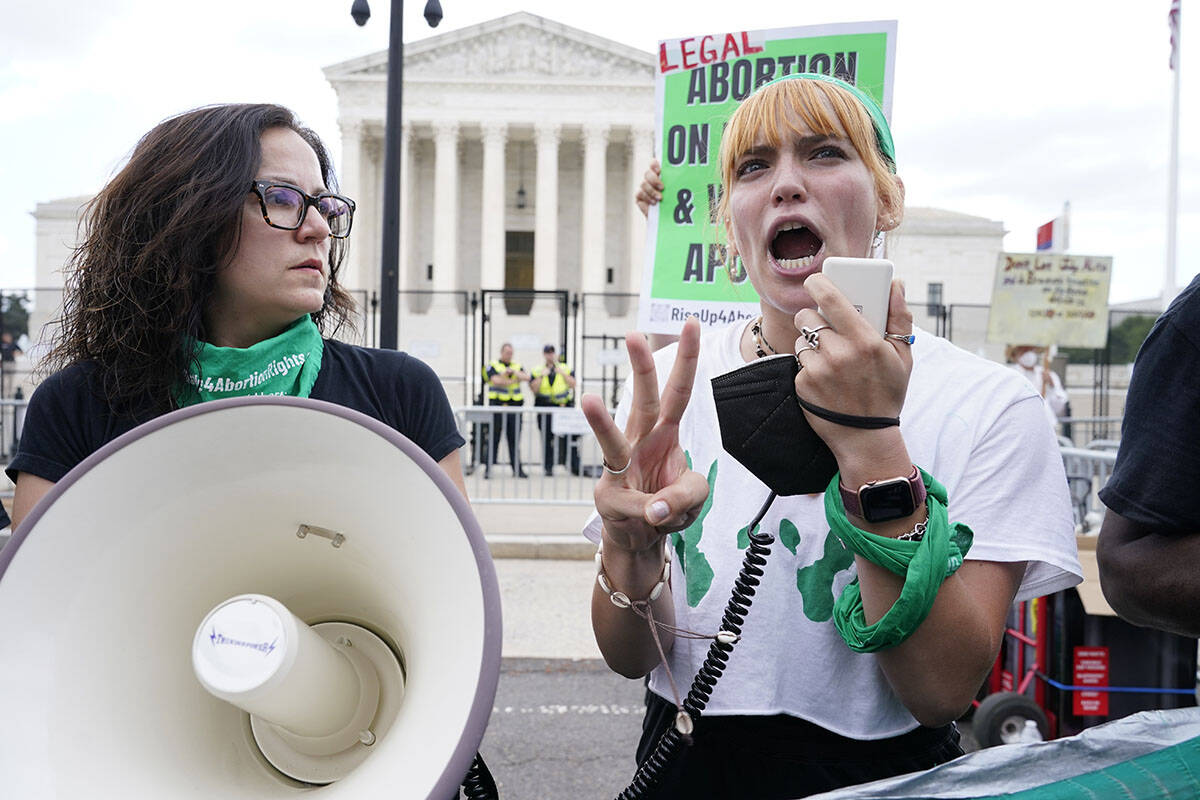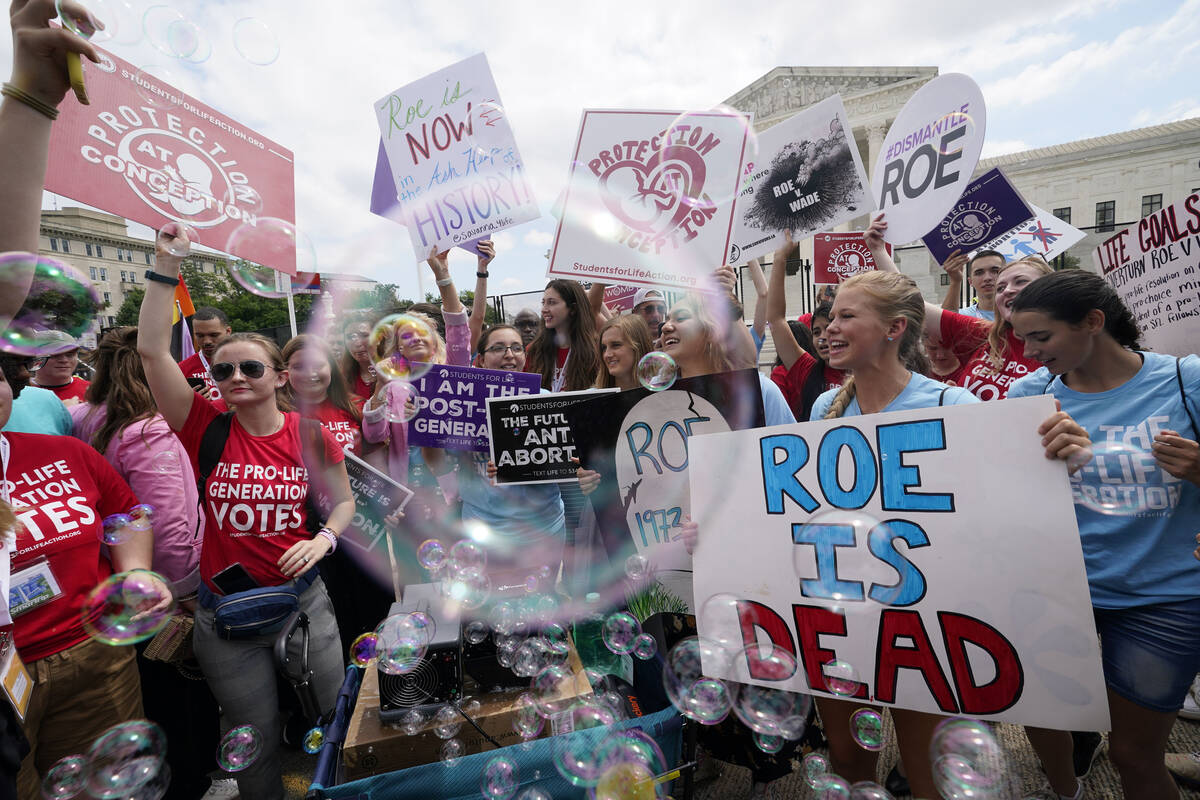 WASHINGTON — The Supreme Court's decision to overturn a half-century of abortion rights Friday sparked emotional protests and condemnation, as well as praise, in the nation's capital and other American cities.
There was no middle ground, and response to the controversial decision was intense and with conviction.
"This is a devastating day for women in America," said Sen. Catherine Cortez Masto, D-Nev.
Cortez Masto, a former Nevada attorney general, said the ruling to overturn Roe v. Wade will force people in many states to live under abortion bans and without critical health care.
"This is absolutely unacceptable," said Cortez Masto, who is running for re-election.
Her opponent, Republican Adam Laxalt, also a former Nevada attorney general, praised the Supreme Court decision.
"This is a historic victory for the sanctity of life and the principles of democratic self-determination," Laxalt said in a statement. "The Supreme Court has never had the expertise nor the authority to unilaterally legislate on abortion."
Related: Planned Parenthood prepares for influx of patients
Related: With abortion ruling, some in pro-choice Nevada back restrictions
Before the ruling was announced, there was a heavy police presence outside the Supreme Court building, the site of ongoing protests and counterprotests over the weeks since a draft copy of the opinion was leaked to a media outlet, Politico.
Those demonstrations grew louder and more boisterous throughout Friday.
"This decision takes away women's right to make their own decisions about their health care and their family, handing that power to anti-choice politicians who have been working for decades to enact rigid and harmful restrictions on abortion access," said Sen. Jacky Rosen, D-Nev.
Women wearing T-shirts with abortion rights slogans chanted outside the Supreme Court building, where a majority of the justices agreed to roll back 50 years of legal precedent and overturn the 1973 landmark decision in Roe v. Wade.
Review of other rights anticipated
Some legal experts said the decision to overturn the law could lead to revision of privacy rights.
"This will not stop here," said Rep. Dina Titus, D-Nev.
"Conservative judges have already stated an intention to revisit other constitutional rights like contraception and same-sex marriage," Titus said.
"Thus begins the outrageous, but not surprising, erosion of long-standing human rights in this country," she said.
Her challenger in this year's race, Republican businessman Mark Robertson, said on social media: "I am unequivocally pro-life and pro-constitution. Today's decision by the Supreme Court is the right decision. Our Constitution is clear there is no role for the Federal Government on the issue of abortion."
Rep. Steven Horsford, D-Nev., said the court has become a political arm of conservative idealogues.
"That turn is even more clear in Justice Clarence Thomas' opinion in this decision, where he suggests the court should reconsider other opinions that have protected access to contraception and the rights of LGBTQ+ people to marriage and privacy," Horsford said.
The conservative court includes three justices appointed by Donald Trump when he was president.
Sam Peters, the Republican challenger to Horsford, praised the court's decision. "Life wins. Thank you #SCOTUS &#PresidentTrump," Peters said on Twitter.
Nevada codified the 1973 Supreme Court ruling after a ballot referendum led to a state statute passed in 1990. Nevada is one of roughly a dozen states that took such action. Some states, like Maryland, passed laws to broaden protections and require insurance to cover procedures.
"Politicians should never have a say when it comes to the personal decision of when or if to start a family, and as long as I'm governor, I'll keep it that way," said Nevada Gov. Steve Sisolak, a Democrat.
Rep. Mark Amodei, R-Nev., said that while he is opposed to abortion, Nevada residents would be the arbiters of abortion access in the state.
"The U.S. Supreme Court ruled that abortion is not a constitutional right, thus allowing each state to regulate it as they see fit," Amodei said.
Texas and Oklahoma and some other states have adopted "trigger laws" to stop abortions if given the authority by the Supreme Court in a ruling curtailing federal protections granted under Roe v. Wade.
There were 18 states that filed briefs with the court supporting a Mississippi abortion ban that was upheld by the court.
With anticipation of such a ruling, Vice President Kamala Harris held a White House roundtable on Thursday with seven state attorneys general, including Aaron Ford of Nevada, about the fight for reproductive rights.
Ford and other top legal officials shared the steps that they have taken to protect access to reproductive health care in their states, and their powers under their states' authority.
In addition to Ford, other attorneys general in the roundtable were from Wisconsin, Delaware, New York, Illinois, Washington and California.
Ruling will play role in elections
The political divide on abortion rights falls largely along party lines and is expected to be a major issue in the upcoming midterm elections where control of the House and Senate are at stake.
Cortez Masto has made abortion rights and women's health care a central issue in her campaign for re-election. Laxalt has outlined his anti-abortion stance that appeals to many conservative and evangelical voters.
Similarly, in the contested House races in the Las Vegas Valley, all three Republican challengers — Robertson, April Becker and Peters — are anti-abortion candidates seeking to unseat three incumbent Democrats who support abortion rights: Titus, Susie Lee and Horsford.
"The majority of Americans support the right to choose, but if Republicans take control of Congress, they will stop at nothing to enact a nationwide abortion ban," said Lee, who noted that Becker, her GOP challenger, is endorsed by anti-abortion groups.
Becker said: "As a pro-life conservative and constitutionalist, I believe that states should decide abortion policy, which is what the Supreme Court ruled today. Nevada voters have made their voice heard on this issue, and today's decision reaffirms that right of each state."
Nevada advocacy groups on both sides of the abortion issue were quick to respond.
"Roe v. Wade, which struck down abortion laws in all 50 states and legalized abortion through all nine months of pregnancy, has led to the death of over 63 million unborn children by abortion," said Melissa Clement, Nevada Right to Life executive director.
"Nevada Right to Life and the pro-life movement are very pleased that the Court recognized that abortion on demand was never a part of the Constitution," she said.
Silver State Equality, a civil rights organization, called the consequences of the decision, dire.
"Our country's conservative Supreme Court overturned Roe v. Wade, stripping away from millions of women the constitutional right to safe, legal abortion and returning abortion rights to state legislatures — many of which, at this moment, have already criminalized abortion care, even to the extent of taking action to prevent women from traveling to other states for abortion access," said Andre Wade, state director.
Contact Gary Martin at gmartin@reviewjournal.com. Follow @garymartindc on Twitter.
WHERE CAN I GET AN ABORTION IN NEVADA?
In Las Vegas
— A-All Women Care Center, 7908 W. Sahara Ave. 702-531-5400
— A-Z Women's Center, 1670 E. Flamingo Road, Suite C. 702-892-0660
— Birth Control Care Center, 872 E. Sahara Ave. 702-733-7889
— Desert Inn Women's Clinic, 1900 E. Desert Inn Road. 702-735-1960
— Planned Parenthood, 3220 W. Charleston Blvd. 702-878-7776
— Planned Parenthood, 3300 E. Flamingo Road. 702-547-9888
— Safe and Sound for Women, 5875 S. Rainbow Blvd., Suite 201. 702-221-7233
In Reno
— Planned Parenthood, 455 W. Fifth St. 775-688-5555
— West End Women's Medical Group, 5915 Tyrone Road. 775-827-0616
Source: Wild West Access Fund of Nevada