Trump regrets 'send her back' chant at campaign rally
Updated July 18, 2019 - 4:18 pm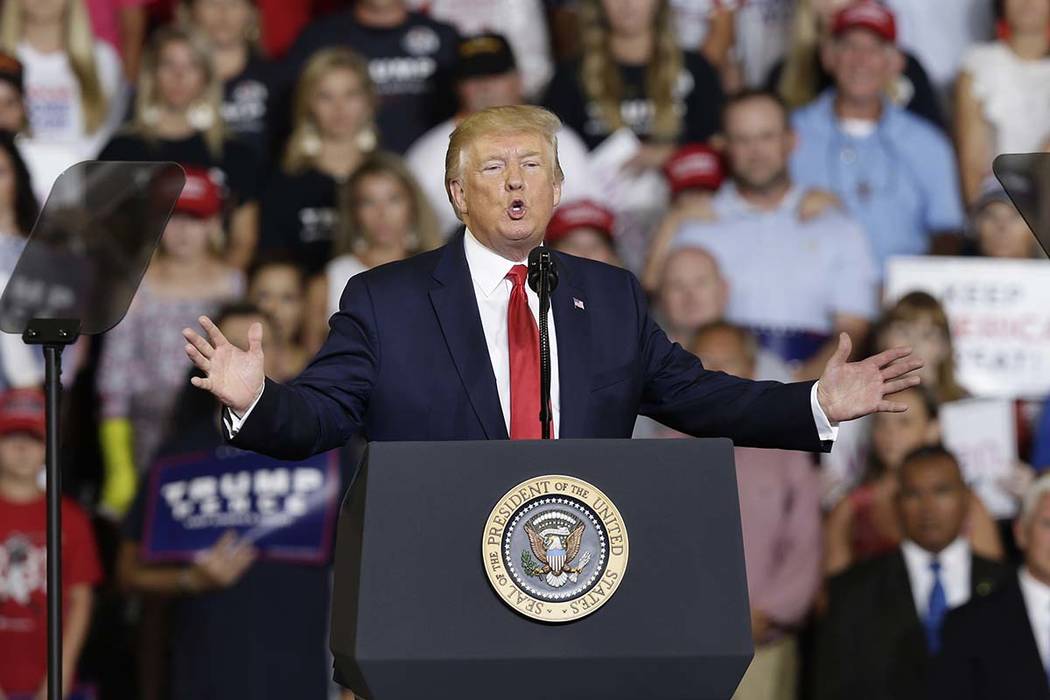 WASHINGTON — President Donald Trump did something Thursday he rarely ever does: He expressed regret that his supporters chanted, "Send her back," at a Greenville, North Carolina, rally Wednesday night after Trump panned Rep. Ilhan Omar, D-Minn., as anti-American.
"I feel a little bit badly about it," Trump told reporters in the Oval Office, adding that he disagreed with the chant.
Asked why he didn't try to stop the chant, Trump replied, "I think I did. I started speaking very quickly." But video of the event showed the president paused for 13 seconds as his supporters repeated the refrain, "Send her back."
It was a moment reminiscent of 2016 campaign events when Trump supporters chanted, "Lock her up," after Trump mentioned his rival, former Secretary of State Hillary Clinton.
It was a week of finger-pointing from Trump and four first-term members of Congress known as "the squad" — Omar and Reps. Rashida Tlaib, D-Mich., Alexandria Ocasio-Cortez, D-N.Y., and Ayanna Pressley, D-Mass. — who frequently refer to Trump as a racist.
This week's furor began Sunday when Trump tweeted, "Why don't they go back and help fix the totally broken and crime-infested places from which they came. Then come back and show us how it is done." It was an odd remark given that Tlaib, Ocasio-Cortez and Pressley were born in America, and Omar emigrated from Somalia as a child and became a naturalized U.S. citizen at age 17.
House Speaker Nancy Pelosi, D-Calif., and the Washington establishment called the Sunday tweets "racist." On Tuesday the House condemned the tweets by a 240-187 vote, largely on party lines.
Unbowed as he spoke to his base in North Carolina on Wednesday evening, Trump called the progressive Democrats "hate-filled extremists who are constantly trying to tear our country down." Then he re-fashioned his go-back rhetoric as simply his way of saying, "Hey, if they don't like it, let them leave."
The uproar that followed the "Send her back" chant showed how Trump's tactics have the potential to backfire — and even threaten to sabotage his 2020 re-election effort. Trump clearly intended to undermine Democrats by pitting the speaker against "the squad," but he ended up prompting an intra-party war between usually pro-Trump Republicans and Trump himself.
Chant 'wrong, vile'
Thursday morning, Republican Jewish Coalition Executive Director Matt Brooks tweeted, "The 'send her back' chants were wrong, vile, and don't reflect who we are as Americans." Brooks added that while he disagreed with Omar's viewpoints, "those chants have no place in our society."
Brooks told the Las Vegas Review-Journal he is "not a 'Never Trumper' at all. I'm a proud supporter of the president," and he thinks Trump is the most pro-Israel president ever.
Rep. Tom Emmer, R-Minn., also targeted the Greenville chanters while giving Trump a pass. Emmer told a Christian Science Monitor breakfast that what Trump "was trying to say, he said wrong." As for the "Send her back" chant, he said, there is "no place for that kind of talk."
Former Rep. Joe Walsh, R-Ill., tweeted that the chant was "ugly. It's ignorant. It's dangerous. And it's un-American. It's flat out bigotry. And every Republican should condemn this bigotry immediately."
Even House Chaplain Pat Conroy chimed in with an opening prayer that recognized the "difficult and contentious week in which darker spirits seem to have been at play in the people's house."
#IStandWithIlhan became a popular hashtag on Twitter. Omar herself reacted on Twitter with a hand-waving emoji and the caveat, "I am where I belong, at the people's house and you're just gonna have to deal!"
Speaking to reporters on Capitol Hill, Omar called Trump a "fascist," and Ocasio-Cortez proclaimed, "We are not in politics anymore. We are in racism."
House Democrats voiced their concern for the security of "the squad," who have been recipients of death threats.
New Democratic leaders?
Tim Murtaugh, communications director for the Trump campaign, said in a statement, "The Squad, as they call themselves, are now the leaders of the Democrat Party. Americans don't like it when elected officials consistently disparage this country. All the Democrats are pushing socialist ideas that are terrible for America. They are all the same."
Murtaugh told the Review-Journal the chants were "spontaneous" and not prompted by the campaign. Trump told reporters that if supporters started the same chant in the future, he would try to stop them.
It's easy to see "where the audience got the idea for that chant. Now that it exists, it's not going to stop," GOP strategist Alex Conant told the Review-Journal.
"I think it's clear what kind of campaigning this is going to be," Conant said. "It's going to be the 2016 campaign on steroids. The over-the-top rhetoric worked for him in 2016. He has no intention to change now."
Democratic strategist Maria Cardona agreed. She predicted 18 months of "Send her back" chants because Trump and his people "are convinced it's the only way he can win."
"Trump needs to expand his base," Cardona said. Instead she sees a campaign that is working overtime to mobilize white, non-college educated older voters and giving up on younger voters, urban voters and people of color, "all three of which are the groups that are growing and expanding demographically."
Contact Debra J. Saunders at DSaunders@reviewjournal.com or 202-662-7391. Follow @DebraJSaunders on Twitter.
RELATED
House votes to condemn Trump over 'racist' remarks