US diplomats challenge Trump travel ban
January 30, 2017 - 2:38 pm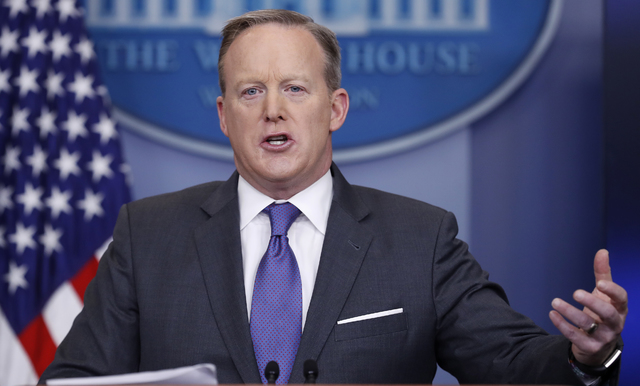 WASHINGTON — The White House clashed Monday with a large group of American diplomats who are voicing dissent with Donald Trump's temporary travel ban on citizens from seven Muslim majority countries, challenging them to resign if they aren't on board.
"They should either get with the program or they can go," Sean Spicer, Trump's press secretary, said.
In startling language, Spicer dismissed the criticism from what he called "career bureaucrats." While he later said Trump appreciates the work of public servants, Spicer said they should respect the desires of the American people and the importance Trump places on protecting the country.
"If somebody has a problem with that agenda, that does call into question whether they should continue in that post or not," Spicer said.
"This is about the safety of America."
The comments came after diplomats circulated a memo arguing that the executive order Trump signed last week will not make the U.S. safe, runs counter to American values and will fuel anti-American sentiment around the world.
"A policy which closes our doors to over 200 million legitimate travelers in the hopes of preventing a small number of travelers who intend to harm Americans from using the visa system to enter the United States will not achieve its aim of making our country safer," the diplomats wrote in a so-called "dissent cable" being drafted for State Department leadership.
"This ban stands in opposition to the core American and constitutional values that we, as federal employees, took an oath to uphold," a draft of the cable said.
U.S. officials said at least several hundred diplomats indicated they would sign the memo and that it was expected to be formally submitted later Monday. The final number of signatories will not be available until it is submitted, the officials said. The officials disclosed internal discussions on condition they not be quoted by name, in part because they feared retaliation.
Dissent channel cables are a mechanism for U.S. diplomats to register disagreement internally about U.S. policies. It was established during the Vietnam War and was most recently used by diplomats to criticize the Obama administration's approach to Syria.
Spicer defended the executive order and said its impact had been "blown way out of proportion and exaggerated."
The State Department's official response was less confrontational.
"The Dissent Channel is a longstanding official vehicle for State Department employees to convey alternative views and perspectives on policy issues," department spokesman Mark Toner said. "This is an important process that the acting secretary, and the department as a whole, value and respect. It allows State employees to express divergent policy views candidly and privately to senior leadership."
HOLOCAUST BACKLASH
A Republican senator is criticizing the Trump administration for failing to mention Jews in a statement remembering the Holocaust.
Sen. Susan Collins of Maine said over Twitter that "The Administration's omission of the Jewish people in a Holocaust remembrance statement is an historical mistake."
Trump administration officials have defended their statement, saying that it appropriately recognized the horrors of the Holocaust, which killed millions of people in addition to Jews.
Spicer accused critics of nitpicking and noted that the statement was written with the help of a person who is both Jewish and the descendant of Holocaust Survivors. Trump's son-in-law Jared Kushner is both.
Nonetheless critics have said that omitting specific reference to Jews or anti-Semitism can be a form of Holocaust denial. The Nazis specifically set out to exterminate all the Jews of Europe.
CIA DIRECTOR ADDED TO NSC
Spicer says the director of the CIA will be added to the White House National Security Council.
Spicer says the president has decided to amend his recent memo restructuring the council to add CIA Director Mike Pompeo to the top circle of national security advisers. The restructuring also added White House senior adviser Steve Bannon to the council's principals committee, which includes the secretaries of state and defense.
Trump's move also directed the director of national intelligence and the chairman of the Joint Chiefs of Staff to attend only when "issues pertaining to their responsibilities and expertise are to be discussed."
But Spicer says those individuals will be welcome to attend the meetings. He disputed that the reorganization was a significant change from past administrations.
NETANYAHU VISIT
Trump will welcome Israeli Prime Minister Benjamin Netanyahu to the United States next month.
Spicer said that Netanyahu will visit on Feb. 15. He said Trump looks forward to "discussing continued strategic, technological, military and intelligence cooperation."
Trump has signaled strong support for Israel. Netanyahu on Sunday said that the American embassy in Israel should be moved from Tel Aviv to Jerusalem, endorsing one of Trump's campaign promises.
Spokesman: Obama comments on Trump's refugee ban
A spokesman for Barack Obama says the former president "fundamentally disagrees" with discrimination that targets people based on their religion.
The statement alluded to but did not specifically mention President Donald Trump's temporary ban on refugees from several Muslim-majority countries. The White House says the ban isn't a Muslim ban because dozens of Muslim-majority countries aren't affected.
Obama spokesman Kevin Lewis says Obama is "heartened" by the amount of engagement being seen across the country. He's referring to protests against Trump's order on immigration and refugees.
Lewis says "American values are at stake." He's praising citizens who are exercising constitutional rights to assemble and "have their voices heard."
Obama has not weighed in on a political issue since leaving office on Jan. 20. He has said he plans to give Trump room to govern but would speak out if Trump violates basic U.S. values.
– The Associated Press