Water consumption in West captures attention of lawmakers
Updated March 31, 2023 - 7:04 pm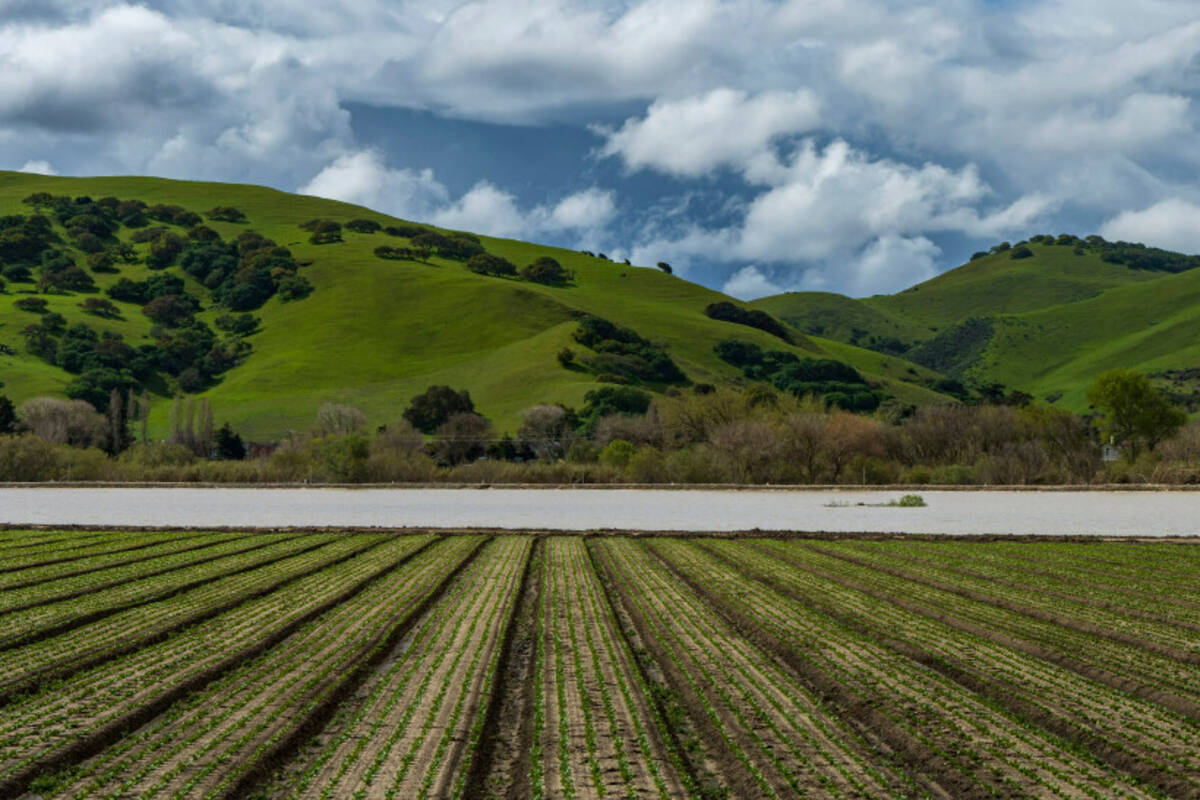 With drought taxing water supplies across the West, federal lawmakers introduced a bipartisan bill Thursday to better understand how much water we have, by figuring out just how much we lose.
The legislation would create a new program under the Department of Interior to use satellite imagery to estimate how much water is lost to evapotranspiration from crops, which makes up one of the largest chunks of water consumption in arid environments like the American West. Evapotranspiration is the water from the ground and surfaces of plants that is lost to the atmosphere.
Sen. Catherine Cortez Masto, D-Nev., and Rep. Susie Lee, D-Nev., reintroduced the Open Access Evapotranspiration Data Act on their respective congressional floors Thursday alongside Sen. John Hickenlooper, D-Colo., and Reps. Chris Stewart, R-Utah, Jared Huffman, D-Calif., and Burgess Owens, R-Utah. Similar legislation was introduced in 2021 and passed by the House before it died in the Senate.
"Nevada and other states along the Colorado River Basin are continuing to face a water crisis, and we need every tool possible to protect our water resources," Cortez Masto said in a statement. "My legislation will help us measure and better understand our water resources and will make essential water data more accessible."
Lee said that concept would expand on the OpenET program — a public-private partnership supported by NASA, the Desert Research Institute and the Environmental Defense Fund — nationwide in order to provide water managers and farmers with accurate estimates for how much water is lost from irrigating crops.
Better access to that data would mean better water management and greater water sustainability for Nevada and the rest of the drought-stricken Colorado River Basin, she added.
"I've said it over and over — you can't manage what you can't measure. The American West is facing the worst drought in 12 centuries. It's going to require shared information and coordination across all fronts to solve this crisis," Lee said in a statement. "This isn't a partisan political issue. Democrats, Republicans, and Independents across the West are all facing this impending drought crisis, and that's why we are standing together across the aisle here in Washington in support of this legislation."
Historically, access to that kind of data has been limited and expensive. The current OpenET program uses publicly available data from satellites and weather stations to provide estimates for water used by different crops across 17 states.
Zane Marshall, director of water resources for the Southern Nevada Water Authority, said expanding that program nationwide will provided a much-needed tool for policymakers and water users alike.
"OpenET will allow water managers to assess how much water is being used via a cost-effective and easy-to-use web-based platform, filling a critical data gap in water management across the U.S.," Marshall said in a statement.
Several western environmental groups, including The Nature Conservancy, the Water Foundation and Western States Water Council, are endorsing the bill, according to Lee's office.
Kyle Roerink, executive director of the Great Basin Water Network, said that while expanding the program could be a major benefit for water managers, it doesn't come without some concerns.
"This bill creates a hub of ET data that should help balance water budgets and provide a better understanding of consumptive uses. The data, we hope, will be applied to limit conflict in basins across the west," Roerink said in an email. "But it must not be used as a means to extrapolate more beneficial uses from water-dependent plant life."
Contact Colton Lochhead at clochhead@reviewjournal.com. Follow @ColtonLochhead on Twitter.