Las Vegas considers changes to medical marijuana laws
Updated April 17, 2017 - 4:58 pm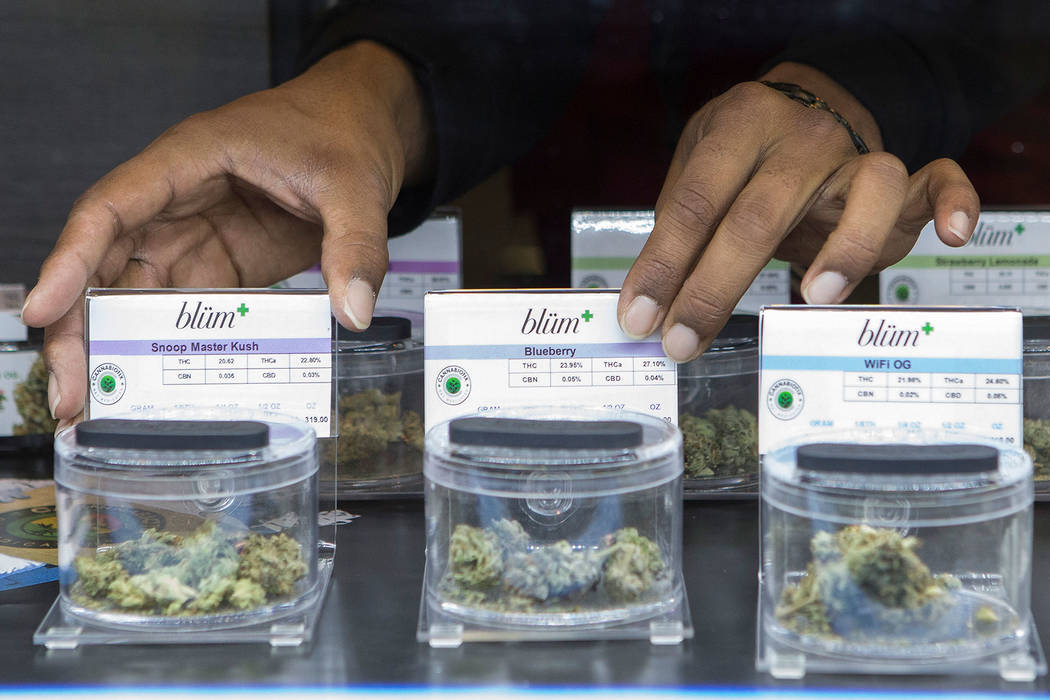 Las Vegas city officials are eyeing sweeping changes to medical marijuana regulations that would relax the rules and more closely align the city with Clark County.
A City Council committee on Monday discussed proposed changes that include lengthening the hours of operation, removing product limitations, modifying disposal requirements and changing dispensary fees. Operators of the roughly 12 dispensaries in the city have lamented they're losing business to establishments in Clark County.
"I believe we're now hurting ourselves because people are driving across Sahara (Avenue)," Councilman Bob Beers said of the city's southern boundary.
The potential changes come as the city awaits guidance from the state on implementing rules governing recreational marijuana, which became legal Jan. 1.
The proposal offered Monday would change the time frame when medical marijuana sales are prohibited to 3 a.m. to 6 a.m. Sales have not been allowed between midnight and 6 a.m.
Another change would remove a $75,000 annual fee for dispensaries, but leave in place a one-time $75,000 origination fee. The city also requires a designated employee who oversees the operations to be on site while the dispensary is open. Under the proposal, that employee could be either on-site or on call while the business is operating.
Attorney Amanda Connor, whose practice focuses partly on cannabis law, asked that Las Vegas defer to the state on some of its vetting procedures to remove "duplicative investigative processes" and ease restrictions on where marijuana paraphernalia can be located.
The city's vetting efforts include flagging out-of-state companies whose businesses had been shut down or disciplined elsewhere, said Karen Duddlesten, the city's deputy planning director.
"Through our investigations we had much more information than the state," she said.
When city officials were mulling the initial medical marijuana regulations, their aim was to be more restrictive because "there were a lot of unknowns," Deputy City Manager Orlando Sanchez said.
The proposed changes will go to the May 17 council meeting for a possible vote.
Contact Jamie Munks at jmunks@reviewjournal.com or 702-383-0340. Follow @JamieMunksRJ on Twitter.
Under consideration
Proposed changes to Las Vegas medical marijuana rules include:
At least one qualified person must be either at the dispensary or available for immediate contact by the city and police during the hours of operation.
Remove $75,000 annual fee for dispensaries; one-time $75,000 one-time origination fee would remain.
Shortens the time when medical marijuana sales are prohibited to between 3 a.m. and 6 a.m. Current law ibans sales between midnight and 6 a.m.
Medical marijuana, edibles and marijuana-infused products may be transported by a licensed medical marijuana establishment or a medical marijuana support business.
Expired medical marijuana may be returned to a cultivation or production facility for disposal within 30 days of its expiration.
Adds definition of "medical marijuana support business" to be a business providing goods or services to a medical marijuana establishment that receives at least 50 percent of its annual revenue from licenses medical marijuana establishments. Adds language that says support businesses that have obtained a business license in another Nevada jurisdiction must apply for a license to be able to transport marijuana or other related support services within the city.