Nevada high court upholds state's medical marijuana registry
Updated July 26, 2017 - 10:12 pm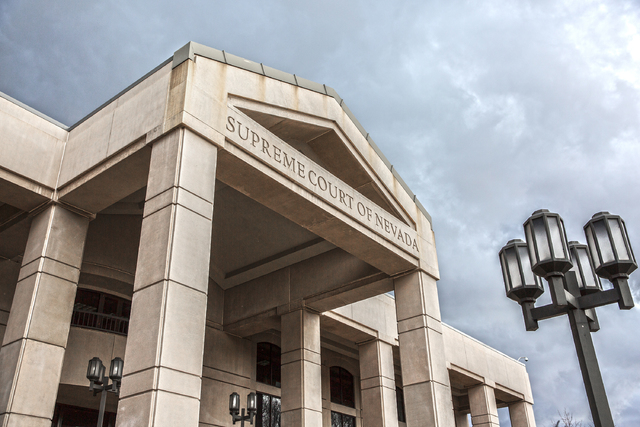 CARSON CITY — The Nevada Supreme Court has upheld the constitutionality of the state's medical marijuana registry in a unanimous decision issued this week.
The unpublished opinion, dated Tuesday, upheld a lower court ruling rejecting a challenge to the state's medical marijuana program approved by voters in 2000.
The challenge was filed by an individual identified only as John Doe, with other similarly situated residents.
With passage of the measure, the Nevada Legislature established a registry of patients who were authorized to use marijuana for medical purposes and who would not be prosecuted by state and local law enforcement. A $25 application fee and a $75 processing fee were imposed by lawmakers in 2003.
Doe received his medical card to treat migraine headaches, but he was unable to obtain the drug because the initial medical marijuana law did not provide for dispensaries where the drug could be purchased. That came about in 2013.
Instead, patients were authorized to grow their own marijuana.
Las Vegas attorney Jacob Hafter, who represented Doe, refused to speak to the Las Vegas Review-Journal about the ruling Wednesday, but the attorney said on social media the ruling marked "a sad day for Nevada."
"What makes the decision even more illogical is that now, with recreational marijuana, we have a system where if you want to use cannabis as medicine, you need to get permission from the state first and they need to monitor your acquisitions, but if you want to party, you can circumvent the state and go straight to the same dispensary and buy the same product," he wrote on Facebook on Wednesday.
Wrong target of lawsuit
Doe sued the state and Legislature, arguing the registry and fees violated his due process rights, with his right against self-incrimination.
A Clark County district judge ruled in favor of state officials, finding in part that Doe did not sue the right state agency within the Department of Health and Human Services. The 2017 Legislature has passed a bill moving the administration of the medical program to the Department of Taxation to combine it with recreational marijuana sales.
The Supreme Court upheld the lower court decision, holding that Nevada's medical marijuana registry does not violate the U.S. Constitution's due process, equal protection or self-incrimination clauses.
Doe also argued the court should recognize a "fundamental right" to access health care, but the Supreme Court rejected the argument.
"To date, no court has recognized a fundamental right to use medical marijuana recommended by a physician, and the use of medical marijuana is still prohibited under federal law and the laws of 22 states," the court said.
Because the registry is voluntary, there is no self-incrimination claim either, the court said.
Contact Sean Whaley at swhaley@reviewjournal.com or 775-461-3820. Follow @seanw801 on Twitter. Review-Journal staff writer Wesley Juhl contributed to this story.