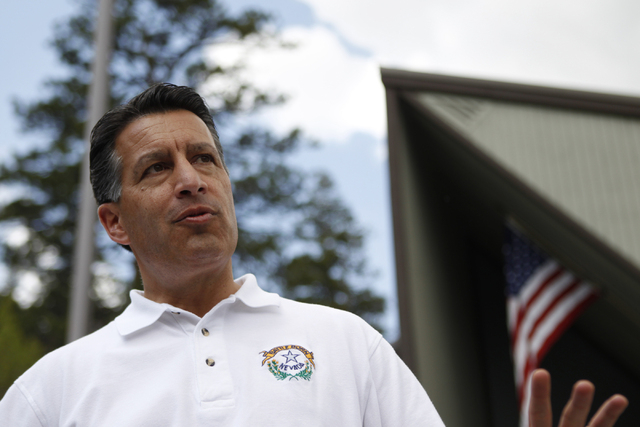 The boiling clouds of August were ominous, but only a sprinkle fell on Gov. Brian Sandoval as he addressed reporters Friday morning outside the Mount Charleston Public Library.
Unlike some of his counterparts in federal and county government, Sandoval appeared to appreciate the gravity of the moment.
Sandoval was in Southern Nevada last week to express concern for residents of the flood-ravaged Rainbow subdivision, some of whom suffered substantial damage during a rainstorm earlier in the week. He offered to enlist the state's assistance, including the possibility of assuming liability for a proposed flood diversion effort.
Somewhere outside the reach of the press and some sincerely seething homeowners, county and federal officials were soaking in their own ineptitude. Their inability to carve out a timely compromise and facilitate the creation of an emergency berm uphill from the residences all but assured a flood would cost some homeowners dearly. And it did. At least two dozen properties were damaged, and a main road through the subdivision again was ruined. Fortunately, no one was killed.
The plan was considered a stopgap meant to beat the mountain's monsoon season. And it would have. Rick Leifield, chief engineer of the U.S. Army Corps of Engineers Los Angeles District, said his crew was prepared to start June 1 with a 30-day completion schedule and a cost of approximately $880,000 to create a 1,700-foot-long earthen wall meant to divert water away from the residential area and into a natural flood channel. But he couldn't act without another government agency assuming liability for the project.
Doing nothing substantial in the wake of the 28,000-acre Carpenter 1 Fire in July 2013 guaranteed that damage would occur in Rainbow the next time storm conditions were right. The storm on the last Monday in July dropped 2.4 inches of rain in Kyle Canyon, more than enough to wash tons of soil and gravel from the burned mountainside.
That's not a once-in-a-century downpour. Monday's storm was the sort of summer deluge mountain residents often experience.
"I think it's self-evident that the residents up here have been through a lot, more than anybody should have to go through," Sandoval said. "The storm event that just happened on the heels of the fire from last year has really created what I feel is a life and safety issue here."
The governor politely called the inability of the U.S. Forest Service and county to resolve the matter "differences of opinion." He offered everything from a sympathetic ear to his mediation skills.
As long as there are storm clouds in the sky, Rainbow residents are put at risk.
"You've got put yourself in their shoes," Sandoval said. "They've had 3, 4 feet of mud in their houses."
Some of those houses are ruined.
"What I want to do is try to get this to an agreement and get this fixed," Sandoval said. "That berm that is upstream, so that we can divert any potential water that comes down around the subdivision and avoid anything that could happen again."
A working plan has been drafted. The construction costs are known.
The cost of bureaucrats continuing to sit on their hands is climbing.
"This is bad as anything I've ever seen as I've toured around the state," Sandoval said. "What concerns me more is it could repeat itself. In the meantime all the different agencies are talking, there are people here who could be victimized again. … They're frustrated, and they should be. They're mad, and they should be."
The flood damage came as a surprise to exactly no one. Sit around and do nothing, and it will happen again and again.
County and federal officials fretted over potential liability for this emergency flood project.
But what is their moral liability for doing nothing?
John L. Smith's column appears Sunday, Tuesday, Wednesday, Thursday and Friday. E-mail him at jsmith@reviewjournal.com or call (702) 383-0295.