Ice age fossils return to Las Vegas after decades in California museum
January 30, 2018 - 10:43 am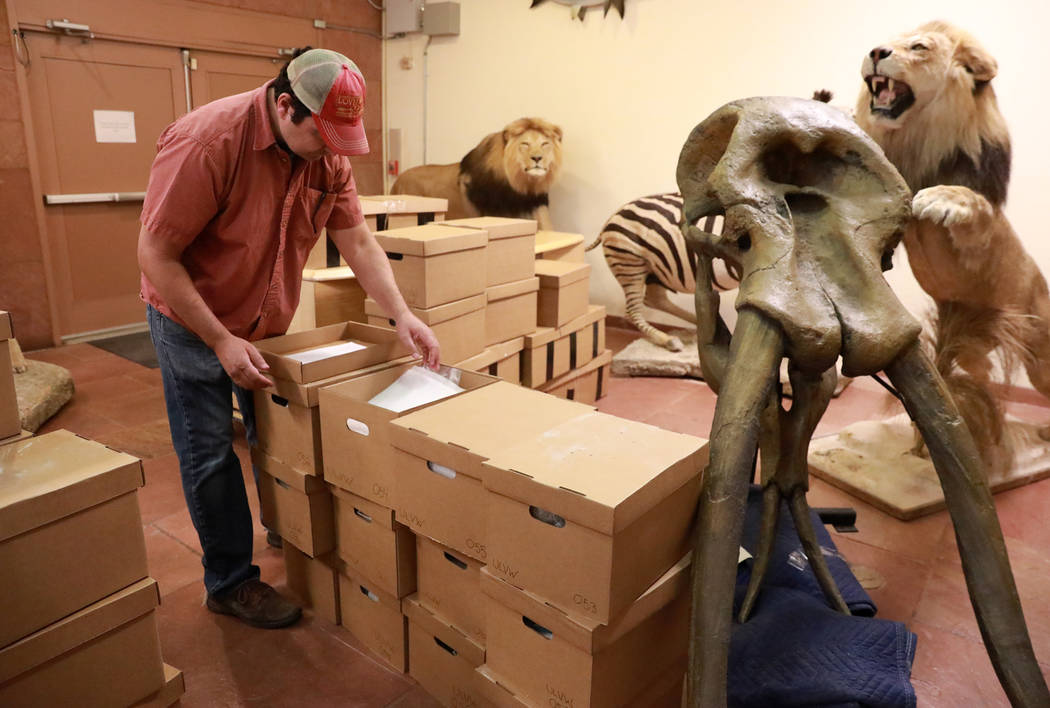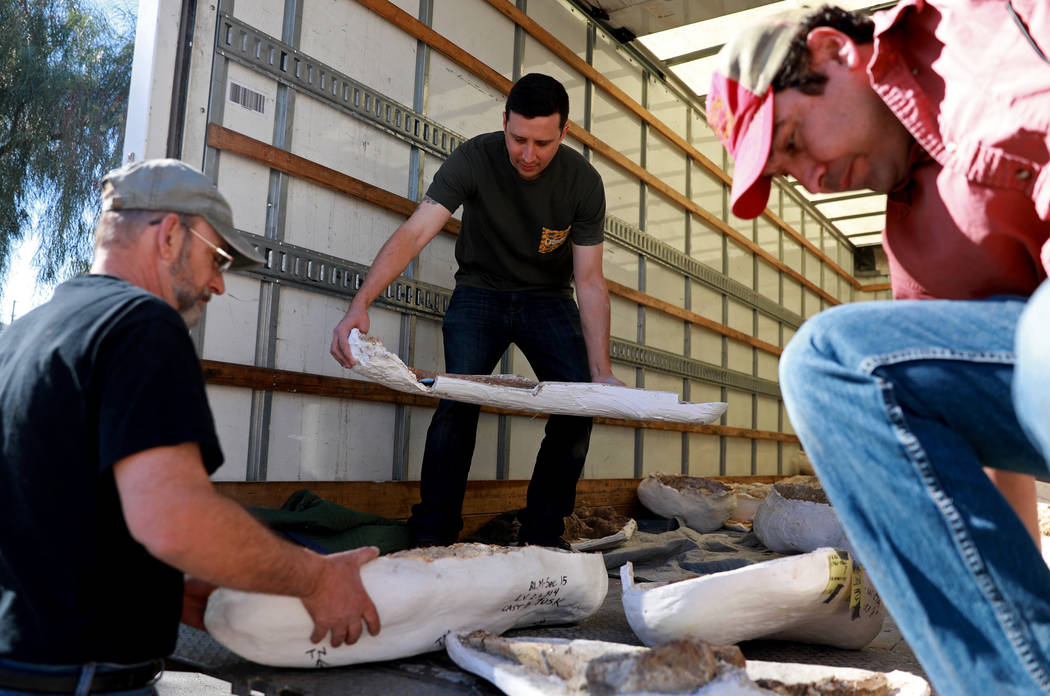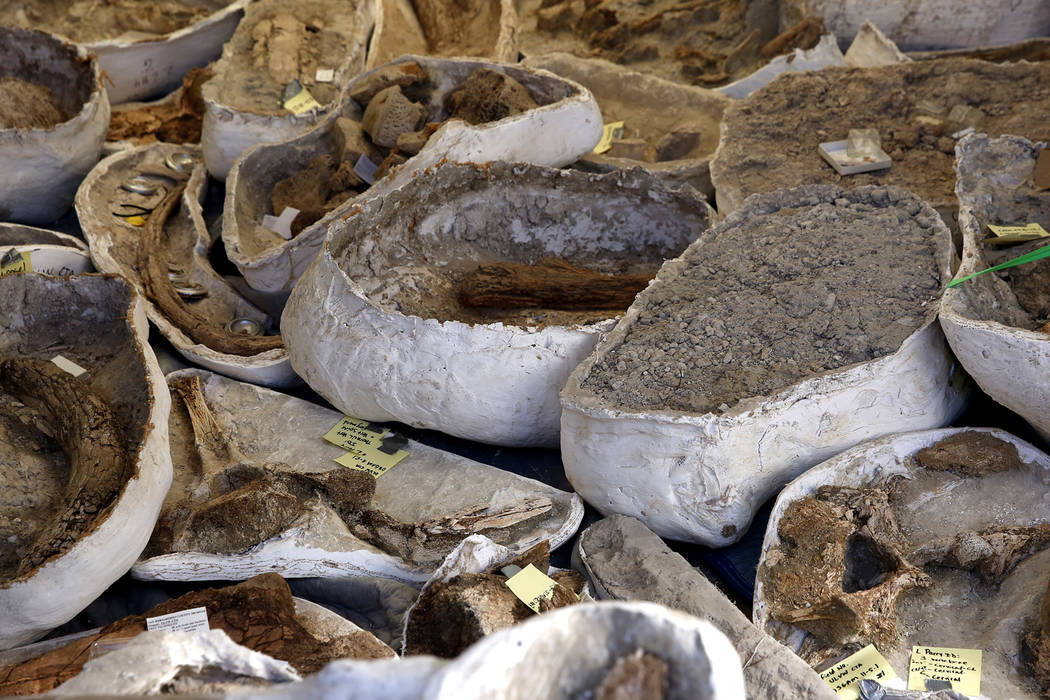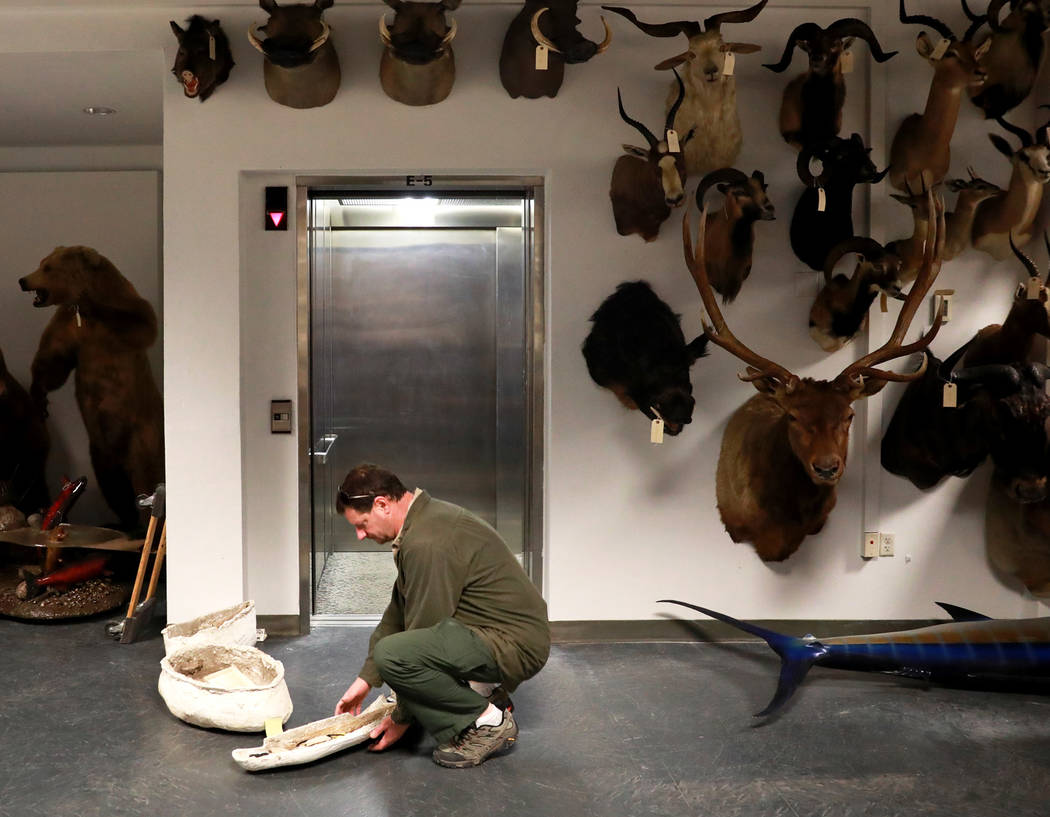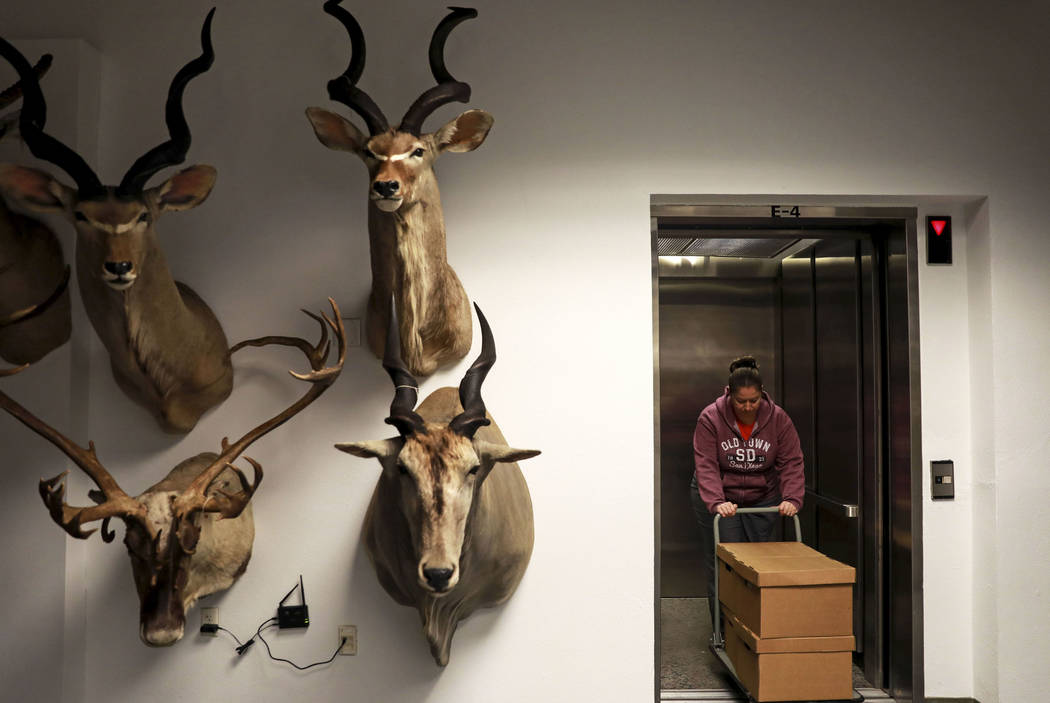 The ice age treasures of Tule Springs are back home in Las Vegas after a decades-long detour to Southern California.
A crew from UNLV and the Las Vegas Natural History Museum returned from Redlands, California, Saturday night with four vehicles packed full of fossils collected from the upper Las Vegas Wash over past 20 years or so.
The collection of more than 20,000 specimens from the San Bernardino County Museum includes several 6-foot-long mammoth tusks, a complete bison skull and the fossilized bones of extinct horses, camels and saber-toothed cats that once prowled the Las Vegas Valley. There are also hundreds of tiny bone fragments, ancient seeds and the teeth from pocket mice and ground squirrels.
"We're very proud and happy to have our stuff back," said Marilyn Gillespie, executive director of the museum on Las Vegas Boulevard near Washington Avenue.
The fossils range in age from about 10,000 to 125,000 years old. Some of them are still wrapped in the plaster field jackets they were placed in when they were collected, Gillespie said. "They are just as they were when they came out of the ground."
New discoveries await
UNLV geologist and paleontologist Josh Bonde helped lead the nine-person team that brought the fossils home.
He said they filled a 26-foot truck, a van, a pickup and a passenger car with about 70 file boxes, and they still didn't have room for everything. Bonde said the last few items will be "repatriated" in the coming weeks.
He expects it to take several years for researchers to go through all of the specimens, many of which have yet to be studied in any detail.
"A lot of it was collected but never processed," Bonde said. "I think there's a bunch of new discoveries to be made."
The San Bernardino County Museum began collecting fossils from the hills at the northern edge of the Las Vegas Valley in the 1990s under a contract with the U.S. Bureau of Land Management. All told, researchers documented more than 400 separate fossil sites and unearthed clues about the region's climate over the past 250,000 years. Their work helped convince Congress to create Tule Springs Fossil Beds National Monument on almost 23,000 acres of federal land in December 2014.
The National Park Service brought the first batch of about 10,000 fossils back to Las Vegas from the Redlands museum in 2015. Those items are currently being stored at the Nevada State Museum at Springs Preserve.
Inspiring future scientists
The BLM agreed to transfer the rest of the collection to the Las Vegas Natural History Museum after designating it as an official repository for all archaeological and paleontological finds on public land in Southern Nevada three years ago.
Bonde said two of his graduate students were already studying fossils from the collection in California, so the transfer should make their lives a whole lot easier. He is also looking forward to giving his other students a hands-on lesson in preparing fossils for curation.
But arguably the most exciting part of bringing the fossils home is the opportunity to show local schoolchildren — and the public at large — what life was like in ice age Las Vegas, Bonde said. He's hoping the collection will inspire at least a few local youngsters to pursue science as a career.
"Having this stuff close to home will benefit a lot of people, not just UNLV," Bonde said.
For now, the fossils are being housed in a secure, 10,000-square-foot research and collection facility across Las Vegas Boulevard from the museum. But Bonde said museum visitors will get to see the specimens from time to time as he and his student researchers work on them in museum's learning lab, which is viewable by the public.
"The long-range goal is for us is the public display of these items," Gillespie said. "These things have never been on display before. We're very much looking forward to showing them to the community."
Bonde said there's no shortage of museum-quality material to show off.
"I was telling Marilyn while we were unloading, "We're going to have to redo the mammal hall.'"
Contact Henry Brean at hbrean@reviewjournal.com or 702-383-0350. Follow @RefriedBrean on Twitter.
Mammoth sculpture
A giant mammoth made from recycled trash could one day welcome visitors to Tule Springs Fossil Beds NationalMonument.
NV Energy made a $10,000 donation last week to kick-start the design and production of the sculpture, which is expectedto stand 16 feet tall and be built from discarded metal collected from illegal dump sites on the monument at the valley'snorthern edge.
The idea was dreamed up by 17-year-old Tahoe Mack as her Girl Scout Gold Award
project. It is expected to cost approximately $100,000 to fully design, produce and install.
More information is available at www.protectorsoftulesprings.org.