Las Vegas library center gives teens free use of technology — VIDEO
January 3, 2018 - 6:01 pm
Updated January 3, 2018 - 6:05 pm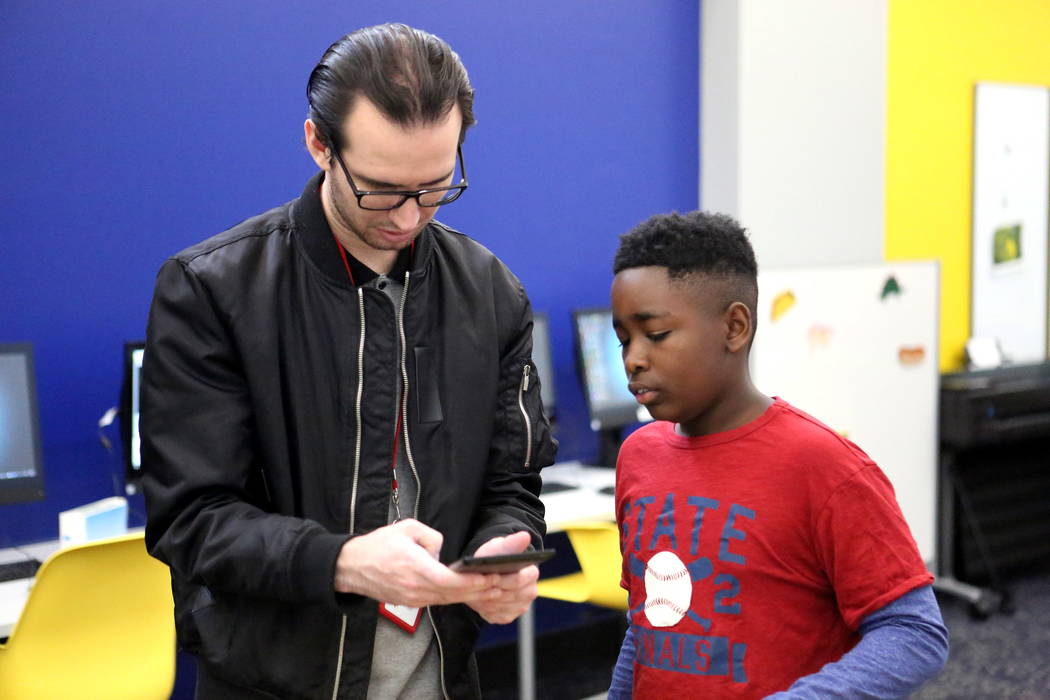 The Best Buy Teen Tech Center at the Clark County Library is stocked with more high-tech gizmos, gadgets and thingies than even the most savvy kid could covet, from computers stuffed with graphics, animation and editing software to a DJ station, robotics equipment, a recording studio and … a sewing machine like Mom's?
Sure, says Megan Nykodym, the library's teen services department head.
"What we've noticed is a lot of kids want to know about fashion design and don't know where to start," she explains. "So not only will students be able to learn how to use a sewing machine, but there's all sorts of software and hardware (used in) the process of designing and creating clothing."
The grand opening is Monday at the library, 1401 E. Flamingo Road, but the technological wonders that lie within are being sampled by area students who might decide to pursue a tech career of their own someday.
Nykodym said one goal of the center — which is free to students from eighth grade through high school — is to encourage teens to explore tech careers they may not even know exist. In the meantime, they'll have a chance to explore what happens when their own creativity intersects with high-tech tools.
The center was funded through a $150,000 grant award from the Best Buy Foundation to the Las Vegas-Clark County Library District Foundation. Andrea Wood, Best Buy's director of community relations, says the local center is the 14th the retailer has funded nationwide, and that plans call for the operation of more than 60 such centers by 2020.
"One reason we do this program is that 80 percent of jobs over the next decade are going to require technical skills," Wood says, and Best Buy's commitment includes ongoing financial support to keep technology in the centers up to date.
Among the equipment available for teens' use here are video editing, coding, graphic art, animation and sound software, a DJ lab, a recording studio with an electronic drum kit, digital media equipment, a 3-D and large-format printer, robotics tools and fashion design equipment.
"It's such an amazing space," Nykodym says, which helps to "bring out creativity and just ignites the passion in (kids) and, especially, our teens. We want kids to use their imaginations and use the technology we have to create.
"We want teens to come in and just explore all of these different routes of technology, and hope that will lead them to an open door or window to a new career they had no idea was possible."
Steven McEntire, 16, is a sophomore at Veterans Tribute Career & Technical Academy. "We're a newer school, probably about eight years now, and we don't have anything like this," he says.
The equipment he can use at the center is "something teens like myself could never dream of having. Then this opportunity came and it's free and I can use it whenever I feel like it. It's such a great experience."
McEntire is interested in music production and drumming, so he plans to spend time in the center's recording studio. He's not yet sure whether either will be a career, "but in the future, who knows, right? I'd love to sit down and produce music. It's fun."
Also part of the center is a lounge that will be equipped with books, DVDs and games, designed as a place where teens can "just hang out and relax and just be teens," Nykodym said.
"It's important that teens know that this is their space. We created this solely for teens. There's always adult spaces and spaces for younger kids, but now we can finally create a space solely for teenagers."
What: Best Buy Teen Tech Center
When: Clark County Library, 1401 E. Flamingo Road
Hours: 3:30 to 7:30 p.m. Monday through Thursday and 10:30 a.m. to 5:30 p.m. Saturday and Sunday; closed Friday.
Information: 702-507-3400
Contact John Przybys at reviewjournal.com or 702-383-0280. Follow @JJPrzybys on Twitter.