National survey shows increasing fear of driverless vehicles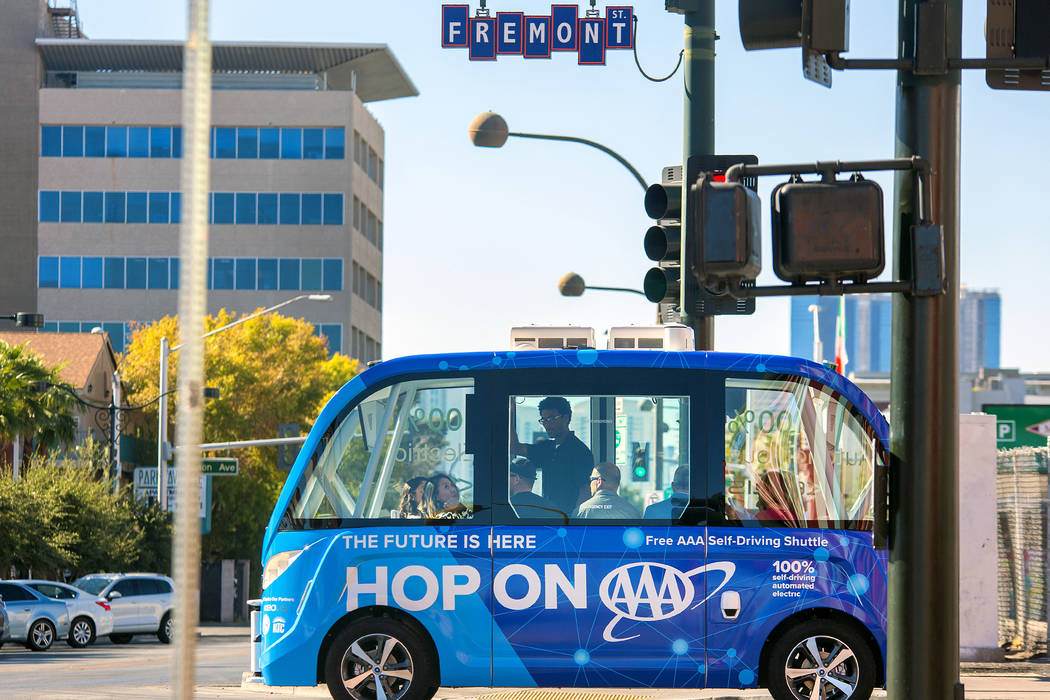 There's a growing distrust of driverless vehicles similar to an autonomous bus that crashed on its first day of testing in downtown Las Vegas, according to a AAA national survey set for release Tuesday.
About 73 percent of drivers said they would be too afraid in a fully self-driving vehicle, according to AAA's poll of 1,014 adults across the United States between April 5 and April 8.
That figure is up from 63 percent of drivers who said they were afraid in a survey by AAA released in January, possibly driven by the high-profile story of a woman who was fatally struck in March by an autonomous vehicle operated by Uber on a street in Tempe, Arizona.
It was believed to be the first pedestrian death caused by autonomous technology, prompting Uber to suspend testing in other cities.
"Our results show that any incident involving an autonomous vehicle is likely to shake consumer trust, which is a critical component to the widespread acceptance of autonomous vehicles," said Greg Brannon, AAA's director of automotive engineering and industry relations.
AAA said it supports the "unbiased testing" of emerging technologies to make driving safer, including the use of autonomous vehicles that rely on lasers, radar and camera sensors.
Gov. Brian Sandoval declared two years ago that Nevada would be a leader in promoting the driverless-car industry by refining laws to allow for testing.
Ever since autonomous vehicle testing was allowed in 2012, Nevada has required licensees to report crashes and citations within 10 days, according to the Department of Motor Vehicles.
A Navya Arma autonomous shuttle was struck by another vehicle on Sixth Street near Fremont Street in November on the same day it debuted in downtown Las Vegas as part of a yearlong test by Keolis North America and AAA.
More than 23,000 people have boarded AAA's downtown shuttle, with roughly 30 percent reporting a "positive sentiment" about driverless vehicles after taking the free ride, AAA Nevada spokesman John Moreno said.
"Consumer education is a key part of this effort, because people sometimes fear what they don't understand," Moreno said. "It's always better to show rather than tell."
Other key findings in the AAA survey:
— About 20 percent of drivers would trust a self-driving vehicle, while 7 percent were unsure.
— At 83 percent, women said they were too afraid to ride in an autonomous vehicle, compared with 63 percent of men.
— Roughly 64 percent of millennial drivers — those who traditionally were the quickest to embrace automated technology — said they would be too afraid to ride in a self-driving vehicle, up from 49 percent of those polled in AAA's January study.
Contact Art Marroquin at amarroquin@reviewjournal.com or 702-383-0336. Find @AMarroquin_LV on Twitter.
Self-driving shuttle
The AAA Self-Driving Shuttle runs from 1 p.m. to 8:30 p.m. Tuesday through Sunday, with boardings at the Downtown Container Park at Seventh and Fremont streets.
Riders who complete the online survey at http://www.aaahoponlasvegas.com/ can enter a raffle to win a $500 gift card, AAA officials said.