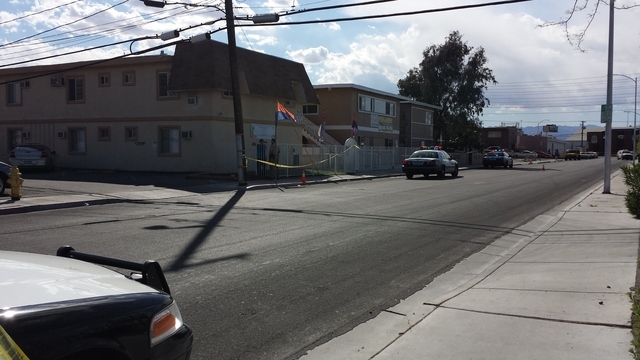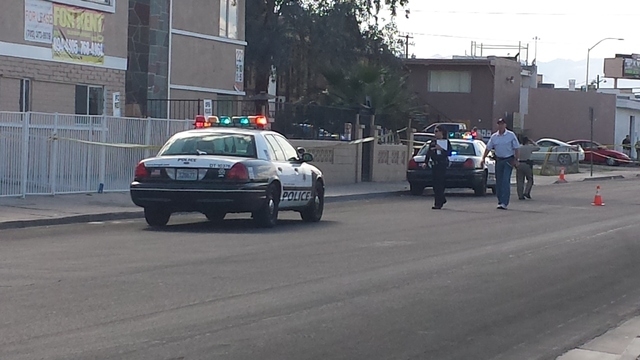 Police were looking for three men Saturday night in connection with the fatal shooting of a 28-year-old man in a rundown neighborhood south of downtown Las Vegas.
Lt. Ken Romane, a watch commander with the Metropolitan Police Department, said witnesses tried to help the victim after he was shot at 2 p.m. in the 200 block of New York Avenue, behind the Stratosphere, but he later died at University Medical Center.
Homicide detectives were on the scene late into the evening, and the street was cordoned off with yellow tape and squad cars while crime scene investigators took pictures. The victim's blood was splattered against a brown brick wall.
A motive behind the shooting had not yet been determined, Romane said.
Witnesses who were driving by at the time of the shooting, then jumped out of their car to help, told police there was some kind of fight before the shooting, and that they heard yelling just before the man was shot. Police described the assailants as black, 5-feet-7-inches to 5-feet-10-inches tall and weighing 200-250 pounds. They fled on foot.
Dennis Abeyele, a resident who lives across the street, had not been allowed to get back into his apartment as of 7:30 p.m.
A stock clerk at Treasure Island who has lived there for 10 years, he said there's some sort of shooting at least once every six months in the neighborhood, but that they usually come late at night, not in the middle of the day.
"Actually, the crime around here isn't as bad as it used to be," said Abeyele, 46. "It sounds like it was some drug deal gone bad. This neighborhood can be safe if you don't associate with the wrong kind of people who are selling drugs. But if you get in with that crowd, then you're risking your life."
Officer C. Pollock, a patrol cop who was on traffic control duty in the aftermath, said every once in a while something bad will happen in the neighborhood, which some people call Naked City, and police will ramp up their presence. But for the most part, it's been pretty quiet on the crime front — until Saturday afternoon.
At least two dozen people who live a block from the shooting said they did not know the victim, and they have had few problems with the neighborhood.
An autopsy will be performed by the Clark County coroner's office, which is expected to release the victim's identity and cause of death in the next few days.
Contact reporter Kimber Laux at klaux@reviewjournal.com or at 702-383-0391. Contact reporter Tom Ragan at tragan@reviewjournal.com or 702-224-5512.