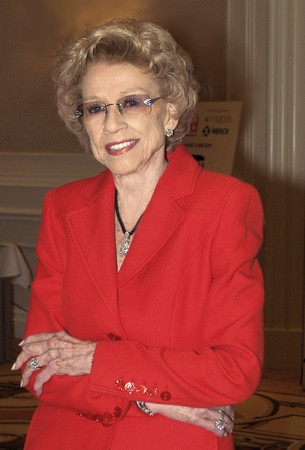 Flashy jewelry told the world Claudine Williams made it as a successful Las Vegas casino operator.
Gnarled hands showed where she started.
Before Williams became known as the grande dame of the Strip, she got her start in gambling in Bossier Parish, La., dealing cards during the Great Depression.
"She learned every single card game and every dice game there, and she was 16 years old," said Williams' friend, Carol Harter. "She would show me her hands, and they were bent. She got those from dealing all those years."
Williams' work-worn hands, along with her generous spirit and tough mind, were the subject of a memorial in her honor Saturday at Harrah's Las Vegas.
About 450 people gathered in a second-floor ballroom of the casino she helped found as the Holiday casino after she and her husband, Shelby, sold the Silver Slipper in 1969.
The sound system played music by Ray Price, a country and western performer from Perryville, Texas, who was Williams' favorite musician.
In the hall were a few wreaths, but not much more to differentiate the event from any convention or meeting that typically fill the space.
Current and former Harrah's officials were there, including Tom Jenkin, president of Harrah's Entertainment, regional president Marilyn Winn, former CEO Phil Satre and political consultant Sig Rogich.
They shared stories about the life and times of Williams, who died last month at the age of 88.
The memorial was held in a small ballroom whose decor was spare, with projectors flashing pictures of Williams on each side of the stage.
Like Benny Binion, another Las Vegas icon of her era, Williams came from a hardscrabble, rural background without the benefit of much formal schooling.
But Williams' background didn't prevent her from contributing as much as, if not more than, many of her contemporaries to an era that is still considered by some to be the golden age of Las Vegas, not to mention community-building efforts beyond the Strip.
As the first woman to run a major casino, she did so without the benefit of a predecessor to show the way.
"She was not the least bit intimidated," said Elaine Wynn, a longtime friend who considered Williams a mentor when she and her husband, casino developer Steve Wynn, arrived in Las Vegas in the late 1960s. "She had developed, on her terms, a sense of self confidence that made her gently powerful."
Wynn and others recalled Williams' complex persona, one that believed fine jewelry was a must for the proper wife of a casino owner but also that the secret to success in business was to keep in touch with middle class customers by offering good food at cheap prices and loose slots for good gambling.
Elaine Wynn said she admired the way Williams labored hard and made big decisions to ensure the success of the Holiday, but without upstaging her husband or letting the burden of responsibility crack her graceful countenance.
"None of these admirable traits were lost on me," Wynn said.
In addition to paying homage to Williams, the event was a memorial to a way of life that's hard to find in modern Las Vegas.
The Las Vegas of Williams' era featured properties like the Holiday, which she liked to tell people was run as a mom-and-pop shop.
It was also a place where the personalities, and eccentricities, of the owners were bigger than buildings that housed their visions.
"These people that ran the gaming operations that Claudine competed with, none of them were products of great graduate schools," former U.S. Sen. and Nevada Gov. Richard Bryan deadpanned. "It was a business which, as we all know, did not enjoy the protection of the law."
The story behind the Williams' motivation to even develop the Holiday would be tough to imagine happening in modern Las Vegas, where two major corporations own more than a dozen properties on the Strip.
In the late 1960s, reclusive, paranoid billionaire Howard Hughes was holed up on the top floor of the Desert Inn.
According to an account Williams gave University of Nevada, Las Vegas history professor Joanne Goodwin, Hughes sent confidant Bob Maheu across Las Vegas Boulevard to try and purchase the Silver Slipper from Claudine and Shelby Williams.
Claudine Williams told Goodwin that Maheu said Hughes was in a panic, brought on by the glitzy, spinning silver slipper at the front of the property that served to attract customers to the casino.
According to the account, Maheu told Williams, "Hughes thought the slipper might come off and be thrown into his suite."
Eventually, they sold to Hughes and used the proceeds to develop the Holiday.
The couple ran the property for several years, but Shelby's health steadily deteriorated, and Claudine carried more and more of the workload.
Shelby died in 1977 leaving Claudine as president and general manager of the Holiday, a first for a woman.
In 1979, she sold 40 percent of her interest to Harrah's and in 1983 the remaining 60 percent.
She kept an office on-site and retained the title of chairwoman of the property.
She also deepened her involvement in the community, with a particular interest in higher education.
Although Williams wasn't formally educated beyond ninth grade, she sought to establish a scholarship program for children of Holiday, then Harrah's, employees.
And she worked tirelessly to raise money for UNLV, as well as donating enough money to join a group of donors who gave $1 million or more.
Harter, who was president of the university from 1995 to 2006, said Williams once confided that part of her motivation to help others go to school came from the challenges a lack of education created in the world of business.
"I had to stay up late and study something when the others went to sleep because they already knew it," Williams told Harter.
In 1989, a new dormitory at the university was named in her honor.
In the 1980s, she also served as chairwoman of the board for the American Bank of Commerce and she was president of the Las Vegas Chamber of Commerce, the first woman to hold that position.
But it was her humanity, philanthropy and hospitality that was remembered Saturday.
"Claudine lived an extraordinary life. It is our job to honor that life," said Rory Reid, chairman of the Clark County Commission.
Contact reporter Benjamin Spillman at bspillman@reviewjournal.com or 702-477-3861.