Thousands show for Nevada Day parade in Las Vegas
October 31, 2014 - 5:58 pm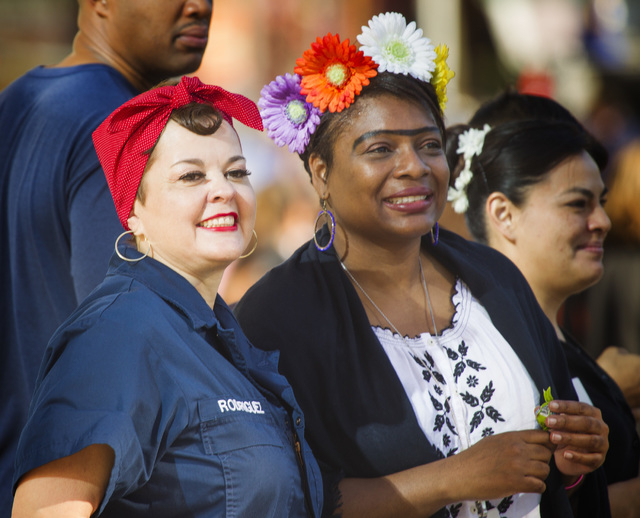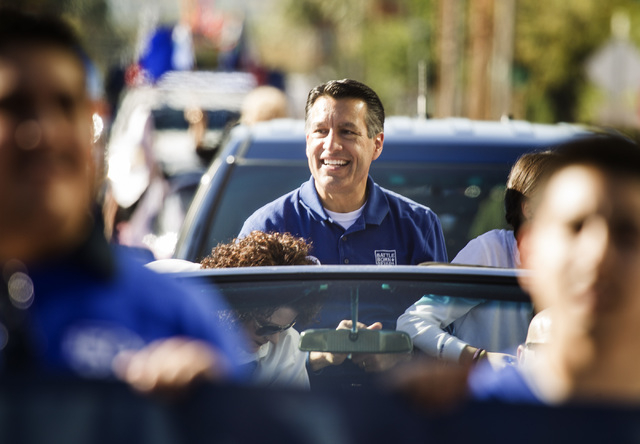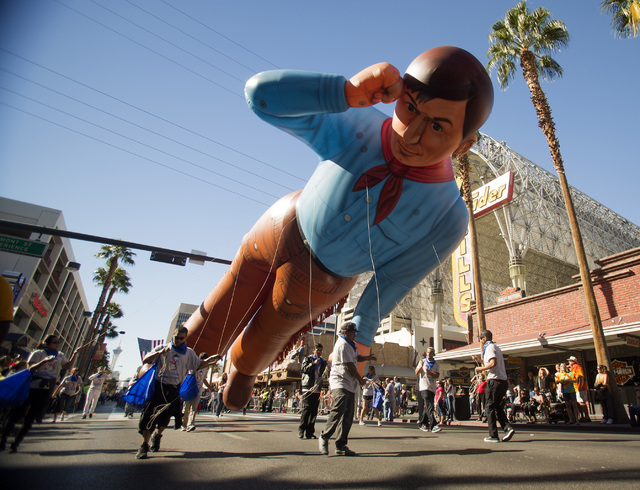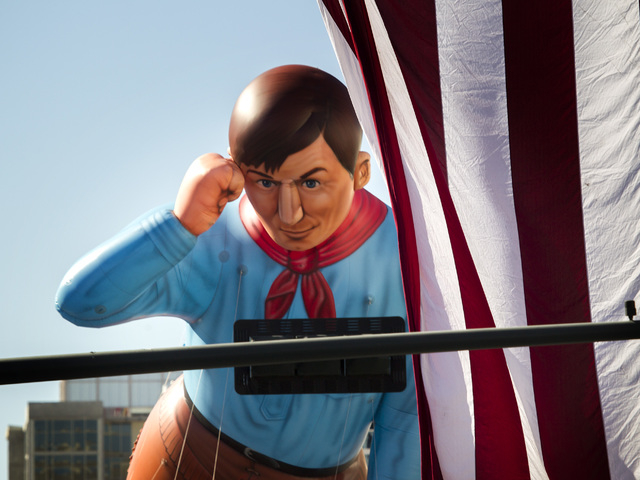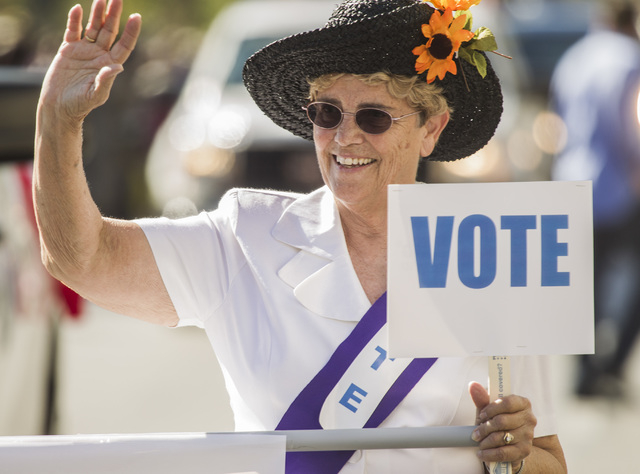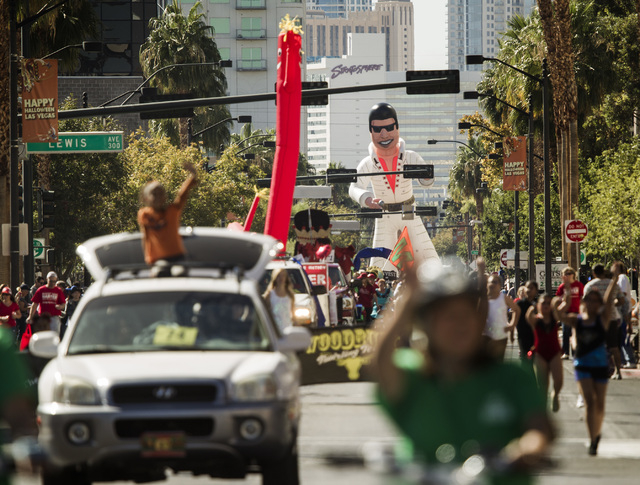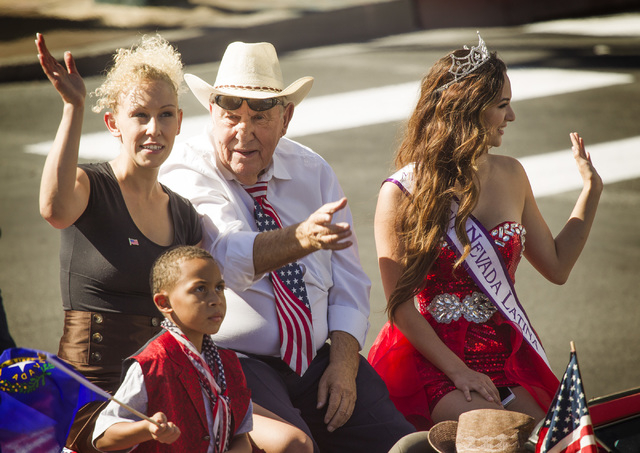 The Silver State's 150th birthday parade in Las Vegas featured pieces of history from many of its phases, but much of the procession kept Southern Nevada's legacy in focus.
Marching bands from high schools across the valley, a larger-than-life Elvis balloon and a silver Ford Mustang carrying UNLV President Don Snyder paraded through downtown Las Vegas on Friday to celebrate Nevada Day and the state's sesquicentennial.
It was a culmination of a year-long celebration of Nevada's entry into the union as the 36th state.
Thousands of Nevadans lined Fourth Street from Gass to Stewart avenues before the start of the 10 a.m. parade, and mobs of candy-snatching children in Halloween costumes — a reminder that Nevada Day also falls on another certain holiday — broke from the crowds to grab handfuls of sweets.
Among those with floats were Nevada's Southern Paiutes, politicians hoping to gain or regain office in this year's midterm elections, and former Las Vegas Rodeo queens from pageants as far back as 1949.
The Nevada State Parks float was pulled by a 1951 John Deere tractor that was found rusting away at Spring Valley State Park. After a two-month restoration and two weeks of float decoration, park rangers dressed up as a fisherman, a backpacker, a bicyclist and a mountain climber to celebrate the state's recreational offerings.
Parks, as well inexpensive senior living and the weather, are what make Nevada such a great state, according to retired Clark County School District teacher Jamie Makaron.
Makaron, who took in the procession from the corner of Fourth and Carson Avenue, said her favorite parts of parade were the high school band performances because their music took so much practice and built spirit in the community.
"I've spent more than half of my life in Nevada," said Makaron, 63, who's also lived in California and New York. "I wouldn't live anywhere else."
Sandy and Brian Morgan, self-proclaimed "parade-aholics" who also happened to be retired from CCSD, said they loved watching the Girl Scouts, a ballet troupe, and elementary and middle school students who marched in the parade.
But the Morgans also loved the 45-foot-tall balloons.
They were hard to miss. It took two 24-person teams to tug on the ropes and maneuver the enormous Elvis and cowboy underneath traffic lights.
"They just have incredible control of those things," Sandy Morgan said.
The balloons were also a hit with the kids, said parade-goer and father of three Andrew Storla.
His daughters, 5, 6 and 7 years old, laid on their bellies on a blanket in the shade of one of two firetrucks that had a giant American flag strung between their extended ladders. The girls said their favorite part of the parade was the candy and the balloons.
Storla, 28, looked away from his daughters only to shout his appreciation at a truck bearing the logo of the United Service Organizations, which supports military troops and their families.
"The USO helps me out a lot," Storla said between hollers. He joined the National Guard in 2010 after graduating from Las Vegas High School in 2003.
LVHS, the valley's oldest high school, also sponsored a float that carried several alumni from its first graduating class in 1948.
A float for former rodeo queens also included alumni from the school. Helen Dawson, 84, was Helldorado queen in 1949. She's also that parade's oldest living rodeo queen. She and 78-year-old Naomi Gibbs, the 1954 Helldorado queen, reminisced about different casinos picking girls from their alma mater to ride in the parade.
Becci Maloney, who was the 1978 Miss Rodeo Helldorado and the 1979 Miss Rodeo Nevada, now designs and makes clothes for girls who compete. Maloney said the rodeo queen competition teaches invaluable interviewing skills, involves several scholarships and opens doors for young Nevada women seeking careers.
But even with forward-thinking goals, Maloney said, the competitions are a throwback.
"Nevada is ripe with Western heritage," Maloney said. "Rodeo queen competitions honor that."
Contact Kimber Laux at klaux@reviewjournal.com or 702-383-0381. Find her on Twitter: @lauxkimber.

Celebrating the Silver State