UNLV Foundation: Clinton fee pencils out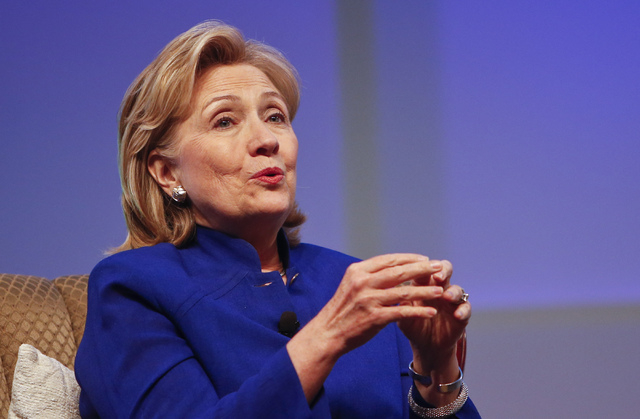 The University of Nevada, Las Vegas Foundation can afford Hillary Clinton's much-debated $225,000 fee to speak at its annual fundraising dinner, having sold out the Oct. 13 event's best tables at $20,000-a-pop.
The foundation already has sold $353,000 in high-dollar seats and expects to make a profit from the event at Bellagio for only the third time in its history, UNLV spokesman Tony Allen said Wednesday.
The first profitable dinner was in 2012, when Clinton's husband, President Bill Clinton, was paid $250,000 to address a record crowd of 992 people, clearing a total of $75,998, according to figures released by the university. Last year talk show host Charlie Rose was paid $141,700 to speak at the dinner, which earned a $68,335 profit.
The UNLV Foundation launched the annual fundraiser in 1989 but didn't start charging to attend the event until 2010, when David Gergen, a former adviser to Bill Clinton and three previous presidents, spoke for $55,000. The dinner lost $93,289 after expenses, however.
The most expensive dinner was in 2005, when the nonprofit foundation spent $319,435 for 482 attendees to kick off a $500 million fundraising campaign. Over the years, the foundation has raised more than $1 billion for the university.
Allen said foundation leaders in recent years realized the value of selling pricey tables for 10 with special access to speakers.
"The foundation changed the business model for the donor recognition event in 2010 to a paid dinner, which has helped the foundation cover its event costs and in recent years raise money to support the work of the foundation," Allen said in an email. "Previously, the annual dinner was complimentary to attendees and budgeted and paid for by the foundation."
Asked whether the foundation expected the fall event with Clinton to be profitable, Allen said, "Yes, we anticipate the donor recognition dinner will cover event costs and generate a net profit."
Hillary Clinton's six-figure fee stirred controversy with critics complaining that it's too large, especially because she's speaking to an educational group. Timing is also an issue. The $225,000 fee got extra attention because of gaffes the former secretary of state made while on tour to promote her new book, "Hard Choices."
The potential 2016 Democratic presidential candidate said she paid taxes, unlike some people who are "truly well off." She also said the Clintons were "dead broke" when they left the White House in 2001. The couple has earned more than $100 million, much of it from speaking fees, in the past eight years, according to Politico.
David Damore, a political science professor at UNLV, said Hillary Clinton is under a microscope.
"She's so high-profile that anything she does is going to draw the partisans out," he said. "And the optics weren't great."
Clinton's supporters note that her speaking fees from universities go to the Bill, Hillary & Chelsea Clinton Foundation, a charitable organization that deals with a range of issues, from global warming to economic growth.
Controversial or not, Clinton is looking like a good investment.
So far, all $20,000 tables ($18,000 tax deductible) have sold out, according to the foundation's website. All confirmed 16 "world" tables were reserved. Those tickets include a photo session with Clinton and autographed copies of her book as well as "premium wines, champagne and special menu for guests."
Three $10,000 tables have also been sold, as has one $3,000 table. There were no takers for a $5,000 table as of Wednesday afternoon, Allen said. The total tables sold adds up to $353,000.
Individual tickets at $200 a pop aren't available for sale until August, according to the foundation. Allen said it's too soon to say how many people will attend the dinner or how much it will cost because "it's still in the planning stages."
The Clinton dinner has created a division among UNLV's student leaders, too.
Last week, Student Body President Elias Benjelloun and Daniel Waqar, public relations director for the student government, co-signed a letter to the Clinton Foundation, suggesting she donate all or part of her fee to the university as a charitable gesture. The students were careful to praise Clinton and say they looked forward to her speaking at UNLV.
This week, UNLV Sen. Alex Murdock objected and on Tuesday mailed his own letter to the Clinton Foundation, apologizing for what he called an "inappropriate and embarrassing request" by Bejjelloun.
"The request made by the CSUN Student Body President was not only in poor taste, it was also misinformed and not indicative of the intelligence of UNLV Students," Murdock wrote.
Murdock also trashed Benjelloun, saying his ascent to the presidency this year violated bylaws and the student government constitution. The two men have clashed since Murdock challenged Bejjelloun's election, which was upheld.
Murdock said Wednesday he thought Bejjelloun should have consulted all UNLV student senators before writing the Clinton Foundation. He also noted that the event will make money, so the high fee is worth it.
"You have to spend money to make money," Murdock said.
Benjelloun stood by his actions, saying Wednesday that he wanted to send a timely request after Clinton's fee was revealed. He also said he consulted other senators who were on campus. Murdock, a Navy reservist who served in Iraq, said he was involved in special military training at the time and wasn't asked.
Benjelloun was unsympathetic.
"If Murdock wanted to be consulted, he should come into the office and do his job. He's never here," he said.
Contact Laura Myers at lmyers@reviewjournal.com or 702-387-2919. Find her on Twitter: @lmyerslvrj.