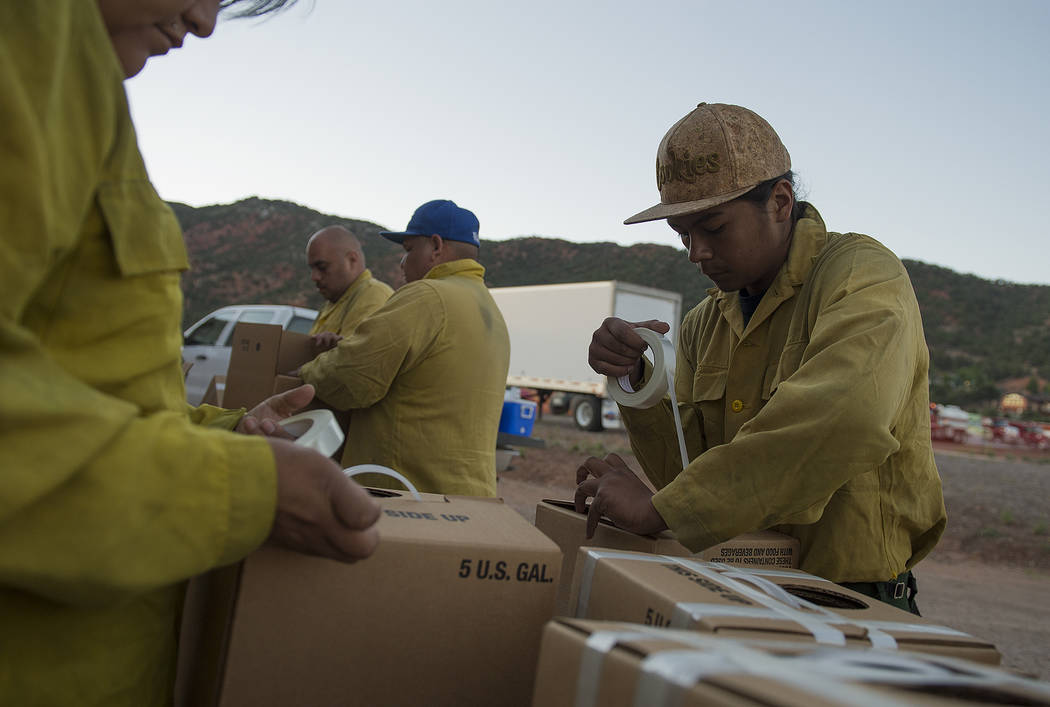 SALT LAKE CITY — A wildfire that destroyed one home and damaged another while forcing hundreds of people to evacuate a Utah ski town was started by somebody using a torch to kill weeds, Gov. Gary Herbert said Tuesday.
Herbert, who toured the fire-damaged area around Brian Head, tweeted that experts told him the weed torch was used in dry conditions. He urged people to be extra careful during hot, dry days.
The evacuations of more than 700 people and the closure of part of a state highway were still in place, Forest Service spokeswoman Cigi Burton said.
Wildfires have also hit California, where a blaze in the San Bernardino Mountains east of Los Angeles is 10 percent contained, and northern Nevada, where firefighters are battling a trio of wildland blazes.
#BrianHeadFire is still burning at 4% containment, but under better control thanks to firefighters. Cost so far is $1.8 million. #utpol pic.twitter.com/vb7XvD0E1R

— Gov. Gary Herbert (@GovHerbert) June 20, 2017
Experts are confirming the #BrianHeadFire was started by a weed torch, used in dry conditions. A good reminder to be #firewise. #utpol pic.twitter.com/LE8wwNgd2p

— Gov. Gary Herbert (@GovHerbert) June 20, 2017
In Utah, Kristi Phillips and her husband were in the middle of installing new appliances in their newly purchased condominium on Saturday when the delivery driver mentioned black smoke off in the distance. Within 45 minutes, the flames were close enough to see and a voice over a megaphone was telling them to evacuate immediately.
"Everyone in the building was scrambling to get out," she said.
They were able to stay with friends and return to their main home in Las Vegas. She doesn't expect to be able to check on the condo until the weekend.
"We were in the middle of putting the dishwasher in. It's half sitting in, half sitting out," she said.
Burton said the fire was growing slowly and crews were lighting backfires to help consume fuels in the path of the flames that have blackened roughly 1.5 square miles (2 square kilometers).
One firefighter suffered a concussion and another a puncture wound in the fire that started Saturday, she said. Both are recovering.
Officials had previously said the fire was human-caused but they hadn't revealed exactly what sparked it.
The fire is not only keeping people from their homes and keeping visitors away from a mountain town full of businesses that rely on summer tourism.
Carol Reid and her husband decided to do a scenic drive Saturday around Brian Head when she saw a whiff of smoke that she thought might be a campfire.
As they turned around a curve into town, "flames exploded up the hill and within seconds the fire spread all the way up to the top of the mountain," she said in an email.
She and her husband left town.
Rolane Grinnell, owner of Brian Head Outdoor Adventure company, said his business is losing thousands of dollars of income.
"We're having to turn our guests away," Grinnell said.
Related
Wildfire grows to nearly 1,000 acres near Brian Head, Utah