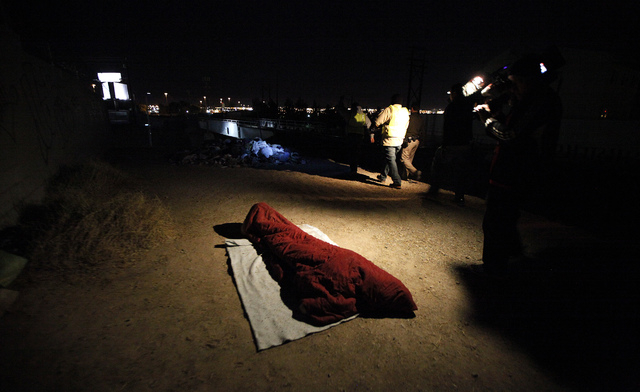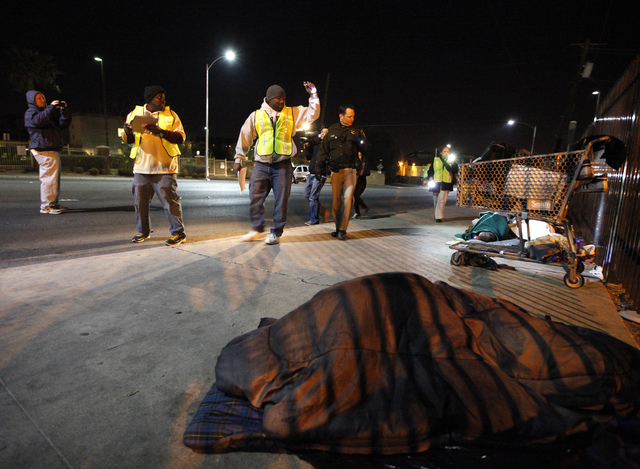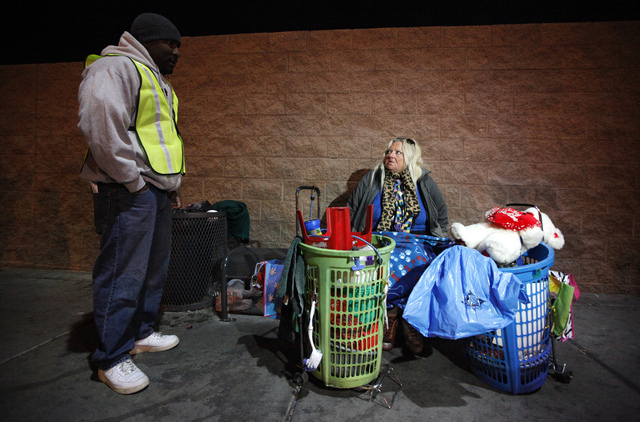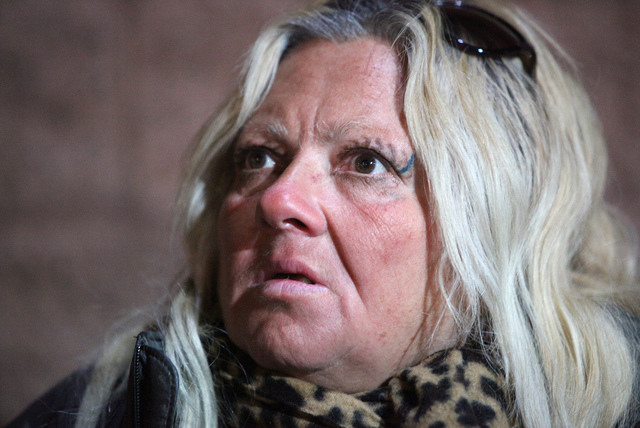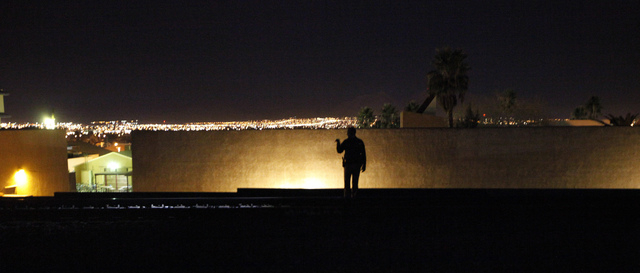 The streets were dark and quiet.
They were mostly empty, save for people sleeping on the ground.
Most slept peacefully, side by side, wrapped in several blankets from head to toe. Others were in sleeping bags.
Some were awake and peeked through their blankets.
"What's going on?" one of them asked after he heard the commotion coming from a group of people walking around with flashlights.
The commotion heralded the main part of the 2014 Southern Nevada Homeless Census and Survey. More than 300 volunteers and Las Vegas police officers walked and drove the urban and suburban streets of Clark County from 1 a.m. to 6 a.m. Wednesday to count those without a permanent place to rest their heads. The rural count will take place early Thursday morning.
Teams work at night because that's when most people aren't moving about. County officials use the information collected to apply for federal funds to help reduce homelessness and to see where the county stands in efforts to get people into safe housing.
Numbers from this year's count will be released in the spring.
The last count, which took place over two days in January 2013, showed the number of homeless people in Clark County had decreased to 7,355 from 9,432 in 2011.
While the decrease was in line with a recently released report by the Housing and Urban Development Department, local charities that provide services to the homeless and those in need have said what they are seeing contradicts what the reports show.
Before this year, the census took place every two years. The county plans to do the count annually to be more competitive in seeking federal funds and to keep a closer eye on trends.
Tyrone Thompson, regional initiatives coordinator for the Southern Nevada Regional Planning Coalition and a Democratic assemblyman for North Las Vegas, said the county was one of 16 places that received money from the U.S. Department of Veteran Affairs to fund a homeless census this year.
Las Vegas' $100,000 helps pay for an accounting of all homeless, but with a particular focus on veterans. On any given night in 2013, there were an estimated 866 homeless veterans in Clark County, according to last year's study.
Veteran Affairs has set an ambitious goal to end veteran homelessness by 2015.
For the first time, two teams were deployed this year to the Strip and the Fremont Street Experience area for the census.
"We are just trying to get a more in-depth count in that area," Thompson said.
Harry Williams, who was helping lead a group in the area around Catholic Charities of Southern Nevada — from Owens Avenue to Bonanza Road and from Las Vegas Boulevard to U.S. Highway 95 — said his volunteers came up with about 200 people.
"The count is important," he said. "Las Vegas is an area where it fluctuates."
But people in urban centers aren't the only ones struggling to stay off the streets.
The Las Vegas area was ranked among the 100 largest in the nation for levels of suburban poverty, according to data released last spring by the Washington, D.C.-based Brookings Institution.
Stacey Youngblood, a housing specialist with the city of Henderson, rallied volunteers at HopeLink of Southern Nevada before they tackled Henderson streets for the census. The belief that no one in Henderson is homeless is a myth, she said.
"We do have a homeless population," Youngblood said. "It might be a small amount, but it's there. We need to make sure they have resources, too."
The streets from Boulder Highway to Burkholder Boulevard were vacant as Clark County Commissioner Mary Beth Scow and Blanca Vazquez, a community liaison for the county, drove and occasionally pointed the car's high-beam lights at the desert trying to see if anyone was out there.
With a green highlighter in hand, Scow marked each street she and Vazquez traveled.
The nearly five-hour journey took them through residential areas and back alleys where they saw everything from manicured lawns to abandoned shopping carts and couches.
They found one homeless man pulling his cart behind him as he walked down Major Avenue. Vasquez said she thought they'd see more.
Each group reported spotting zero to six people, some staying in cars and some on the street.
"For a long time, we thought we knew what the face of homeless was," Youngblood said. "That was until the market crashed a few years ago then the face took a dramatic change."
She added it went from someone sleeping on the street who might have alcohol or mental health issues — which can still be the case — to families who are "situationally" homeless because of job losses or wage cuts. Many now live in motels, couch surf or sleep in cars.
Police officers counted at homeless camps in Henderson. Downtown Las Vegas teams took Metro officers with them.
Counts for homeless youth, the homeless in rural Clark County and in shelters will happen by Feb. 12. Metro will use helicopters to check for homeless living in the desert. Telephone surveys will help find "hidden" homeless — people staying with friends or relatives.
Reporter Yesenia Amaro can be reached at (702) 383-0440 or yamaro@reviewjournal.com.
Contact Henderson/Anthem View Reporter Michael Lyle at (702) 387-5201 or mlyle@viewnews.com.