COMMENTARY: Nevada's election system needs an overhaul
August 18, 2018 - 9:00 pm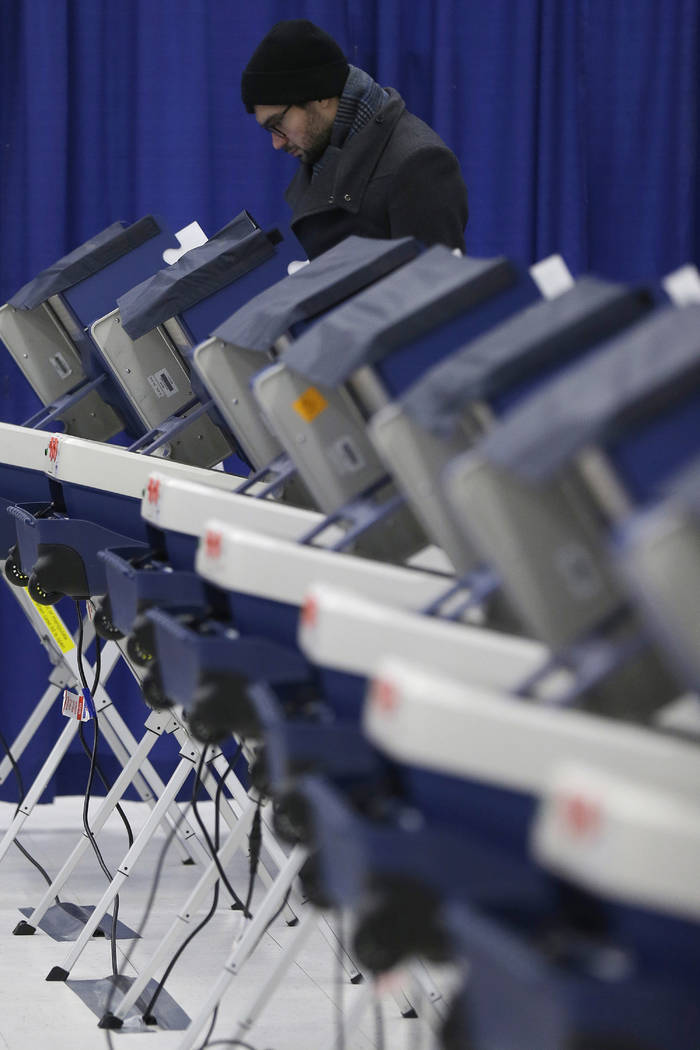 Our political process is broken, and all Nevadans pay the price.
It doesn't matter the issue. Unless those responsible are willing to talk, collaborate and reach consensus, nothing will get resolved. With our current system of low turnout, publicly funded, closed partisan primary elections, the chances of this happening are minimal. Politicians are rewarded for maintaining divisiveness, not for presenting solutions.
We make choices every day — first, second or third. Why not have this same experience when voting?
Ranked choice voting — RCV — isn't new. It was first used in the 1890s. Cambridge, Mass., has been using the process for more than 75 years. Six states use RCV going as far back as almost 30 years. Fifteen cities use RCV, and more than 20 state legislatures are considering bills to implement the process. RCV is used by universities, businesses, political parties and the Oscars. Some departments in Nevada government use RCV to have employees select office space.
If it weren't easy, RCV wouldn't be so widely used. Not only is it easy, it's not confusing. In exit polls, large majorities of voters find ranking candidates easy and preferable.
RCV in a single election limits, if not eliminates, casting a wasted vote. After casting his ballot in the Santa Fe election, former New Mexico Gov. Bill Richardson was quoted in Electionline Weekly saying he hadn't heard of RCV, but while his first choice didn't win, his third choice did. So he felt his vote still counted.
RCV in a single election saves tax dollars. According to the Legislative Counsel Bureau's financial analysis of the Greater Choice-Greater Voice initiative, which we are currently attempting to qualify for the ballot, the savings to Nevada taxpayers in 2016 would have been $6 million. According to Nevada election officials, the state's new voting equipment can tabulate ranked ballots without delay or additional cost.
Greater Choice-Greater Voice eliminates publicly funded primary elections. Voters registered as Republican would no longer pay for selecting the Democratic Party nominee. Democratic Party voters would not pay for selecting the Republican Party nominee. All other voters would not pay for both. However, political parties are private organizations. They may hold a primary to endorse candidates prior to the general election at their expense. Parties currently pay for their presidential caucus. The Greater Choice-Greater Voice initiative protects a political party's right of association.
Elections have become toxic. Ranked choice voting will not end this. It's been shown, however, that because candidates must appeal to a greater number of voters and actively seek second and third choice votes, negativity is reduced. In the Maine gubernatorial primary, two GOP candidates campaigned together to ask for second choice votes. Once elected to office, there is no longer a concern about being "primaried." Legislators are free to collaborate and reach consensus.
Nearly 30 percent of active registered voters in Nevada are not members of either the Democratic or Republican party — 21 percent are nonpartisan. Among voters between the ages of 18 and 34, it's nearly 40 percent, with 30 percent nonpartisan. With minor exceptions, nonpartisans are the only group regularly gaining voter share as well as a higher rate of growth.
Political parties should not determine the worth of your vote. Candidates and elected officials should value all constituents, not just the small minority who vote in the primary. Political divisiveness is systemic. The system must change if this is to be reversed.
Doug Goodman is founder and executive director of Nevadans for Election Reform.