Politicians considering plan to hike their pay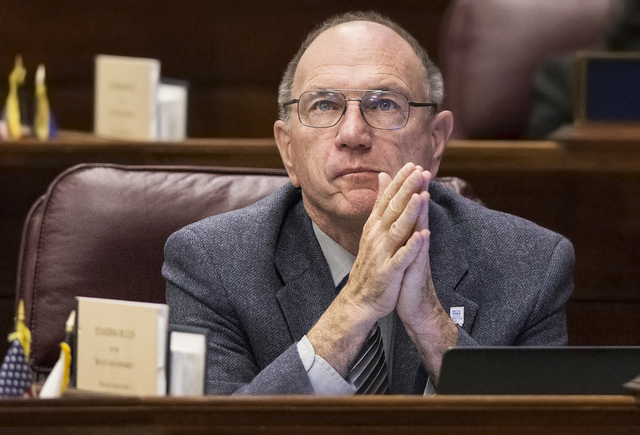 CARSON CITY — There's one thing everyone can agree on: It's nice to get paid. The problem for lawmakers is that voting yourself a pay raise is a good way to end your political career. The mailer writes itself.
Nevada legislators, though, are considering an ingenious — or devious — solution to raise their salaries. Assembly Joint Resolution 10* is a proposed constitutional amendment passed by the Legislature in 2015. Nevada's constitution requires the Legislature to pass constitutional amendments in two consecutive sessions before sending it to voters in the next general election.
Setting salaries of elected officials "unfortunately politicizes what is normally a function of human resources," said Assemblyman Al Kramer, R-Carson City, when presenting the bill on March 28. It's currently on the Assembly agenda for a floor vote.
AJR10* would create a Citizens' Commission on Compensation for Certain Elected Officers, with seven members appointed by the governor. Instead of the Legislature, the commission would set compensation for legislators, the governor and other constitutional officers, judges and a host of local officials, like county commissioners. AJR10* mandates that the commission set salaries based on those holding comparative roles in the public and private sector.
During the session, legislators receive $146.29 a day for 60 days, which comes out to $8,778, and $140 per diem for 120 days, $16,800 in total. The per diem may seem high, but living in away from home costs money.
Because AJR10* also removes the constitution's current prohibition on paying legislators for more than 60 days each regular session, it sets up legislators for a hefty pay hike — especially since their comparative role is serving as the board of directors of a $26 billion organization.
AJR10* would allow politicians to get a pay increase while passing the political heat onto the unelected, unaccountable commission members.
It's happening now in Minnesota. Its voters approved a similar commission in November, and last month, the committee recommended boosting pay legislator pay from $31,000 to $45,000, a 45 percent increase. Probably not what voters expected when the ballot question asked if they wanted to "remove state lawmakers' power to set their own salaries." That wording would make Machiavelli proud.
Nevada's legislators are underpaid, but it's actually politicians' power to set their own pay that's keeping it so low.
Contact Victor Joecks at vjoecks@reviewjournal.com or 702-383-4698. Follow @victorjoecks on Twitter.