COMMENTARY: The choices are clear for Nevada voters come November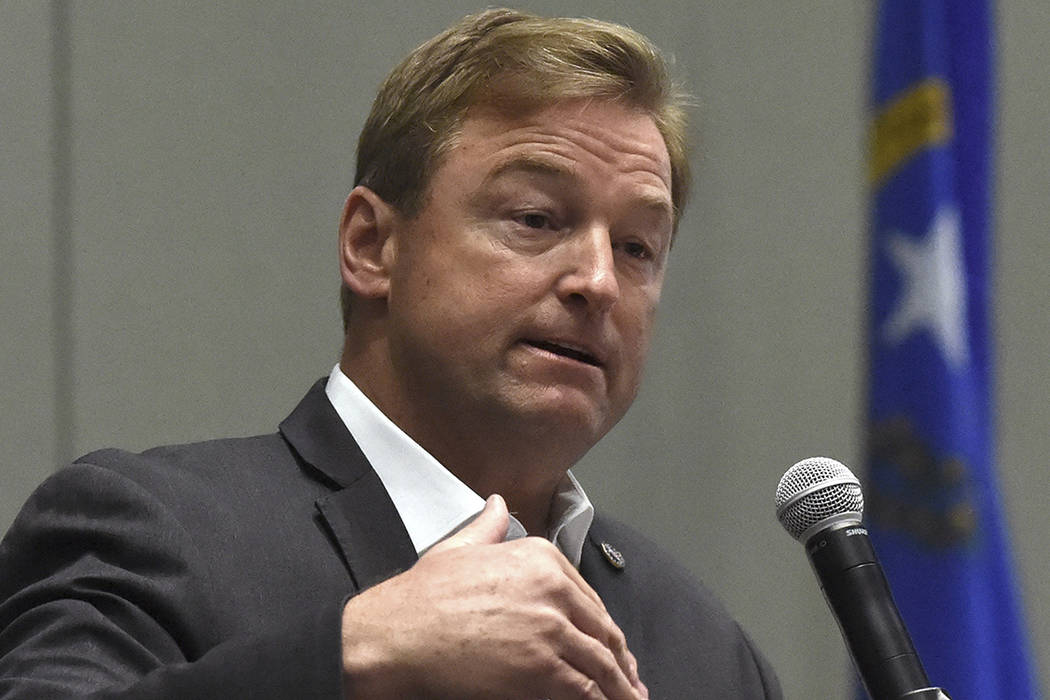 It's all falling into place perfectly for the GOP nationally. There is no Blue Wave. There isn't even a blue trickle. I predict a Red Storm.
Democrats have no one to blame but themselves. Their behavior toward Brett Kavanaugh turned off middle-class America. A new CNN poll shows independents disapprove of Democrats' handling of the Kavanaugh nomination by a landslide 28-point margin. Democrats have killed themselves with their radical rage and hate speech.
There are three races right here in Nevada that I believe are the three most important in the nation. These three races will determine the future of both America and the great state of Nevada.
The first race is for governor. This one is life or death for our state — and for our children's future. I escaped from California. It is the land of suffocating taxes and regulations, hatred for business owners and obscene love for illegal aliens, felons and welfare queens. The streets in some places are filled with homeless, feces and used heroin needles for a reason. California is what happens when you put wacky liberals such as Jerry "Moonbeam" Brown in charge.
I don't want Nevada to become California East. But Nevada is lost if we elect Steve Sisolak as governor. He will rubberstamp every reckless anti-business, anti-middle class law passed by our Democrat Legislature. And worst of all, Sisolak doesn't even bother to hide his desire to pay for all these California-like spending programs by taking the cap off property taxes. Are you ready to lose your home if Sisolak is elected?
It's Adam Laxalt for governor or it's the end of Nevada.
Race No. 2 is for the U.S. Senate. After what just happened with the Kavanaugh nomination, it's clear every GOP vote counts. Speaking of California, Catherine Cortez Masto and Jacky Rosen as senators would be a carbon copy of Dianne Feinstein and Kamala Harris. God help us. We must re-elect Dean Heller to avoid becoming California East.
But perhaps most important of all is electing my dear friend Danny Tarkanian to Congress. Danny is a great conservative and the finest person I've ever met in politics. The reason the liberal attacks are so vicious and frequent against Danny is because he scares the heck out of the D.C. Swamp.
Danny will fight the entrenched interests. He will always stand up for middle-class Nevadans. Danny is Nevada's Trump. Which is why President Donald Trump stands so strongly behind Danny.
Danny's opponent slanders him the same way the vicious radical left slandered Brett Kavanaugh. They make up lies.
They claim Danny took $700,000 from his children's charity. Actually, he took a humble annual salary of $44,000 over 15 years of giving his heart and soul to the children of Nevada.
Danny's victory could determine whether Nancy Pelosi and Maxine Waters control the U.S. House. Vote for my great friend Danny Tarkanian — and drag 20 of your closest friends to the polls.
Laxalt, Heller and Tark are the choices to save Nevada and America.
Contact Wayne Allyn Root at Wayne@ROOTforAmerica.com. Hear or watch the nationally syndicated "WAR Now: The Wayne Allyn Root Show" from 3 to 6 p.m. daily at 790 Talk Now and at 5 p.m. on Newsmax TV.