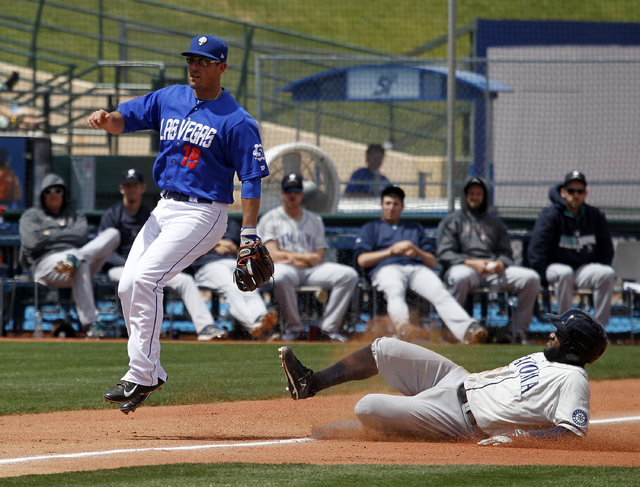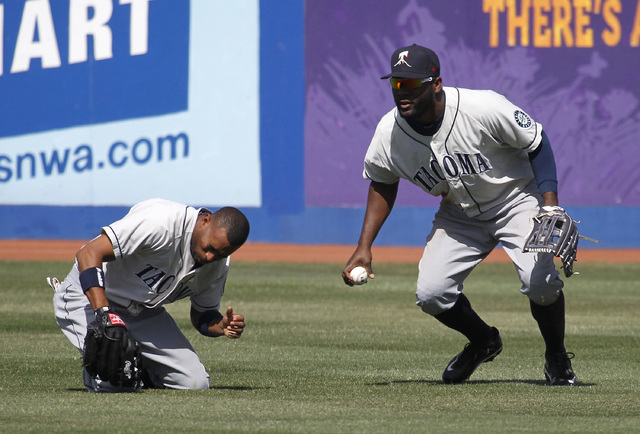 After the mother of all sand storms Saturday night at Cashman Field caused the suspension of the game between the 51s and Tacoma, Mother Nature stayed relatively calm Sunday during an abbreviated Mother's Day doubleheader.
Las Vegas, which salvaged a split, also stayed silent at the plate most of the day before exploding in a big way in a bizarre game only a mother could love.
The Rainiers scored a run in the ninth inning to edge the 51s, 6-5, in the completion of Saturday's game, which was suspended with two outs in the top of the eighth with the game tied 5-5.
Play was halted when wind gusts that were recorded at 61 mph at nearby Nellis Air Force Base whipped up dust on the field, forcing players to turn to shield themselves from it.
"It was almost like a sand blaster," 51s first baseman Allan Dykstra said. "It was literally just blowing the dirt so hard you couldn't even face towards it. Even if you turn your back, you're still getting pelted by all the dirt.
"I haven't really experienced that, ever."
A 51s game against Sacramento also was suspended last season because of unsafe conditions caused by wind gusts.
"(The wind) was harder (Saturday) than it was last year," Las Vegas manager Wally Backman said. "It was so dusty out there you just couldn't see. They did the right thing by calling it.
"I've played some games in the California League that were really windy like that, but the dust wasn't blowing like that."
When play resumed Sunday, Tacoma shortstop Nick Franklin hit a two-out single in the ninth off Vic Black, stole second and scored the decisive run on a double by Jesus Montero to end the 51s' four-game winning streak.
But nothing has kept Las Vegas (26-11) down for long this season, and it bounced back strong again in a 8-3 win over Tacoma (18-16) in the originally scheduled game.
Held hitless for 5 1/3 innings by Rainiers right-hander Jordan Pries, the 51s feasted on Tacoma's bullpen, batting around their order as they exploded for eight runs in the sixth in their highest-scoring inning of the season.
Pries, who threw 102 pitches, was replaced by Nick Hill after issuing a one-out walk in the sixth to Rylan Sandoval.
"He pitched a pretty good game until we got him out of there," Backman said. "You've got to tip your hat. We've got a pretty good lineup and to shut us down like that is not easy."
Dykstra was hit by a pitch and Andrew Brown followed with an RBI double to deep center field to put Las Vegas ahead 1-0, breaking up the no-hitter and the shutout.
Brandon Allen followed with a two-run triple on a high fly ball to right field that was held up by the wind. Right fielder Endy Chavez misjudged the ball, which dropped in as he fell face first into the grass on a diving attempt.
Las Vegas native Mike MacDougal replaced Hill and gave up an RBI single to Zach Lutz, a two-run double to Juan Centeno and a two-run double to Sandoval.
Rainiers center fielder Abraham Almonte was called out in the seventh for batting out of order.
Dana Eveland threw five scoreless innings for the 51s, who lead the Pacific Coast League in runs, homers and RBIs.
Black (0-1) took the loss in the opener, walking three and allowing two hits in 1 1/3 innings.
Noah Syndergaard, Saturday's starter, had a season-high 10 strikeouts and no walks. The New York Mets' top prospect allowed five runs (four earned) on eight hits in six innings, giving up a three-run homer to Nick Franklin in the first.
Contact reporter Todd Dewey at tdewey@reviewjournal.com or 702-383-0354. Follow him on Twitter: @tdewey33.