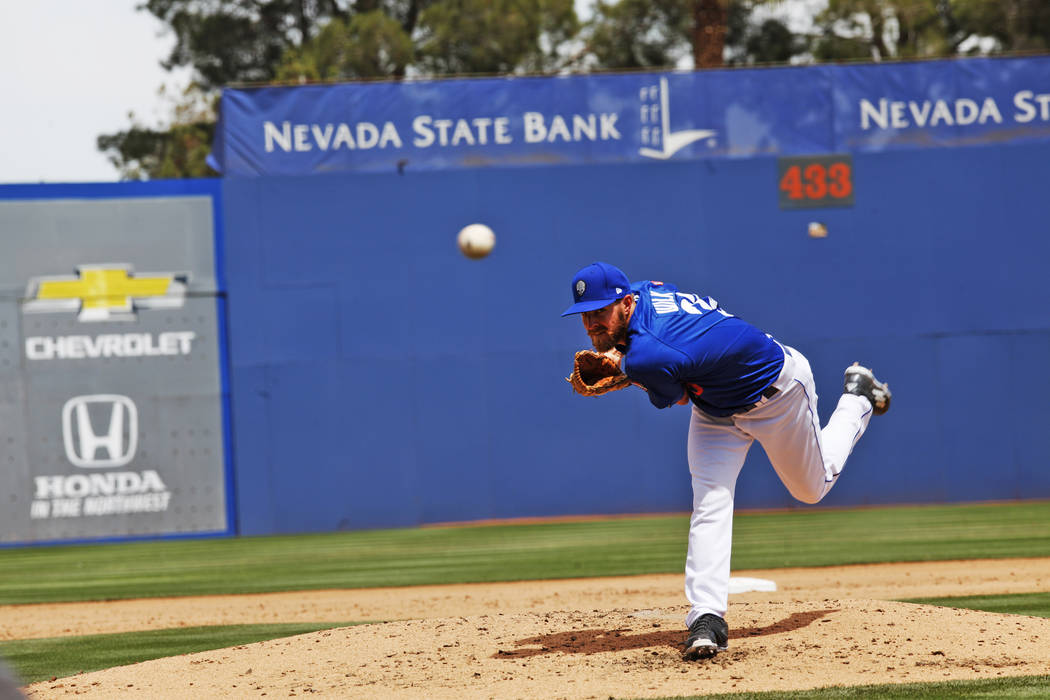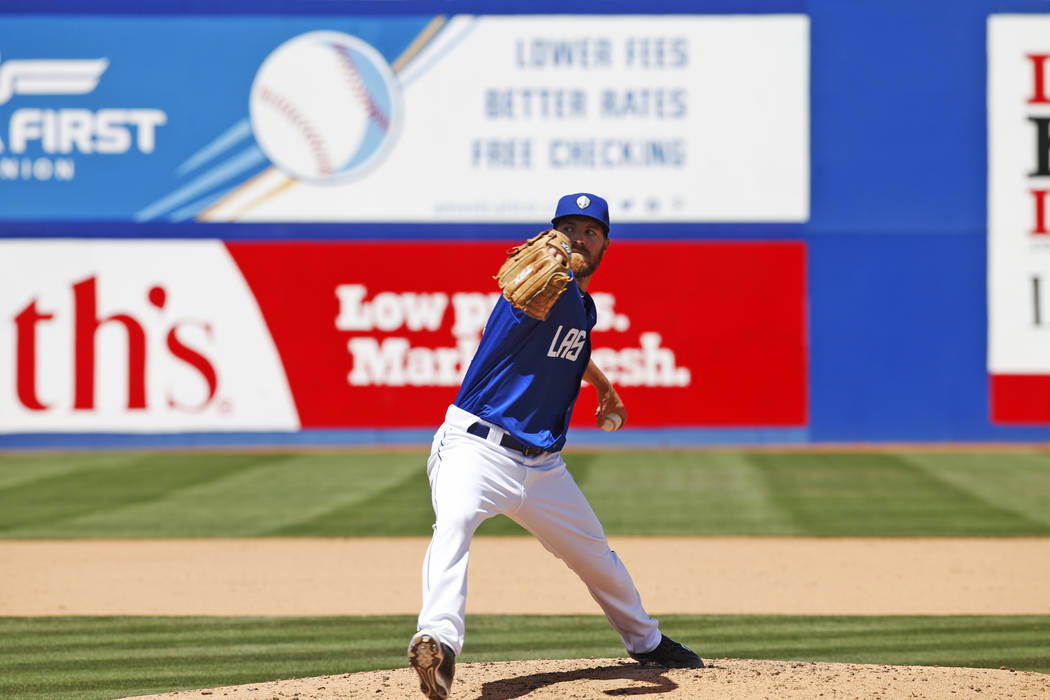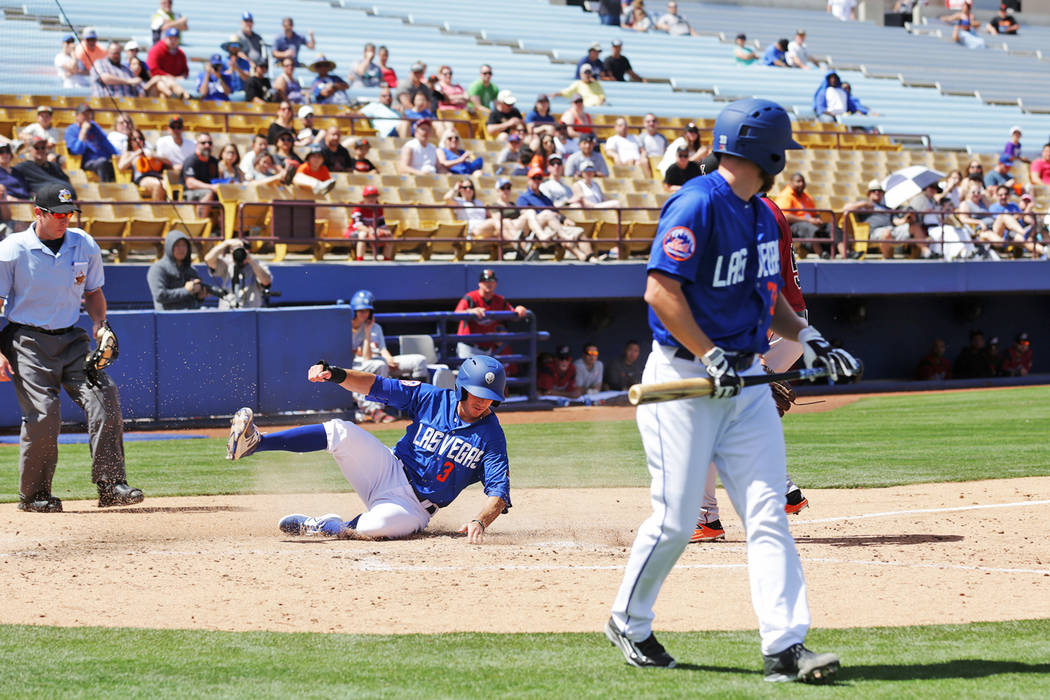 Adam Wilk didn't feel his best out on the mound on Sunday.
His body wasn't in sync, his timing was off and he had to battle through the 5 ⅓ innings he did pitch.
But despite all that, Wilk finished the way with a win, giving up three runs in his outing as the 51s defeated Sacramento 6-4 at Cashman Field for their third straight win.
"The first three innings were pretty solid. Gave up a couple runs here and there, home run, it probably could have been a lot better," Wilk said. "I didn't close out innings that great and I'd get two outs really quickly and it'd be a couple hits, score a run, there's a negative there but you're going have a lot of games like this during the year."
But though Wilk didn't feel his best, the 51s staked him to a lead early and he did enough to maintain it.
"I think it's early and some of these guys, they're still trying to get into their routine," Lopez said. "I know he's probably not pleased and that goes to show you the kind of pitcher that he is and his character and that's what I want. … I thought he did good and even though he didn't have his best stuff, he was still able to battle and give us a chance to win a ballgame."
Las Vegas (6-5) jumped out to a quick lead in the first inning. After Gavin Cecchini singled to begin the inning and Matt Reynolds doubled right after him, the 51s scored their first run on a wild pitch from Sacramento starter Ricky Romero.
Reynolds scored later in the inning on a Dominic Smith groundout and Amed Rosario, who walked, scored on a Josh Rodriguez single.
"Especially when you're not feeling great, if you get an opportunity to have a lead where one mistake doesn't cost you the lead or the game, it does feel a lot better that way," Wilk said.
Wilk had that three-run lead until the third when T.J. Rivera, in his second game back from the New York Mets, hit a solo shot extending Las Vegas' lead to four runs.
Rivera, who only got three at-bats while with the Mets in the first couple weeks of the season, is working to get his timing back and Sunday, the results were good with a 2-for-4 day.
"Just to get back in that rhythm today was nice and I just want to keep that going and get back into that groove of playing every day," he said.
After Rivera's home run in the third, the River Cats (5-5) scored a pair of their own on an Orlando Calixte two-run home run in the fourth and one more in the fifth on a Justin Ruggiano RBI double.
The 51s added two more runs after that on an error from Sacramento third baseman Jae-Gyun Hwang and a wild pitch and in the ninth, Chasen Bradford locked down his third save of the year with a perfect frame.
Sunday's win marks the first time in the young season that the 51s have broken .500 and with three straight wins, they seem to be starting to sync up as a team.
"I really believe it's a good group. These guys, some of them have been playing together for awhile now," Lopez said. "We're starting to see the at-bats are coming. They're better at-bats."
Contact Betsy Helfand at bhelfand@reviewjournal.com. Follow @BetsyHelfand on Twitter.
UP NEXT
Who: Sacramento River Cats at Las Vegas 51s
When: 7:05 p.m. Monday
Where: Cashman Field
Starters: Chris Stratton (0-0, 10.38 ERA) vs. Ricky Knapp (0-1, 6.75 ERA)
NEXT FIVE
Tuesday: Las Vegas at Fresno, 6:35 p.m.
Wednesday: Las Vegas at Fresno, 6:35 p.m.
Thursday: Las Vegas at Fresno, 7:05 p.m.
Friday: Las Vegas at Fresno, 7:05 p.m.
Saturday: Las Vegas at Sacramento, 7:05 p.m.
UPDATE
Ricky Knapp threw a quality start in his first outing of the season but he struggled in his next one, giving up five runs in two innings. The right-hander threw just 54 pitches but had to be removed after the second because he threw more than 40 in the frame.