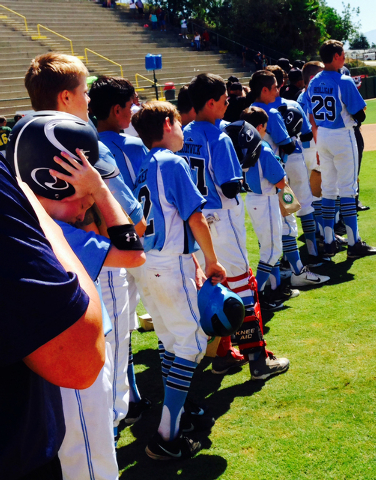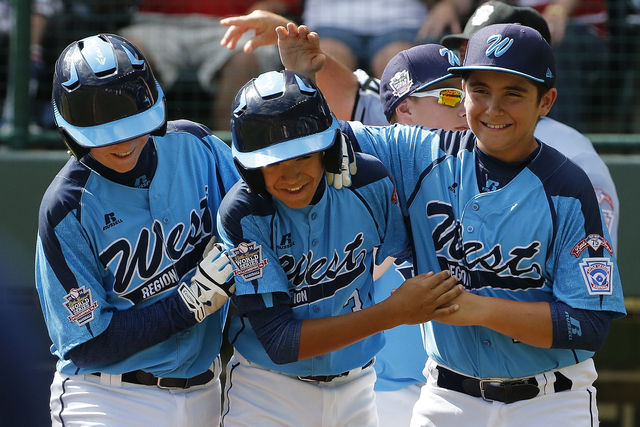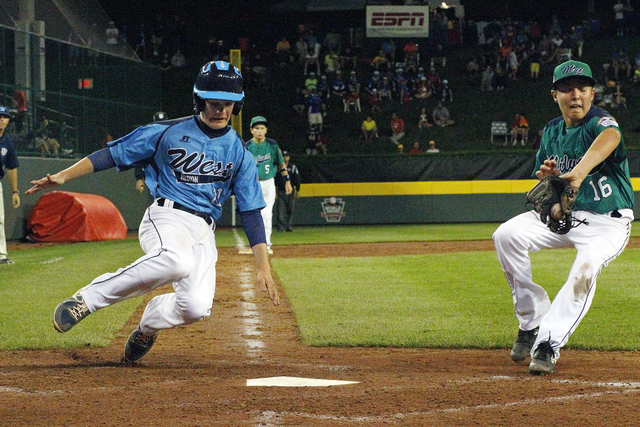 This was a great year for Centennial Hills' Mountain Ridge Little League.
Not only did the majors division become the first team from Nevada to make it to the Little League World Series, but all four age groups won Nevada State Championships.
"There were a few things that contributed to our league's success," said Kristi Black, president of Mountain Ridge Little League. "First and foremost, we had a lot of dedicated coaches on staff. Our board was also organized, and as a result, we attracted more players and community support. (The success of each division) is really a first for the league."
The league — which includes 9- and 10-year-olds, 10- and 11-year-olds, majors (12- and 13-year-olds) and seniors (13- to 16-year-olds) — has a set of three coaches for each division, which are composed of a manager and two assistants.
"Each coach is really different," Black said. "They all have different skills, and some have experience managing an all-star team."
Black said each age group had between two and six weeks of practice before competing.
Toby Johnson manages the 10- and 11-year-olds. He attributes his team's success to the chemistry the players have created throughout the years.
"Most of the boys have played together on different teams at Mountain Ridge since they were 4 or 5 years old," Johnson said. "They really gelled this year and kept each other focused and motivated."
In addition, Scott Olson, who manages the seniors, said each division would try to cheer one another on during games and showed continual support.
"We have generations of siblings on each team, and I think that's extremely relevant to our successes," Olson said. "My team canceled practices to support the other teams in their division playoff games. And we learned. I learned from those great coaches and players how they approached every aspect of the game."
The parents also played a large part of the league's success, according to Mike Domingo, who manages the 9- and 10-year-olds.
As the coach for the league's youngest players, he said he sees the impact that baseball has on youths.
"There's a lot of life lessons that can be taught in baseball," Domingo said. "It teaches them how to compete and deal with adversity because life isn't easy."
The majors finished fourth in the Little League World Series in Williamsport, Pa.
With support from the community, funds were raised to send the families of the Mountain Ridge Little League to Pennsylvania.
The team raised approximately $7,000 on its GoFundMe account.
"These kids are pure and innocent. There's no money involved. It's all just because of their pure love for the game of baseball that they work hard and accomplish amazing goals," said Ashton Cave, manager of the majors. "We have the best fans in Las Vegas. It was because of all the support we received that we were able to accomplish the dream of playing in the Little League World Series."
The team lost 7-5 to Chicago's Jackie Robinson West Little League squad in the United States championship game and ended its trip with a a 5-0 loss to Japan in the consolation game.
Despite the loss, Domingo said the team's accomplishment inspired his players to dream big.
"Before, going to the Little League World Series was a myth since Nevada never played before," Domingo said. "Now it's a reality, and young players realize that it could happen to them if they continue to work hard."
All of the coaches agree that each age group did well this year compared to last season, and they look forward to next season.
"Players endured 115-degree heat six days a week and did routine and repetitive drills. It takes a special kid to absorb all that torture — and it was torture — excel, and prosper from it," Olson said. "We've created a legacy at Mountain Ridge. Now it's time we build off of this year's success and overachieve what we thought was never achievable."
Contact North View reporter Sandy Lopez at slopez@viewnews.com or 702-383-4686. Find her on Twitter: @JournalismSandy.