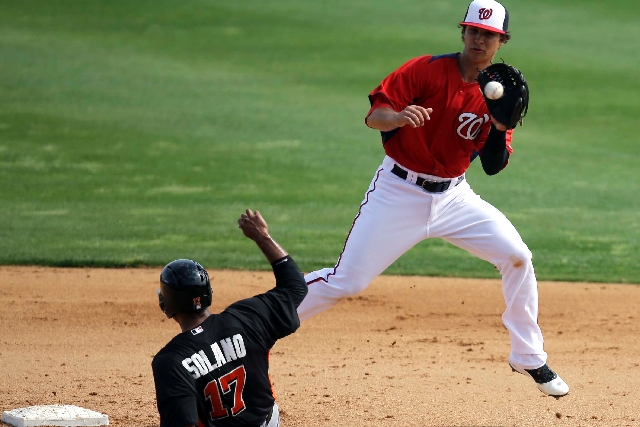 The first pitcher Zach Walters faced in college was the otherworldly Washington Nationals sensation Stephen Strasburg.
"It was like playing in a video game," said Walters, a Cimarron-Memorial High School product who was at the University of San Diego when Strasburg was at San Diego State.
"I'll always remember that experience. He got me 0-2," he said of his first collegiate at-bat. "He threw the first (pitch) 98 (mph) and then one 100 (mph). I was like, 'College is so hard. I'm never gonna do good here.'
"It was ridiculous, but it was kind of easier after that."
Walters blooped the next pitch, a sharp slider, into left field for a single before twice striking out looking against Strasburg. He went 2-for-4 vs. the right-hander the next year to finish 3-for-7 against him.
"With four strikeouts," Walters said. "He won the war."
Little did Walters, a strong-armed shortstop, know that he'd end up playing for the same organization as Strasburg and fellow local product Bryce Harper, who he first met seven years ago at a local Area Code tryout.
"I said, 'How old are you?' (Harper) said, '13,' and I was like, 'What? You're twice as big as I am,' " said the 6-foot-2-inch Walters, who at 23 is three years older than Harper.
A 2010 ninth-round draft pick by Arizona who was traded to Washington in 2011 — straight up for veteran pitcher Jason Marquis — Walters made a name for himself with the Nationals with a strong spring training camp.
Walters, rated by Baseball America as the Nationals' No. 10 prospect and best infield arm, hit .348 in March with two home runs and four RBIs while playing in every game. He impressed manager Davey Johnson before getting assigned to minor league camp Monday.
"I really like him," Johnson told the Washington Times. "He reminds me of kind of a young (Ian) Desmond (Washington's starting shortstop). … He's got a lot of talent. He's a country boy, strong like Desmond with a big arm like Desmond."
Walters was born in Wyoming, raised in Montana and moved to Las Vegas during the eighth grade. He was raised around ranchers in Bozeman, Mont., where he herded cattle and rode bulls and horses, fun facts not lost on Johnson.
"He's very young. He knows about roping steers and all that, but he needs to corral his ability and focus," he said. "He's got a good upside. I don't know how he got to Vegas. He's a country boy."
The easygoing Walters laughed off the cowboy comments by Johnson.
"I'm gonna do him one better and tell him he likes to talk a lot," said Walters, who calls Johnson "The Warden" and made sure not to smile at him after hitting a walk-off RBI single to snap an early spring slump.
"He's got that stern look," he said. "I know he's a good dude who always means well, but when you're a young buck trying to put your name out there, you never feel like anything's right."
Walters has done a lot of things right since joining the Nationals. In his first season last year, he climbed three levels, batting a combined .266 with 12 homers and 49 RBIs for Class-A Potomac, Double-A Harrisburg and Triple-A Syracuse, where he expects to start this season.
"I've heard multiple things about this year, but I'm preparing myself for going and grinding it out in the freezing cold of Triple-A Syracuse, New York," he said.
With his arm, range and bat, Walters is confident he can be a solid backup middle infielder for the Nationals should the opportunity arise.
"I known I'm in a great spot to help them win," he said. "I'm athletic enough to play anywhere. When it comes to depth, I can provide that."
About the only thing Walters did wrong this spring was wear a pair of neon-green shoelaces that incurred the wrath of veteran slugger Jayson Werth.
"He gives me a nod, 'What's up Zach? Nice shoelaces. Change them.' I'm like, 'Oh, all right,' " he said. "I don't know if I picked up a little flair in Vegas or in laid-back California. They're a little full of confidence there.
"If you look good, you feel good, you play good."
Sounds good to us.
Contact reporter Todd Dewey at tdewey@reviewjournal.com or 702-383-0354.