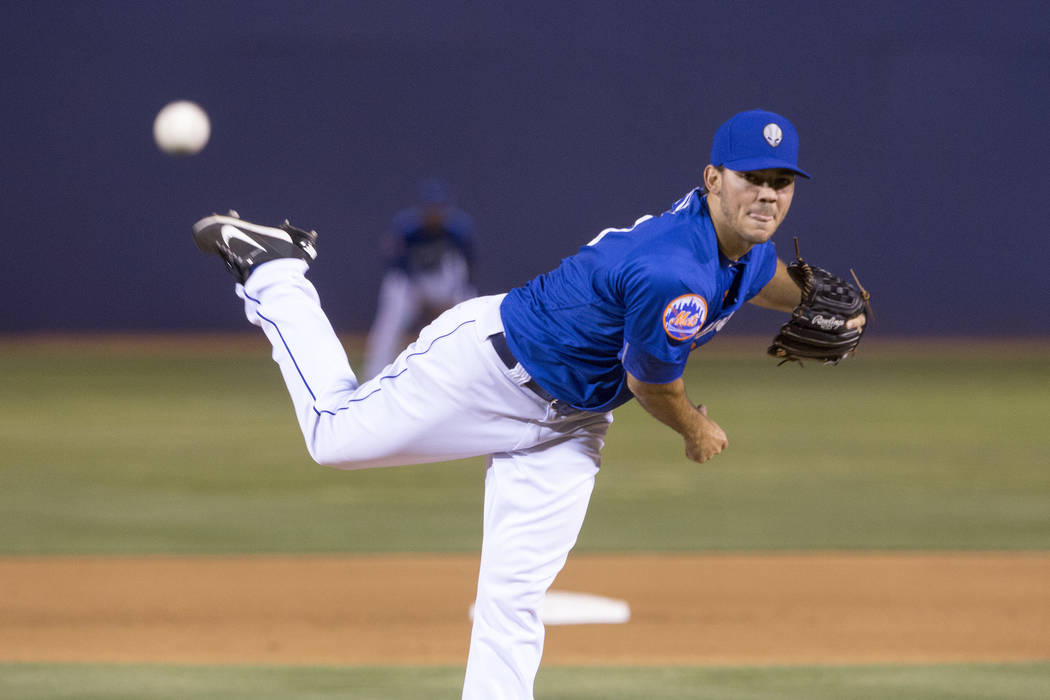 For the second night in a row, the 51s found themselves in a situation where they had to dig themselves out of a significant early hole.
But in the end, that wasn't what sunk them Tuesday.
The 51s came back from that, actually taking a lead before eventually falling 8-7 to Iowa (16-21) in extra innings at Cashman Field to thanks to an Ozzie Martinez sacrifice fly off of reliever Erik Goeddel.
"I think every loss is frustrating especially the last few weeks where stuff hasn't been going our way but we battled. Being down 5-0, we battled back and unfortunately we couldn't close it out at the end but I think it speaks well that even though things aren't going our way, we're still battling out there," catcher Xorge Carrillo said.
The 51s (16-23) were down early after starter Tyler Pill gave up two runs in the first inning and three in the second.
"He just didn't have his best stuff," manager Pedro Lopez said. "I think he was making too many mistakes over the middle of the plate. Once he saw that, he felt like he needed to go for the corners and a guy like him, it's completely the opposite. I think anybody, when you don't have your best stuff, that's when you really have to go after guys."
Pill did eventually settle down and ended up pitching 5 2/3 innings for the 51s.
In the meantime, they started their comeback.
Xorge Carrillo's three-run home run, his first of three hits on the night, cut into the lead in the second inning.
In the third , Brandon Nimmo walked and was quickly driven in by Amed Rosario, who tripled. Later in the inning, a Desmond Jennings two-run home run gave the 51s their first lead of the night.
They scored once more in the fifth on Travis Taijeron's seventh home run of the season.
But in the sixth, the Cubs scored once to cut into the two-run lead. Jemile Weeks reached base on a Gavin Cecchini error and came around to score on a Martinez double.
The 51s lost their lead in the eighth with a Taylor Davis sacrifice fly.
They had chances in both the eighth and ninth to come back with two runners on base in each of those innings, but couldn't capitalize on either opportunity.
In the ninth, after Rosario and Dominic Smith each collected one-out hits, Taijeron hit a hard liner to second and Jennings flew out.
"We're not giving up at-bats," Lopez said. "We're going out there trying to execute a plan and we had chances later on to win it. Unfortunately we had the line drive to second by Taijeron and it's maybe a couple more inches up the middle, it's a base hit, game winner."
And though they did eventually lose, there were definitely positives signs they could fall back on offensively.
"It's good to see the guys are finally coming around and putting better at-bats together and doing something with men in scoring position," Lopez said. "We had a few more chances to add to our lead or even to win it … later on, but the good thing is the at-bats are coming around. The guys are battling and they're not giving up at-bats."
Contact Betsy Helfand at bhelfand@reviewjournal.com. Follow @BetsyHelfand on Twitter.
Up next
Who: Iowa Cubs at 51s
When: 7:05 p.m. Wednesday
Where: Cashman Field
Starters: Alec Mills (2-0, 2.31), Iowa, vs. TBA
Next five
Thursday: Iowa at Las Vegas, 7:05 p.m.
Friday: Las Vegas at New Orleans, 5 p.m.
Saturday: Las Vegas at New Orleans, 4 p.m.
Sunday: Las Vegas at New Orleans, 11 a.m.
Monday: Las Vegas at New Orleans, 5 p.m.
Update
New York Mets outfielder Brandon Nimmo was optioned to Triple A, where he has been playing on a major league rehab assignment since May 2, and outfielder Jayce Boyd was placed on the temporarily inactive list.