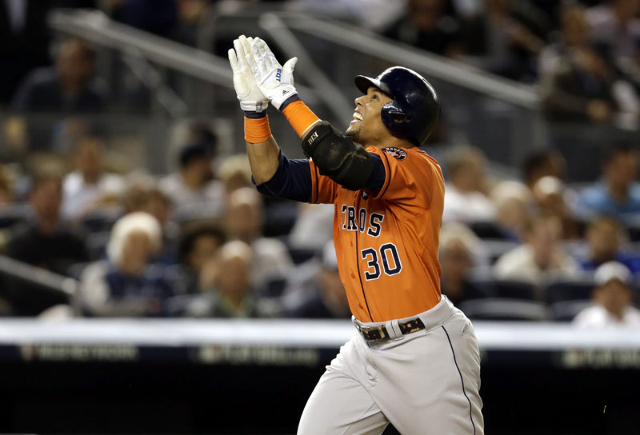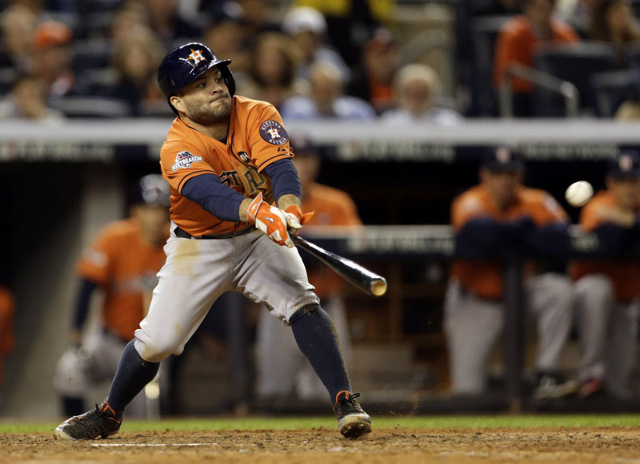 NEW YORK — Even as questions persisted about postseason inexperience and ace left-hander Dallas Keuchel pitching on three days' rest, the Houston Astros had every intention of celebrating at Yankee Stadium.
A little over three hours later, Houston's clubhouse was the sight of a wild celebration.
Keuchel made the party possible, scattering three hits in six brilliant innings, and the Astros eliminated the New York Yankees from the postseason with a 3-0 victory in the American League wild-card game Tuesday night.
"A performance for the ages," Houston right fielder George Springer said as loud dance music blasted through the clubhouse. "For him to do what he did is incredible."
Left fielder Colby Rasmus and center fielder Carlos Gomez hit solo home runs on the first pitches of the second and fourth innings, respectively, off right-hander Masahiro Tanaka, helping the Astros earn a date with the Kansas City Royals in the AL Division Series.
The Astros, who took a team picture on the Yankee Stadium mound, will play Game 1 at Kansas City on Thursday.
Second baseman Jose Altuve added a seventh-inning RBI single as Houston earned its first postseason win since Game 6 of the National League Championship Series against the St. Louis Cardinals on Oct. 19, 2005.
The three runs were enough for Keuchel, who has not allowed a run in his last 29 innings against the Yankees since giving up three in the second inning on Aug. 21, 2014, in New York.
Keuchel joined Mike Scott (1986) and Joe Niekro (1980) as the third Houston pitched to make his first postseason start a scoreless one. He also helped the Astros record their fifth postseason shutout but first on the road.
"We know he's a great pitcher and we know he's going to get the job done," Houston shortstop Carlos Correa said. "What he did today doesn't surprise me at all."
Keuchel allowed a single to rookie first baseman Greg Bird with two outs in the second, then retired the next 10 batters.
New York put runners at first and second on singles by shortstop Didi Gregorius and right fielder Carlos Beltran in the sixth. On the next pitch, designated hitter Alex Rodriguez flied out weakly to center field to end the inning, disappointing most of the sellout crowd of 50,113 who rose in anticipation.
"I thought that was going to be the moment for us," Yankees manager Joe Girardi said.
"I knew if I could get elevate it or get it middle in, I had a good shot to just have him pop it up, and luckily that's what I did," Keuchel said. "I was playing blackjack there, and it paid off."
Keuchel walked one and struck out seven, including center fielder Brett Gardner three times.
"He was as good as it gets," Rodriguez said. "He was Greg Maddux from the left side."
Astros left-hander Tony Sipp worked around a one-out walk to third baseman Chase Headley in the seventh. He struck out Bird on a full count and retired second baseman Rob Refsnyder on an easy flyout.
Houston right-hander Will Harris pitched a hitless eighth, and when he recorded the final two outs, some fans began booing the Yankees loudly. Astros closer Luke Gregerson fanned two in the ninth for the save.
Tanaka allowed two runs and four hits in five innings, but his outing was not enough as the Yankees continued sputtering offensively. New York entered its first postseason game in three years with six losses in its last seven regular-season games and wound up getting shut out in a playoff game for the 23rd time in team history.
"It's really disappointing," Girardi said. "It's hard. You know seasons end abruptly and it's very difficult. This is a club that fought all year long, and there's a lot of character in that room and this hurts. We just didn't get it done."
Rasmus made it 1-0 when he opened the second by sending a Tanaka fastball over the right field fence. Gomez doubled the lead when he sent a fourth-inning Tanaka slider over the wall in left-center.
Altuve, who opened the game by striking out against Tanaka, made it 3-0 with a single up the middle in the seventh off Dellin Betances.
NOTES: New York CF Jacoby Ellsbury was not in the starting lineup. Brett Gardner moved from left field to center, and Chris Young played left. Manager Joe Girardi said the decision was based on numbers as Ellsbury was a .253 hitter off lefties. Ellsbury popped out as an eighth-inning pinch hitter, then stayed in the game. … OF Carlos Gomez returned to Houston's lineup after missing most of September with a left intercostal strain. "He's bouncing around the clubhouse ready to play," manager A.J. Hinch said pregame. … Both teams went with nine pitchers on their rosters. The Yankees went with Gary Sanchez as their third catcher and Slade Heathcott and Rico Noel as extra outfielders. Houston went with INF Matt Duffy and switch-hitting INF Jonathan Villar. Hinch also started Luis Valbuena at third base over Jed Lowrie, citing Valbuena's recent hot streak and ability to hit pitchers similar to RHP Masahiro Tanaka. Valbuena went 1-for-4.