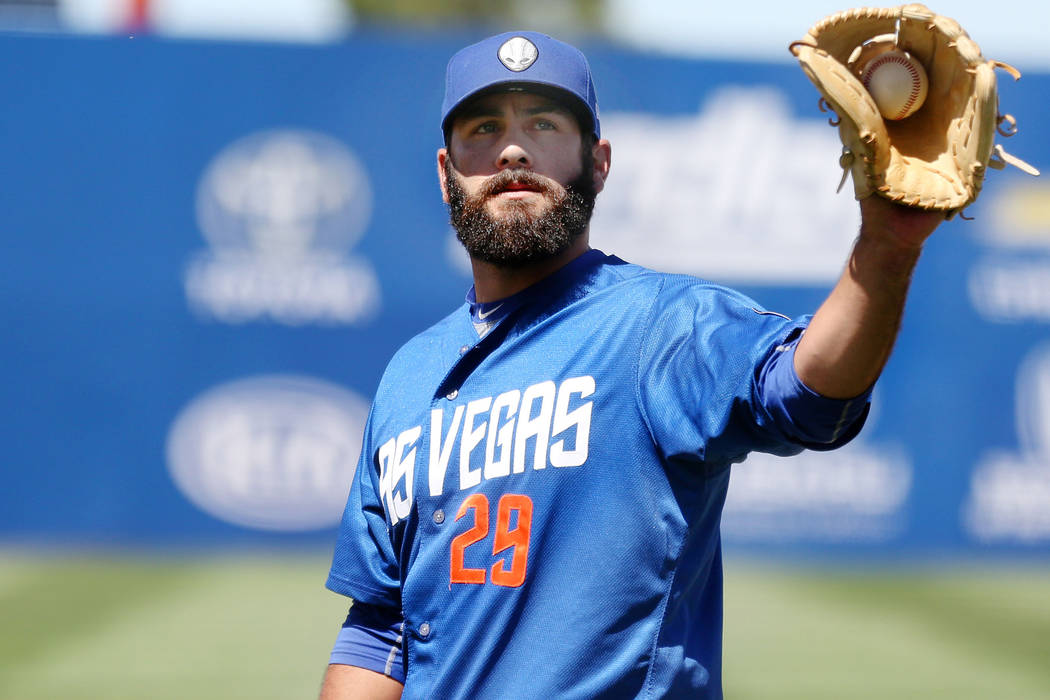 For the second time in three games, the 51s saw their lead slip away with two outs in the ninth.
This time around, though, the 51s were not able to scratch out the win in extra innings.
Tacoma scored three runs off of reliever Erik Goeddel in the 11th, picking up a 5-2 win on Wednesday afternoon at Cashman Field. The loss was their second to Tacoma (16-9) in as many days.
"There's always going to be some frustration when we're not winning especially since how good we are but we're a calm group," catcher Jeff Glenn said. "We'll get back at it."
Goeddel gave up a pair of singles in the 10th inning, but managed to escape without giving up a run.
The next inning, he had less luck, giving up two singles, two doubles and a walk and three runs before escaping the inning.
"I think he was just up in the zone with his pitches in that 11th inning," manager Pedro Lopez said. "Besides that, I thought he threw the ball well. The inning before, the 10th, he did a good job, located his pitches well and then in the 11th, probably got a little tired and made some mistakes up in the zone."
Before Goeddel even came in, they had their chance to win in nine innings, but Chasen Bradford blew a save with two outs after nailing down the last out in the eighth inning.
Bradford gave up a solo shot to D.J. Peterson to tie the game.
"(He) made a good pitch to the guy," Glenn said. "He finally hit one. It sucks it went over the fence."
It looked like the 51s (13-14) would pick up a win on the strength of a quality start from Ricky Knapp, who went 7 2/3 innings and gave up just one run.
"He's been throwing the ball well," Lopez said of Knapp. "He really has. The one thing he did, located his pitches well, they were all down in the strike zone. He pitched like the way he pitched for me last year in Binghamton. A lot of ground balls. He got some chases, some swing and misses out of the strike zone. Credit to him pounding the strike zone with all his pitches."
The only run he gave up came in the third inning when Leonys Martin grounded out and L.J. Mazzilli's throw to first took Dominic Smith off the bag. With the 51s failing to turn the inning-ending double play, Seth Mejias-Brean scored, giving Tacoma the lead.
But the 51s struck back in the bottom of the fourth, tying the game with a Glenn RBI single in the bottom of the fourth and taking a lead on a Jayce Boyd home run in the bottom of the sixth which they would hold until the ninth.
The loss drops them back under .500, though the 51s believe they are better than their record reflects.
"It's not like we're playing really, really bad, but at the same time, we don't have all the pieces in sync right now," Lopez said. "It's a good team. You just try to put all the pieces together and once we do, I think we're going to take off."
Mets make roster moves
Though the plan originally was for Wilmer Flores to play third base on Tuesday, DH on Wednesday and first base on Thursday for the 51s while on a rehab assignment for a knee infection, the Mets instead decided Flores was good to go, recalling him on Wednesday.
In his one game with the 51s, he went 2-for-4 with an RBI double and a run scored. To make space on the roster, the Mets optioned pitcher Sean Gilmartin back to Las Vegas.
The Mets are also planning on calling up Rafael Montero to start in place of Noah Syndergaard on Friday, which would mean they would need to make another roster move in a couple days.
Montero was scheduled to start on Thursday for the 51s, meaning they will go with a bullpen game.
Up next
Who: Tacoma Rainiers at Las Vegas 51s
When: 7:05 p.m. Thursday
Where: Cashman Field
Starters: Sam Gaviglio (1-3, 3.96 ERA) vs. TBA
Next five
Friday: Tacoma at Las Vegas, 7:05 p.m.
Saturday: Las Vegas at Albuquerque, 6:05 p.m.
Sunday: Las Vegas at Albuquerque, 12:35 p.m.
Monday: Las Vegas at Albuquerque, 5:35 p.m.
Tuesday: Las Vegas at Albuquerque, 10:05 a.m.
Follow all of our Las Vegas 51s coverage online at reviewjournal.com/51s and @RJ_Sports on Twitter.
Contact Betsy Helfand at bhelfand@reviewjournal.com. Follow @BetsyHelfand on Twitter.